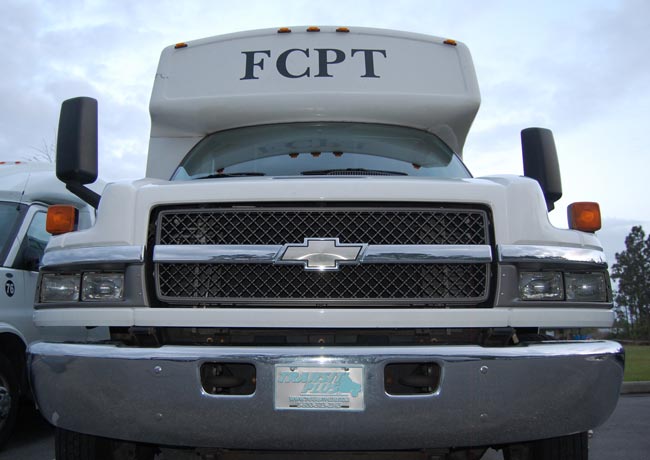 "Dog-and-pony show."
"Didn't really accomplish anything."
"They didn't tell me anything I didn't know already."
People "have to fill out an application to use the transportation system? Do people know that? I didn't know that."
"I lived here five years and seen that bus go by and never knew what it meant, you know, FC–whatever, you know, what does that mean? I had no idea."
Those are just some of the comments the mayors of Flagler County's five cities unleashed on the Flagler County transportation system, known around the county–when it is known at all–by its cryptic acronym: FCPT, for Flagler County Public Transportation. The mayors were gathered in the informal atmosphere of a Flagler County League of Cities meeting at Palm Coast's City Hall on April 14, a day after attending a presentation on the transportation system produced by the county for a gathering of every local government agency. Local governments had requested the larger meeting to know more about the system as it is today and as it may, or should, evolve in the near future.
The mayors, however–collectively or individually, and at either meetings–showed little vision themselves regarding the county's future transportation possibilities.
Held at the county's Emergency Operations Center around a rectangular collage of folding tables, to accommodate thirty-odd elected representatives and managers, the April 13 presentation had all the stiffness of a public meeting harnessed by decorum and deference: at no point did any of the representatives around the table challenge the county's presentation by Heidi Petito (director of the county's general services), or that of Rob Gregg, a county-hired consultant from the University of South Florida's Center for Urban Transportation Research, beyond a few clarifications.
---
The Flagler County League of Cities:
Chairman Steve Emmett, Beverly Beach mayor
Alice Baker, Flagler Beach mayor
Jim Netherton, Marineland mayor
Jon Netts, Palm Coast mayor
Catherine Robinson, Flagler Beach mayor
---
---
It was a different story around the mayors' tables the following day. Each in turn, with the more reserved exception of Palm Coast Mayor Jon Netts, criticized one aspect or another of the transportation system, finding it too expensive, too static (with no fixed routes, the system depends on riders making appointments, and filling out one-time applications ahead of time to do so), and too bloated. Mayors couldn't understand why a transportation system with 32 employees and 29 vehicles (including 22 buses, four minivans and three passenger cars) needed three dispatchers when it had just 10 full-time drivers, two part-time drivers and 16 on-call drivers.
"Except for the wheelchair-bound people, isn't that a taxi service? I mean, it's point-to-point, right? I call them two weeks in advance, they come to my house, then they take me where I'm going. It's like a taxi service, right?" Ron Vath, a Flagler County commissioner, said. "It does seem kind of ineffectual, but for what they're doing, I don't know how else they could do it."
"I agree Ron," Netts said, "that what the county is doing is probably as efficient as you can make an inefficient system, although I really would have liked more information. They've got 29 vehicles and 26 drivers, including all the on-call drivers. What they didn't tell me is how many vehicles sit in the barn unused. … And the argument that well, we have to keep buses in reserve for routine maintenance–you do your routine maintenance on the weekends, folks. You don't take them out of service to do routine maintenance. Emergency, yes."
Those are the limitations of a transportation system set up to serve a county population of around 45,000, but serving a population double that, says Carl Laundrie, the county's spokesman.
Until 2003, the transportation system was run as an arm of the county's now-defunct, non-profit Senior Services agency. The agency tried a fixed-route system in 2002. The experiment lasted a few months and failed for lack of riders. In 2003, Senior Services ran out of funding. The county took over the agency's buses to ensure that the buses would keep running. In the county's view, it was a bail-out that otherwise would have left thousands of seniors without a way to get around. But the county hasn't had to go it alone, either: in 2005, it received a $800,000 federal grant to replace the fleet's aging buses and build a new administration building for the transportation system, with an eye on a fixed-route service down the road.
Much of that context wasn't part of the county's presentation on Wednesday. The lack of clarity may have left elected officials more confused than confident about Flagler's transportation system.
[Citing Heidi Petito, the county's general-services director, the News-Journal's Frank Fernandez reported on April 19 that "a committee composed of staff from the county, the school district and cities will begin meeting April 28 to discuss future bus service," and that the buses would run on a hybrid system combining the regular routes of a fixed network with the flexibility of deviating from that route to make special pick-ups.]
There were, in fact, two presentations. The first was about the transportation system as it is now, a so-called "pre-scheduled demand-response system" that, by the nature of its name alone, would confuse riders and officials with the best intentions. The presentation was heavy in numbers–numbers of employees, of vehicles, average age of riders (60), percent of wheelchair clients (25), or Palm Coast residents (72), number of trips last year (72,700), and so on–but lighter on context: why, for example, with so many vehicles and drivers on call, same-day service is not available, or rides must be requested "at least two days and up to one week in advance," wasn't clear. Nor was it clear why, with three dispatchers and variously idle drivers, and answering machines at the ready, reservations by phone could not be called in except for five hours between 9 a.m. and 2 p.m. on weekdays.
That's with a $1.5 million annual budget.
The second presentation summed up the results of a study required by the federal government if Flagler County's 2010 census population qualifies it for larger federal grants. Three such studies are required before qualifying. Officials heard results of the second on April 13, though despite the obligatory power-point presentation with many clever acronyms, illustrations and catchy, action-packed phrases such as "County-wide mobility plan," "public involvement program," and "development of strategic initiatives," it was difficult to understand what any of it meant, beyond the jargon, for the neighbor next door who can't get to her job for lack of a car. If anyone was hoping to leave the meeting with some idea of how the county and its cities could develop a smarter public transportation grid in the next few years, Wednesday's meeting didn't do it. Judging from the mayors' reactions the following day, it left them more frustrated than empowered.
Qualifying his criticism, Netts said mayors may want to look north to St. Johns County's transportation system, which he once visited with County Commissioner Milissa Holland when she chaired the County Commission. The pair met with Cathy Brown, director of the St. Johns County Council on Aging, where they learned that, being "out from under government"'s aegis, the council was eligible for more grants than would be a county-controlled transportation agency, "and you can do things that a government can't do, including fund-raising, receiving donations, and so on."
The Council on Aging has 11 "funding partners," including the United Way, the St. Johns County Commission, the Jacksonville Transportation Authority, and the cities of St. Augustine and St. Augustine Beach. When Netts and Holland queried the council's director as to which direction Flagler should go–if Flagler was starting from scratch–the answer was, without hesitation (but also not surprisingly, considering that Brown was touting her own agency): follow St. John's example.
But St. Johns' example is precisely where Flaglwer County was in 2003 when the local version of the Council on Aging collapsed, despite its being "out from under government"–and required a government bailout.
Baker, the Flagler Beach mayor, summed up the two meetings' 100-some minutes' focus on Flagler transportation in eight words: "I think we're back on square one."