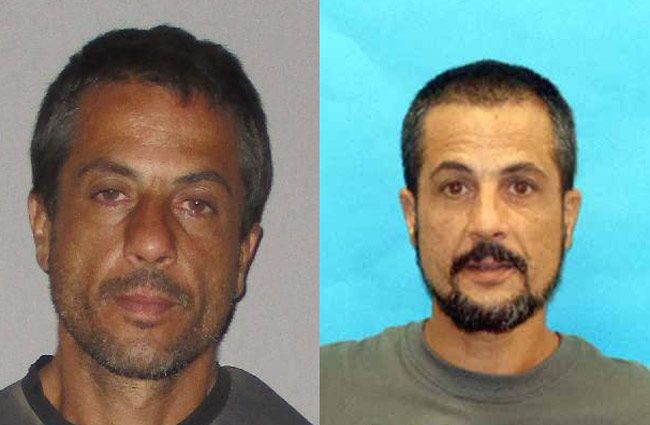 In his 45 years, Matthew Nesbitt has been sentenced to state prison twice for a total of four years on non-violent drug charges. On Monday, however, the Bunnell resident faces eight charges, six of them felonies, five of them involving violence–three of those allegations of violence against law enforcement officers, and one of them against a police dog.
The charges all stem from an accusation that he stole a car from his mother's business last November: it was his mother who first reported him and asked to file charges.
The search for the car narrowed to the Capri trailer park in Bunnell, where Nebitt was found in the vehicle, sleeping. Awoken by cops, he fled and led deputies on a chase at the south end of Palm Coast that drew a lot of attention at the time, closing some roads and involving Flagler County Fire Flight, numerous deputies and at least two police dogs, and nearly resulted in Nesbitt's death: At one point he had "ambushed" cops in the woods and allegedly slashed at the air with a knife, threatening to kill them, before managing to flee again.
He was eventually caught by a dog, which he allegedly punched repeatedly, then arrested.
Linda Aurora, his 66-year-old mother, pursued charges against him at the time of the incident, which unfolded between Nov. 2 and Nov. 6. She is the owner of Matt's Incense, the store on Enterprise Drive in Bunnell. It was there that her son had come by on Nov. 2 with a friend who was supposedly wanting to ask Aurora for a job. It turned out he was there only to distract her, she would later tell police, as Matthew Nesbitt took the keys to her 2001 GMC Jimmy, which belongs to her company. It was the second time he'd stolen the car in months, according to his arrest report.
In April, Aurora appeared to have a change of heart.
"I am the person that reported him to the deputies," she wrote Circuit Judge Terence Perkins, who is expected to preside over the trial, last month. "I did this because I know if I had not he would be dead right now. I am very grateful to the deputies that showed great restraint in his case. I knew my son was in a bad way when I had seen him a few days before however, I did not think he was In such a bad state of mind that he would try suicide by cop. My son has been in prison before and did as much or maybe even more drugs in prison."
Aurora in the letter pleads with the judge to "release him to a drug rehab center which will at least give him a chance to get his life going in a better direction," describing him as a "kind and very caring man"–when he's off drugs. She enclosed a letter from Pivot Ministries, a nine-month residential, faith-based residential rehabilitation program for drug addicts in Bridgeport, Conn., certifying that he's been accepted there.
Judges don't arbitrarily abort a criminal case in which they have little discretion: Nesbitt's past felony convictions make him ineligible for such things as drug court, for example, and the charges he face now could only be reduced ahead of trial at the State Attorney's discretion, assuming a deal was in the works. But on July 3, Assistant State Attorney Michael Stover, who is prosecuting the case, was ready for trial.
The letter, however, may suggest that the defense will seek to portray Nesbitt as having been in a psychologically altered state at the time of the incident and seeking suicide by cop–a long shot strategy, though the defense appears to have little else to work with in light of evidence so far. Assistant Public Defender Regina Nunnally is representing Nesbitt, who has been held at the Flagler County jail since Nov. 7 without bond.
The previous day he'd led deputies on a vehicle chase from the Bunnell trailer park to Palm Coast's Z Section, after allegedly gunning his car toward a deputy. "If I had not evasively moved away from the vehicle, Matthew would have struck me," the deputy reported at the time.
After ditching the vehicle in the Z Section, Nebitt led deputies on a foot chase until Valor, one of the police dogs, found him concealed in heavy brush in the area of Zebra Finch Place and Zelda Court.
"Nesbitt immediately stood up and displayed [a] large knife with a black handle," a deputy reported. "He began to make stabbing motions with the knife towards Corporal Gimble and myself as he shouted that he was going to kill me and my K9 partner repeatedly." The deputies held their fire. Nesbitt fled again to the area of Zebulah Trail, where Flagler County Fire Flight, the emergency helicopter, spotted him, and Mark, another police dog, tracked him down, biting him in the thigh. As the dog was biting him, Nesbitt allegedly struck the dog several times with an open and closed fist. Attacking a police dog is a second degree misdemeanor.
In addition to that charge, Nesbitt faces three counts of aggravated assault on a law enforcement officer, each a second degree felony, grand theft auto, fleeing and eluding police, and resisting arrest with violence, all felonies. One silver lining for Nesbitt: since he left prison more than three years ago, he would not be considered a "prison release re-offender," which would have then rendered any potential sentence mandatorily harsher.
Trial begins Monday morning at 9 with jury selection, which usually takes most of the day, in Courtroom 401 at the Flagler County courthouse.