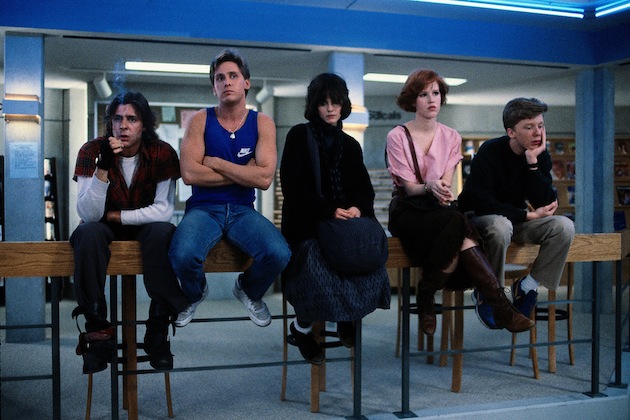 By Jo Ann Nahirny
I almost failed algebra as a freshman in high school. I struggled largely because my mother experienced serious health problems that same year and my father was a policeman working rotating, round-the-clock shifts in Newark, N.J. Missing work was not an option. So as the oldest child, whenever my mother was hospitalized, I stayed home from school to care for my youngest sister.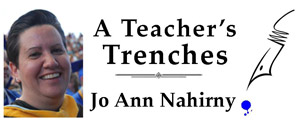 At one point I missed three weeks of school to assist at home.  I somehow managed to keep up in all my classes–except algebra. Mathematical concepts build upon previously learned ones. Missing critical lessons, as the material grows increasingly more complex, creates knowledge gaps that can quickly overwhelm even the best students.
Sister Marjorie Sweeny (of the Sisters of St. Joseph of Chestnut Hill, Penn.) taught my Algebra I class. A brilliant, faith-filled yet stern "no nonsense" woman, she based our final grade on the scores we attained on major unit tests each semester. Returning to her class after an absence, I learned a test was just around the corner. I went for after-school help, and asked my friends to explain how to solve linear equations, but I still floundered. Esoteric quadratics, binomials, and polynomials baffled me. I'd simply missed too much instruction.
By the end of the term, we'd taken two tests. I'd earned a disheartening 15 percent on the first. When mother finally recovered enough for me to return to school, I did whatever I could to catch up, and somehow scored a miraculous 90 percent on the second. But it didn't matter. Back then, you needed a 70 percent to pass a class. I didn't stand a chance. Mathematically challenged though I was, I knew the average of 90 and 15 only came to 52.5, a far cry from the 70 required.  It hardly seemed fair. I'd gone from  "F" on the first test to "A" on final one.  Why was my average still an F? Why wasn't the average of "A" and "F" a "C"?
When I got my year-end report card, I trembled as I opened the envelope. No one in my family had failed a class…until now. Summoning the courage to face the inevitable, my eyes scanned the grades. Algebra: 70.  I'd passed?
How?  Why? Sister Marjorie couldn't have made an error. She was a math teacher. She'd never make such a basic computational error, not the detail oriented, God-fearing soul  she was. What happened?
I plodded back to the century-old brick building on the corner of Heller Parkway and Woodside Avenue. I found her tidying up the classroom, yellow chalk dust streaking her hands and flowing black habit.
"Sister Marjorie?" I asked timidly.
"Yes?"
"I… um… I think, maybe, well, my grade is wrong on my report card."
I cringed, waiting for the wrath I expected would befall me for daring to imply she'd made a mistake. (Has she packed up that yardstick yet?  I wondered.)
"It is?" she asked quizzically…but not angrily. "Let me see."
She scanned the report card.
"What's wrong with it?"
"How did I pass?"
"You worked hard and didn't give up.  Go home and show your parents your report card. I'll see you in September."
More than 35 years later, I will never forget how much that event impacted my life. And only after I became a teacher myself did I comprehend how she'd calculated my grade and how I'd passed (but more on that in a moment).
I returned to Sister Marjorie's math class the following year. Not wanting to disappoint her,  I grew confident and determined, even earning an A in geometry — and in almost everything else. I loathed math, yet she still recommended me for Algebra 2. And though I requested an easier elective to ensure a stress-free senior year, she stuck me in pre-calculus anyway, warning, "You'll need it for college."
I wound up graduating at the top of the class. As valedictorian, I garnered multiple scholarship offers.  Had I received that "F" in Algebra I  "deserved" that first year, some of those positive things likely wouldn't have occurred.  My life may have turned out much differently without the full scholarship which enabled me to get the college education my parents could never have afforded. That, and far more, came my way, courtesy of my class rank and GPA…and Sister Marjorie's mathematical common sense and practical foresight.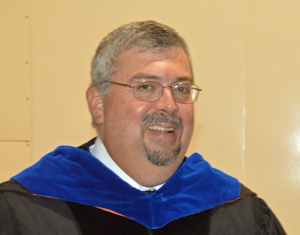 This memory came flooding back recently when Chris Pryor, the principal of Matanzas High School, where I've taught since the school first opened in 2005, implemented a new policy:  the value of an  "F" at Matanzas from now on will be 50 to 59 percent. In other words, the lowest grade a student can receive on any assignment is 50.
When he announced this at a faculty meeting shortly before the school year started, I sat silently, listening to the whispered comments of some of my colleagues and friends. I probably should have spoken up then, but didn't, because I sensed they needed time to process it all, to digest it.
To be honest, there have been times when I have not agreed with Pryor. And as the presence of my op-ed pieces on FlaglerLive so clearly attest, I sometimes disagree with impractical and inane district or state mandates.
But this time, I got it. I even understood, mathematically speaking (thanks in no small part to Sister Marjorie) what Pryor was getting at. Currently, students receive an "A" for scores of 90-100,  "B" for 80-89,  "C" for 70-79,  "D" for 60-69 and F for…. 0 to 59? Why is the "band" for each grade from A to D a narrow, 10-point spread, but so wide for F? If you follow it sequentially, shouldn't "F" logically equate to 50 to 59?
The policy Pryor enacted made sense to me because I'd already essentially been doing this for a few years.  For example, I teach AP English Language & Composition and SAT Prep. Many components of these two classes include assignments to help students practice and prepare for these weighty exams–exams that will determine whether they get into college, earn college credits or get Bright Futures scholarships.
When students complete a practice reading passage in my class, they'll never receive a score of less than 60–even if they only get one question right out of 15.  Why?  Because it's practice. Why should I penalize someone for practicing and preparing for the real AP exam? I want to encourage them to try harder, not discourage them. I want them to learn.
Similarly, when students do sentence completion (vocabulary) questions in SAT Prep, I award 50 percent of the points just for doing them.  For example, if  directions call for them to complete 10 vocabulary questions, I score this 20-point assignment by awarding 10 points for doing the work, and one point for each correct response. So if a student answers five out of 10 questions correctly, he doesn't get a grade of 50, he earns 75, or "C"  — 10 points for doing the 10 practice questions, plus five points for the five they got right: 15/20 = 75.
Why do I it this way?
It's quite simple. When students take the AP English exam in May 2014, they can pass by answering only about 50 percent of the questions correctly. On the SAT, students can attain a  "college ready" score by answering only half the questions right, and  can achieve an outstanding score with just 75 percent right. Why wouldn't I align my scoring with the College Board's?
When students write impromptu essays for my English class, I grade them exactly the way the College Board scores them, on a scale of 1 to 9. (I  know how it works because I score real AP English essays for the College Board every summer.) To correlate this numerical score to an actual  "grade" that will sync with Flagler's Skyward electronic grade book,  a  "9" on an essay equates to 95, 8 represents 90, 7 = 85… all the way down to 1, which in my book, equals a grade of 55 percent — the lowest score a student can possibly earn on any "practice" essay in my classroom.  What need would I have to record anything any lower?
What if they don't do it you ask. Well, it's true that  even if a student doesn't submit the essay, he or she still gets 50 percent. But that's an "F."  Some view that as giving the student half credit or giving something for doing nothing. I see it as the student still getting the merited "F."
Sister Marjorie, God rest her soul, taught me a lot about math…enough to ask probing questions –questions like why a student should have a 60 percent chance of earning an F, but only an 11 percent chance of earning an A, a 10 percent chance of attaining a B, and so on. Why are the odds so heavily weighted in favor of a student getting an F?
Sister Marjorie knew it wasn't fair, and was mathematically savvy enough to have discovered decades ago the wisdom of weighting all her F's as 50. My  earned 90  test score + a 50 (in lieu of 15) equaled 140 divided by 2 = 70 percent. That's how I passed Algebra.  Or did I "deserve" to fail? Which grade best represented what I accomplished that term?  A 52.5?  Or a 70?
Perhaps it's better to give students a fighting chance to recover from a setback or a mistake… and yes, maybe even from unwise choices or downright laziness.
Why not show them they still have absolute value rather than make them feel like absolute zero?

Jo Ann C. Nahirny, a 1985 graduate of Columbia University and a National Board Certified Teacher, teaches English at Matanzas High School in Palm Coast. Reach her by email here.