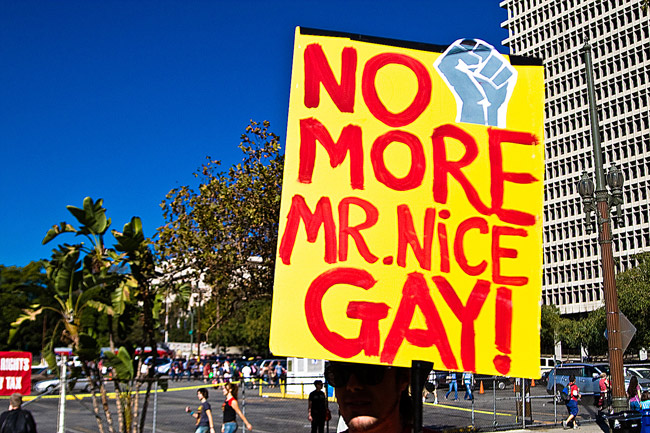 Traian Popov of Bulgaria and Julian Marsh of Fort Lauderdale are both men, are married, and live together in South Florida. Late Friday, Popov became the first individual in a same-sex marriage to receive the permanent residency visa known as a green card, based on his marriage to Marsh. A foreigner married to an American has always had a quick path to a green card. But until last week's U.S. Supreme Court decision finding a federal prohibition of gay marriage unconstitutional, same-sex couples were not eligible.
Marsh, 55, and Popov, 41, who's been in the United States on student visas for 15 years (he has three master's degrees and is completing a doctorate) were having dinner at Red Lobster when they heard the news. They married in New York, one of 13 states where gay marriage is legal. They would not have been able to get married in Florida, where state law barred gay marriage and a 2008 constitutional amendment defined marriage as the union of one man and one woman.
Equality Florida, the state's the largest civil rights organization dedicated to securing full equality for Florida's lesbian, gay, bisexual, and transgender (LGBT) community, wants to change that.
"After consulting with state and national legal experts on the scope of the Supreme Court decision and the impact it may have for state constitutional bans, Equality Florida is reaching out to potential plaintiffs for a lawsuit in Florida," the organization said in a statement Monday.
Equality Florida is citing last week's Supreme Court decision, including wording from Antonin Scalia–who dissented–as justification to challenge the state's constitutional amendment. When federal and state constitutions are clearly at odds, federal law prevails as long as rights granted under state constitutions are narrower than those granted under federal law. But Florida's amendment will remain in place as long as it is not challenged.
While that ban remains, gay couples in Florida are denied the freedom to marry, and legal marriages may not be respected, except with regards to federal benefits such as Social Security and inheritance matters. But some federal benefits may yet be denied to gay couples who are legally married elsewhere but reside in Florida, creating a complex legal patchwork.
Last week the Supreme Court in a 5-4 decision declared the Defense of Marriage Act invalid. It had been in effect since 1996.
"The federal statute is invalid, for no legitimate purpose overcomes the purpose and effect to disparage and to injure those whom the State, by its marriage laws, sought to protect in personhood and dignity," Justice Anthony Kennedy wrote for the majority. "By seeking to displace this protection and treating those persons as living in marriages less respected than others, the federal statute is in violation of the Fifth Amendment."
In his dissent, Scalia wrote: "By formally declaring anyone opposed to same-sex marriage as an enemy of human decency, the majority arms well every challenger to a state law restricting marriage to its traditional definition."
Both conclusions, in Equality Florida's view, is an opening to challenge–and defeat–Florida's ban.
"When we launched Get Engaged, our campaign to change hearts and minds toward supporting the freedom to marry, we asked people to tell their story," Nadine Smith, Equality Florida Executive Director, said. "In state after state where equality has been achieved, telling the authentic stories of our families has paved the way. As we explore the very real potential of going to court to protect our families, we are reaching out to couples to tell their stories, not only to the public, but also to the court."
Smith last week announced immediately after the ruling that her organization would step up the legal fight, casting it starkly in matters of equal rights. "For those of us who live in state's like Florida where our marriages are still not recognized, [Wednesday]'s rulings are a reminder that we cannot wait for justice to be handed to us, we are going to have to get engaged and fight."
But Gov. Rick Scott, an opponent of gay marriage, along with conservative lawmakers in the state were just as quick to reassert Florida voters' decision in 2008 to reject marriage equality by a 62 percent majority. "In 2008, Florida voters amended our constitution and said that we are a traditional marriage state, that marriage is between a man and a woman. As the governor of this state, I'll uphold the law of the land, and that's the law of our state," Scott said.
Equality Florida has been the state's chief advocate behind numerous small but accumulating victories for gay, lesbian and transgender rights in local governments.
In 2011 alone, Equality Florida helped the push in 2011 to add sexual orientation and gender identity to the Volusia County Human Rights Ordinance, to the Broward County Schools' non-discrimination policy, and to ensure that domestic partners of nay gender are entitled to benefits in Orange County, continuing previous years' gains along the same lines. Earlier this year, Sen. Eleanor Sobel, the Broward County Democrat, filed a bill that would have allowed for civil unions. Sobel pulled the bill in committee when it became clear it would not have much of a chance.