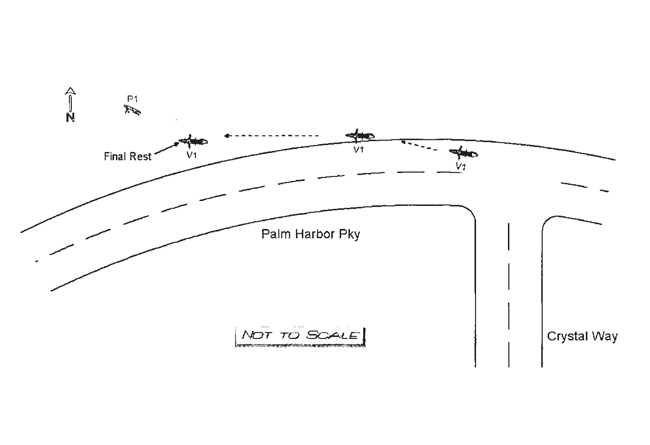 Mark Sousa, a Flagler County Sheriff's detention deputy for the past year, was severely injured on July 5 when the motorcycle he was riding off duty swerved off of Palm harbor Parkway and ejected him. The wreck took place at 1:34 a.m. Sousa was not wearing a helmet.
Sousa failed to negotiate a curve as he was biking west just past Crystal Way, struck a speed limit sign, and was ejected about 20 feet into the woods as the motorcycle came to a rest some 50 feet from the speed limit sign, according to the crash report.
Sousa suffered "a severe injury to his left leg," the report states, and was transported by a Flagler County Fire Rescue ambulance to Halifax hospital in Daytona Beach.
The road surface was dry, and the crash report, prepared by the sheriff's office, states that there were no extenuating circumstances–no unusual weather condition, no obstructions, animals in the roadway or other issues. Sousa was not tested for the presence of alcohol in his blood. The crash report concludes that no alcohol use was suspected, nor was drug use suspected. The report states that Sousa was going the posted speed limit–45 mph–at the time of the crash.
Sousa was riding a black 2007 Kawasaki that sustained $1,000 in "disabling" damages, the report states. Saxon's Towing removed the wreckage. A sheriff's spokesman said it wasn't clear how long Sousa would be out of work.
The full report, produced by Sheriff's deputy Frank Barbagallo, is available here, or see below.

Mark Sousa Crash Report (2014)