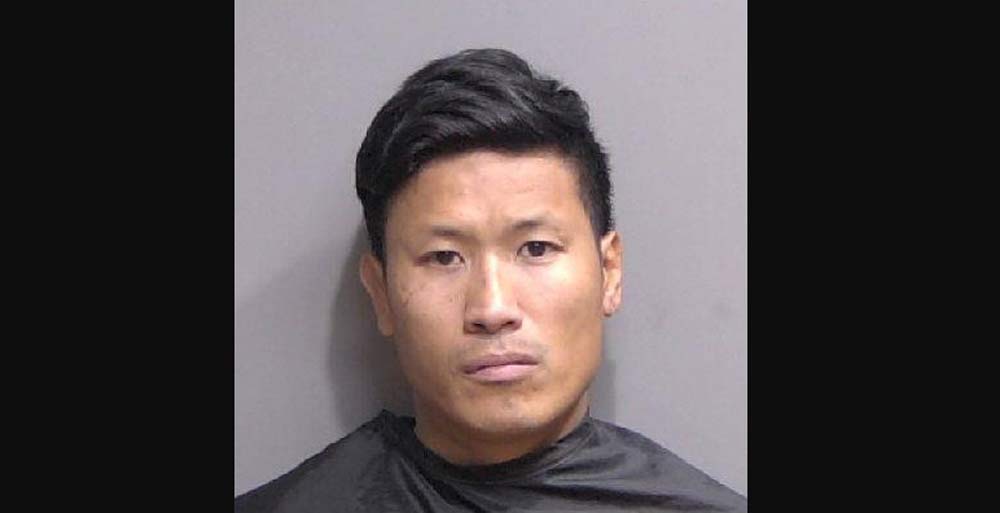 Mark Kes, a 39-year-old resident of South Central Avenue in Flagler Beach, is at the Flagler County jail, facing a first-degree felony home-invasion armed robbery charge, and five other felony charges resulting from an alleged intrusion and attack in the early hours of Saturday at the home of the woman who had broken up with him.
He is being held on $94,000 bond. Some of the charges he faces are in Flagler County, some in Volusia County.




Kes and the woman, who is 33, had been dating for six months, toggling between Kes's homes in Flagler County (the Flagler Beach address as well as an address in Palm Coast are listed on his arrest report). But neither had the other's keys.
According to the account the woman gave police, she was caring for her father, who has cancer. Kes was upset that she was spending too much time with her father rather than with him. Spending the evening together with friends in Palm Coast, Kes yelled at her in front of company, embarrassing her and telling her to leave. She told him she was ending the relationship. She left (they'd driven separately), drove home to her gated condo in Daytona Beach, blocked him on all communication channels, including phone, and went to sleep. (The woman is not being identified and has not been interviewed for this article.)
At 4 Saturday morning, the woman was awoken by loud banging on her bedroom window. Kes would later tell law enforcement officers who interviewed him at the Flagler Beach Police Department that he had left his gym bag in the woman's car and had driven down to retrieve it. He also admitted to jumping the 6-foot, spiked fence at the condo to make his way to the woman's apartment.




When the woman opened the door, Kes stepped inside. The woman told police, according to his arrest report, that "he immediately lifted up his shirt and retrieved a black colored firearm from the front of his waistband," a gun she compared to a Glock, then "pointed the gun to her head and said, 'if you wanna live bitch then do as I say.'" He allegedly grabbed her by the neck and slammed her into the wall, causing her head to strike the door as well as she felt she was choking. She broke free and ran out as he yelled at her to give him her car keys. Shortly afterward he ran out.
Seing him leave in the opposite direction, the woman turned around and tried to get back into her condo to call 911. He had run back just as she was trying to close the door, and overpowered her, according to her account to police, again grabbing her by the throat, striking her in the face and demanding the keys. She gave him the keys. He also took her cell phone, ostensibly to keep her from calling 911.
Kes had a different account. He told police he never used the firearm, and said he returned to the apartment the second time because he did not want to leave on bad terms, merely knocking on the door and getting let in. He said he grabbed the phone and the car keys from the kitchen table, somehow thinking the phone was his.
He used the keys to retrieve his bag from her car, got into his car and drove back to Flagler Beach. Halfway there, he told police, he realized he had her phone. He did not turn around because, he said, he was too tired, and would do so the following day.




The woman meanwhile could not call 911, but used her computer to get on the web and communicate with SafeNest, the domestic violence hotline. SafeNest contacted Daytona Beach police, which reported to the woman's condo and contacted Flagler Beach police. The woman, who displayed evidence of injuries around her neck and cheeks, "was extremely upset and was physically trembling at times when recalling and describing the incident," according to Kes's arrest report. Police gave her a courtesy ride to her parents' home, since Kes had also taken her car keys.
Once there she was able to locate her phone through the iPhone's Find My Friends app. It pinged at Kes's residence in Flagler Beach, where Flagler Beach police went, detaining him at nearly 6 a.m. Daytona Beach police detectives drove up, and were joined by a Flagler County Sheriff's deputy at the Flagler Beach police station. Circuit Judge Terence Perkins signed a search warrant for both Kes's home and his car, which yielded a 9mm Smith & Wesson firearm and a shotgun, as well as the woman's keys and cell phone.
They also found 3 grams of cocaine in a laptop bag, which Kes told police was for recreational use. That added a criminal charge. He was booked at the county jail in early afternoon Saturday, where he remains.

Abuse Hotline: Report Abuse Online
The Florida Abuse Hotline accepts reports 24 hours a day and 7 days a week of known or suspected child abuse, neglect, or abandonment and reports of known or suspected abuse, neglect, or exploitation of a vulnerable adult. Please use the links below to report a child or adult abuse.
If you suspect or know of a child or vulnerable adult in immediate danger, call 911.
TEL: 1-800-962-2873
TTY: 711 or 1-800-955-8771
FAX: 1-800-914-0004
Any person who knows, or has reasonable cause to suspect, that a child is abused, abandoned, or neglected by a parent, legal custodian, caregiver, or other person responsible for the child's welfare is a mandatory reporter. § 39.201(1)(a), Florida Statutes.
To report an allegation in Spanish or Creole, please call 1-800-962-2873, for TTY use 711 or 1-800-955-8771.  This toll free number is available 24 hours a day, 7 days a week with counselors waiting to assist you.