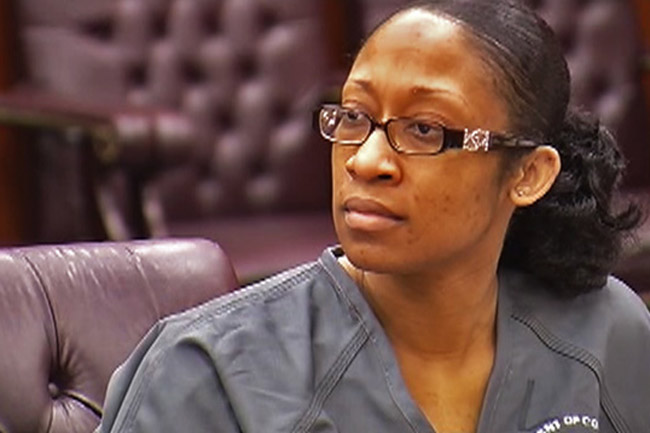 The trial judge overseeing the case of Marissa Alexander, who faces 60 years in prison for firing a shot in a domestic dispute, has ruled that she is not entitled to a second immunity hearing under Florida's controversial "stand your ground" self-defense law.
Judge James H. Daniel on Friday denied the request by Alexander, now a 33-year-old mother of three, who fired the shot during a 2010 dispute with her husband in her Jacksonville home.
The ruling comes after an appeals court ordered a new trial for Alexander and the Florida Legislature passed a law whose sponsor said he was inspired by her case to propose the so-called "warning shot" bill, which extends immunity to people who show a gun or threaten to use force in self-defense.
Gov. Rick Scott signed the bill into law June 20.
But Daniel, whose original decision was reversed by the 1st District Court of Appeal in September, wrote that the appellate ruling addresses only his instructions to the jury, not the basic facts of the case — and that Alexander still does not merit a "stand your ground" hearing.
"In reversing the defendant's judgment and sentence and ordering a new trial, the First District expressly held, '(w)e reject (the defendant's) contention that the trial court erred in declining to grant her immunity from prosecution under Florida's Stand Your Ground Law, but we remand for a new trial because the jury instructions on self-defense were erroneous,' " Daniel noted.
Daniel had instructed the jury that Alexander had to show "beyond a reasonable doubt" that she feared bodily harm at the hands of her husband, Rico Gray, in order to prove she acted in self-defense. Instead, the jury convicted her of aggravated assault with a deadly weapon, which carries a mandatory sentence of 20 years under Florida's 10-20-Life law.
The appeals court ruled that Daniel's instructions put too much of a burden on Alexander.
"The basic outlines of her claim and the victim's claim have not changed at all," Daniel wrote.
The Duval County judge also ruled that the new law cannot be applied retroactively.
Greg Newburn of Families Against Mandatory Minimums, who testified in favor of HB 89, said Alexander's case was part of the reason for the bill's success.
"It would be a shame if she was the last person to go to prison without the benefit of the safety valve that was passed, in part, because of her case," he said.
State Attorney Angela Corey originally sought a 20-year sentence for Alexander, but is now seeking 60 years because two of Gray's children were present when the shot was fired. The shot hit a wall, but Corey has said Alexander fired in anger, not in fear.
"The state stands ready to take this case to trial and seek justice for our two child victims and their father," Corey's office said Monday in a prepared statement.
Alexander has been out on bond since the appeals court's ruling, and her second trial is scheduled for December.
–News Service of Florida