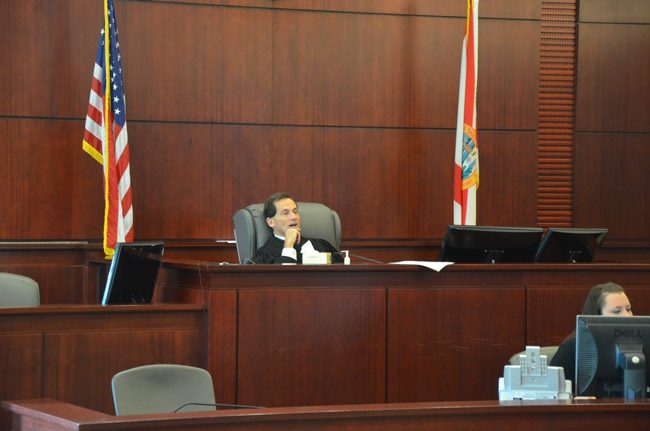 Jan. 22 update: Circuit Judge Dennis Craig agreed to the more lenient plea in a last minute reversal before trial. See the story here.

Twice in the past four months Circuit Judge Dennis Craig rejected a plea agreement prosecutors and the defense had worked out in the case of Maria Howell. Howell is a 20-year-old Palm Coast resident accused of molesting a 14-year-old girl when Howell was 18. Both times Craig found the plea agreement too lenient. The case is headed to trial next week, a surprise to prosecutors and the defense—judging by their nonplussed reactions in court, and by the fact that both sides had jointly agreed to the plea and twice were overruled. Prosecutors and public defenders do their best to avoid lengthy and costly trials when they can. Shorthanded as they are pleas enables them to devote more attention to their cases and, one hopes, reach fairer settlements.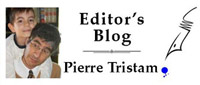 That's not how the Howell case went. And what was unusual is becoming a norm: The number of trials on Craig's watch has been sharply higher than on his two predecessors' (Matthew Foxman and J. David Walsh). Trials may well be the best way to resolve some cases, and there are grave, complex cases that warrant trial. This isn't one of them. But anyone who knows Flagler County juries, and Craig has gotten to know them well over the past year, knows they're rarely forgiving and get more immoderate the closer their deliberations get to 5 p.m. Craig is looking to throw the book at Howell. It's been difficult to figure out why, and even more difficult not to wonder if there's an intemperate impulse creeping into this decision–at the expense of a 20-year-old woman who committed a serious mistake when she was 18 but who may end up in prison for 15 years. The disproportion in play here is arresting.
That she committed a crime is not in dispute, not even by her. In June 2016, when Howell was 18 (and two months shy of her 19th birthday), she met a 14-year-old girl at Epic Theatre in Palm Coast. The girl was a runaway. The two allegedly had their first "date" there, then Howell drove the girl to Port St. Lucie, where police stopped them, matched the girl to a missing-person report, and arrested Howell, who was later charged with molesting the girl, a second-degree felony. Twice before, when she was younger, Howell had been found in the company of runaways, but the worst she faced was a charge of contributing to the delinquency of a minor, which was dropped. One of those incidents also involved an allegation of battery on a police officer.
In October Bill Bookhammer, her public defender, and Joe LeDonne, the assistant state attorney, agreed to resolve the case with a plea that would have reduced the molestation charge to child abuse—not an uncommon plea—eliminating the designation of Howell as a sex offender. She would be placed on 10 years' probation, plus five years' probation on the battery on a law enforcement officer charge, to be served concurrently.
Craig refused the agreement. He said he wanted some prison time. The lawyers were surprised, but they had no choice. They returned to court last month with prison time: 18 months. When Bookhammer was explaining the agreement, Craig didn't give him a chance to finish. He asked LeDonne if the victim was OK with the plea. LeDonne said he had no indication from the victim, but her mother was in court. LeDonne wasn't sure if she wanted to address the court. "Before I accept the plea I want to hear from the victim's mother," Craig said. As the alleged victim's mother made her way forward Bookhammer clarified the not-small matter of eight and a half years' probation Howell would also have to serve after prison.
Then the judge and the victim's mother spoke. It went like this, word for word:
Craig: "And you are the alleged victim's mother."
Mother: "Correct."
Craig: "You heard what the proposed plea agreement is, correct?"
Mother: "I did."
Craig: "And where are you on that?"
"I don't agree with it. Um. I feel that [inaudible] should be more harsh."
Craig: "OK. All right. That's enough said. All right. I'm not taking any agreed plea. OK. Thank you."
And that was that: a 130-second hearing to deny a plea and schedule a trial.
Remarkably, it wasn't LeDonne, the prosecutor, who asked the mother the questions, but the judge. Just as remarkably, Bookhammer was not given a chance to ask her any questions. And keep in mind, it wasn't the victim who spoke, but her mother: what parent wouldn't want the galleys or worse for anyone who so much as upsets a hair on a child's head? More pointedly, since when are victims' parents given a platform at any point in these types of proceedings but in the sentencing phase, when courts have given victims' statements their due? But in those phases victims and their families alone don't get to speak: so does the defendant, so does the defendant's family or friends. Howell was given no chance to address the court. Bookhammer did not intervene. And Howell's father, a teacher who's done what he could on his daughter's behalf—but what educator's salary can afford more than a public defender?– was apparently not given the chance the victim's mother was.
Fair? Not by any objective measure of court proceedings. If there ever was such a thing as a mis-trial before a trial, this one is it. And if any of this is considered perfectly normal, legal and procedurally correct, then that's the crime, because none of it ought to be normal.
William Bookhammer, Howell's attorney, told Craig that the proposed plea deal would bring down the When trial begins next week, the jury will know nothing of the plea agreements. It won't even know that Howell faces a second-degree felony that, if found guilty, would expose her to 15 years in prison and a lifetime designation as a sex offender. In one of the screwier parts of our justice system, juries are never told of the potential penalties to which they're condemning someone. The gap segregates harshness from reason, at justice's expense, and jurors I've spoken to are invariably taken aback by the severity of the punishment they've unknowingly enabled with their guilty verdict. But what we call justice is often a calibration of disproportion, and the calibration depends significantly on the judge.
To stress again: Howell is no flower child. She's previously violated a pre-trial intervention program, then committed another crime and should suffer consequences. But the penalty should not itself be unjust. For comparison's sake, take the case of William Pedersen of Palm Coast.
Three years ago Pederson, 63 at the time, was arrested on charges that he'd sexually molested his granddaughter in what he called his Palm Coast "man cave" for years, when the girl was between 5 and 12, until 2010. By the time she was 8 or 9, he'd drug her with alcohol.
His initial charges included rape and molestation of a child younger than 12, which means a life felony on conviction. Harsh, but hardly objectionable, considering the ruin he made of a girl's childhood, the abuse of his trust as a grandfather, the years of assaults.
In September 2015, prosecutors and the defense (he had a private attorney, which can sometimes make too much of a difference) agreed to a plea that reduced the counts to one charge of lascivious molestation of a child younger than 15, not 12—a key difference that significantly lightened the potential penalties. The sentence? Two years in prison, 10 years' sex-offender probation. Pedersen has already served his time. He was released from prison last May. He's living in the Mondex, or Daytona North.
The only difference was the judge (Walsh, who has since retired). That's just one case. There are others. The disparity with Howell's should shock. But it won't. I can hear the mob screaming for her head just as it would for a serial predator. She could always chance on a more nuanced jury, but that's an enormous chance to take—a chance neither Howell, her attorney or the prosecution wanted to take, a chance only Craig pushed for, knowing well that in Flagler, the verdict in such cases is all but foretold. What an unnecessary waste of trial time. What an unnecessary waste of a life. And what a surprise from the otherwise admirable Craig, who's never allowed his toughness to eclipse his fairness in the year I've see him preside over the felony bench.
With the glaring, inexplicable exception of Maria Howell.

Pierre Tristam is FlaglerLive's editor. Reach him by email here or follow him @PierreTristam.

FlaglerLive doesn't happen by magic: we are a non-profit, 501-c-3 news service that depends on your contributions: we have no paywall, and advertising revenue is limited. Please consider a contribution from as little as $2. Go here.