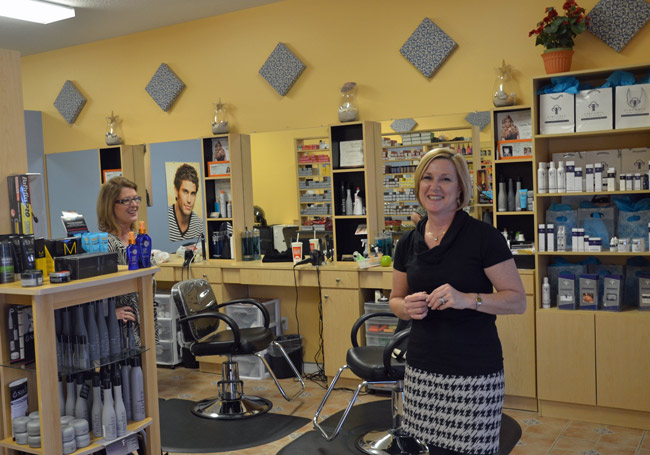 M. Louis Salon is no new kid on the block. It opened in Palm Coast 35 years ago, before you'd even think there was enough hair to be styled: in 1978, Palm Coast was itself more imagined than developed. But it's been a study in resilience, weathering no fewer than four recessions, three sets of owners and, relatively recently, a location change to Cypress Point Parkway.
The original owners kept the salon for several years, as did the second owner, who then sold it to Louanne Vardakas, who had been working there for more than a decade. She has owned it for six years and moved it to a new location two years ago. Vardakas did not want to leave the original location in Palm Harbor Shopping Center. It was a great space and had high visibility from the street, creating lots of walk-in traffic–important for any salon. But when the center was sold, the new owners' rental rates went up. They tried to work with the salon, Vardakas said, to keep it there, but they just couldn't come to an agreement. "It was too much," Vardakas said. "We just couldn't do it."
Now the salon is tucked into the back of the Goodwill shopping center on Cypress Point Parkway. While it doesn't have the high visibility Vardakas would like, it's a comfortable, roomy space with plenty of parking. Her loyal clientele continued to come in, but Vardakas said new clients were hard to come by. "We were steady, but a little stale," she said. "We haven't been able to generate new business very well."
Instead of accepting that fate and doing nothing, Vardakas took a bold step. Despite the slow economy, despite the high unemployment, she expanded.
The Beauty Factor Spa opened next door to the salon on December 1. Offering facials, massages, waxing and nail services, it has been a popular addition to the well-established salon ever since. "We wanted to offer more services," Vardakas said, "to keep the clientele we have here and to attract new clients." So far that's worked well, doing $400 in business the first few days that spa services were available — without even officially being opened. "The response has been absolutely wonderful," Vardakas said. "I'm excited about it."
A local business expert said Vardakas did the right thing. Small businesses are thriving in Palm Coast right now, especially those owned by women. "Sixty to 65 percent of our businesses are owned or being started by women," said Joe Roy, the director of the Palm Coast Business Assistance Center, which has been focusing on small and start-up businesses. "And those who are expanding their businesses are serious about being smart and doing the right thing." That includes offering services not provided by anyone else in town, like Vardakas at The Beauty Factor Spa.
"No one else has the products we are using," she said, "or providing all of the services we do in the same place." The spa has one fulltime aesthetician, Natalia Martynenko. A native of Russia and former nurse, Martynenko said there was "too much suffering" in that job and wanted to do something that made people happy, like giving people relaxing, effective facials.
An open house — or open spa — will be held Sunday (Feb. 3).
Vardakas said her secret to success is consistent high quality. "That's one thing her clients always say," said nail tech Shawna Davis, "that she is top-notch."
And that continues into the spa. Vardakas says the products used in the spa are "cosmeceuticals." This term refers to the combination of cosmetics and pharmaceuticals. They are products with biologically active ingredients purporting to have medical or drug-like benefits. The brand Beauty Factor Spa is using is Circadia, developed by Peter Pugliese. These are cutting-edge products, Vardakas says, that use oxygen for ultimate anti-aging benefits. Beauty Factor is the only spa in town that offers the Circadia products.
"This is all new technology," aesthetician Debbie Meeker said. "We are right on the brink with all of this new stuff." The nail products are all O.P.I. "We're not buying any off-brand cheap-y stuff," Vardakas said. "I want it to be the best for everyone."
While the salon itself has been around for decades, don't let M. Louis's age fool you. It is a mere teenager when it comes to keeping up with the latest trends.
"We've all had training in extensions and Brazilian blow outs," Vardakas said. "We take Paul Mitchell classes (it is an official Paul Mitchell salon), we do gel manicures and we do makeup now."
Over in the salon, the Brazilian blowout is the hot trend. It is a hair straightening treatment that uses Keratin and heat for an affect that can last up to three months. In the new spa, the anti-aging facial, using those Circadia products, is the most popular treatment. Waxing is another specialty at the Beauty Factor. And it's not just for women. More and more men are coming in to be groomed.
"No doubt about it, men want to take better care of themselves," Vardakas said. "And they're not embarrassed by it." Vardakas is offering a spa membership. Clients can pay an annual membership fee and get 20 percent off unlimited spa services. "Our clientele has been around for 30 years. But they have been going to different places for different services," she said. "Now they can stay put and get everything done here and be rewarded with the discount."
Getting a spa or salon treatment can become a social event at M. Louis. Bring a friend, have some sangria (provided especially for the salon by La Piazza in the European Village), and enjoy the day. A salon and spa can offer as many fancy products and glasses of wine as it can and still not have success. In the end, it's the customer service. "One of our clients told me that what's nice about us is that every time she walks in we're smiling and she's greeted positively," Davis said. "You just don't get that everywhere."
Roy said he's confident Vardakas and her business will do well, a further indication that for all the business struggles locally, there are ways to make it. "People in Palm Coast want to support local businesses," he said. "As long as you have something that makes you different from everyone else, you can be very successful."

M. Louis Hair Salon and The Beauty Factor Spa
10 Cypress Point Parkway, Suite 103
Palm Coast, Florida 32164
Telephone: (386) 445-1338
Hours: Tuesday – Friday, 9 a.m. – 7 p.m.; Saturday 8 a.m. – 4 p.m.
Open House Sunday, Feb. 3, 1 to 5 p.m.