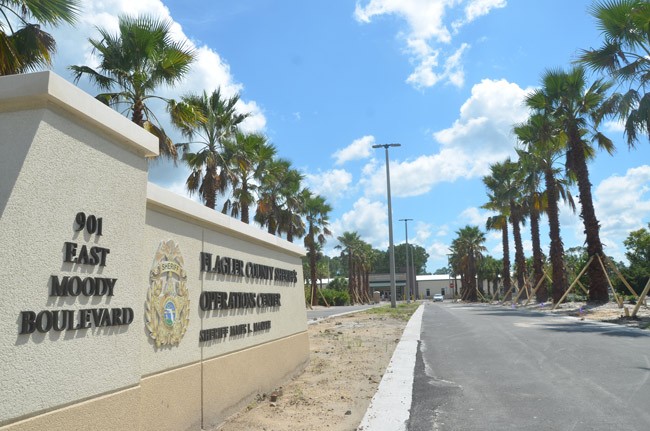 Today: high in the mid-80s, low in low-70s. Details here.
Today's fire danger is low. Flagler County's Drought Index is at 144.
Today's tides: at the beaches, at the Intracoastal Waterway.
Today's document from the National Archives.
The OED's Word of the Day: pod person, n..
The Live Community Calendar
Today's jail bookings.
Today's Briefing: Quick Links

Note: all government meetings noticed below are free and open to the public unless otherwise indicated. Many can be heard or seen live through each agency's website.
The Bunnell City Commission holds its second and final public hearing and votes to adopt its 2015-16 budget and tax rate, at 6:30 p.m. The city is adopting a tax rate 7.5 percent higher than the current year. See background here. That meeting is followed by another, where the commission is expected to adopt an ordinance setting the qualifying period to run for Bunnell City Commission in 2016 between Jan. 4 at 8 a.m. and Jan. 8 at noon. The qualifying fee to run, absent a minimum of 15 required petitions, is the equivalent of 3 percent of the salary of a commissioner, or $259.20, and $324 for the mayor. The commissioners may also raise their salaries 3.8 percent, after taking a 10 percent pay cut last year to address budget woes. The raise wounmd bring their salaries to $8,640 for commissioners and $10.800 for the mayor (per year). Full agenda and background here.
The Flagler County Free Clinic holds a fund-raiser at the Turtle Shack in Flagler Beach from 6 to 8 p.m. Enjoy drinks, the shack's yummy signature appetizers, live music, a silent auction, and a "wine grab" with great values. The Turtle Shack will also be serving a special drink and dinner menu. The free clinic provides medical care to our Flagler County neighbors in need. It relies on community support. $15 at the door.

"He Kept Pushing Me Mentally": Anna and John Pehota's Life Before She Shot Him: Anna Pehota told detectives her husband had been mentally abusing her for years, but never physically. Nothing physical had happened Wednesday evening, either. She'd been making dinner, as she has every night for years. He said something that upset her so much that she broke a dish. She couldn't remember what it was. She thinks Jack continued to provoke her. She went to her bedroom, retrieved her .22-caliber long barrel handgun, and shot Jack three times as he stood near the entrance to the trailer they'd owned and lived in almost as recluses for 22 years.
Volusia-Flagler's chief court interpreter claims her firing was retaliation: Claudia Villalba had worked 11 years and was fired without reason. She says it was retaliation for "disagreements she's had with her manager, Shirley Olson, over court policies and her extra push to help people who do not speak English," according to the News-Journal. (Story paywall-protected.)
Jesus as Clown, Disciples as Dirty Stinking Hippies: City Rep Returns With "Godpsell": "I thought it would be for us in this space a unique experience for the audience," Director John Sbordone said of City Rep's performance space in City Marketplace on Cypress Point Parkway. "Because we are in three-quarter round, we are able to climb our walls. We are able to be inventive in very interesting ways with the production values."
Peralta Design, led by CEO Ramon Peralta, "the original art director in the early days for Priceline.com, is headquartered in Connecticut, and has just expanded in Palm Coast, next to Office Divvy's main location at 389 Palm Coast Parkway SW, Suite 4," the Observer reports.

Circuit Judge J. David Walsh starts at 8:30 a.m. in Courtroom 401 with felony arraignments. He'll also hear probation violations, hold sentencing hearings and hear pleas. Charles Cino holds traffic infraction arraignments in Courtroom 101 at 9 a.m. and infraction trials in the same courtroom at 1:30 p.m. County Judge Melissa Moore-Stens and Circuit Judge Michael Orfinger are in various hearings throughout the day.
A Foreclosure sale is scheduled for 11 a.m. in the civil department lobby.

Note: Most proceedings below can be followed live on the Florida Channel.

Redistricting: Leon County Circuit Judge Terry Lewis is expected to finish holding a hearing about proposed congressional redistricting plans. The Florida Supreme Court in July found that eight current districts violate the anti-gerrymandering "Fair Districts" standards approved by voters in 2010. Lewis is considering maps proposed by the House, the Senate, voting-rights groups and a group of individual plaintiffs. (9 a.m., Leon County Courthouse.)
State Chief Financial Officer Jeff Atwater and Agriculture Commissioner Adam Putnam are expected to be among the speakers at the Florida Chamber of Commerce's two-day "Future of Florida Forum." Other speakers during the first day are expected to include Marshall Criser, chancellor of the state university system; Ed Moore, president of the Independent Colleges and Universities of Florida; Madeline Pumariega,, chancellor of the Florida College System; Hershel Lyons, chancellor of the state Division of Public Schools; Jesse Panuccio, executive director of the Florida Department of Economic Opportunity; state Rep. Eric Eisnaugle, R-Orlando; and state Rep. Kathleen Passidomo, R-Naples. (11:30 a.m., Omni Orlando Resort at ChampionsGate, 1500 Masters Blvd., ChampionsGate.)
The Commission on Healthcare and Hospital Funding, created this year by Gov. Rick Scott to look at issues in the health-care industry, will continue a series of meetings across the state. (1 p.m., University of South Florida, USF Gibbons Alumni Center, 11810 USF Sago Dr., Tampa.)
–Compiled by the News Service of Florida and FlaglerLive

In Coming Days in Palm Coast and Flagler:
Click on the links for more details:
Sept. 28: Bunnell's State of the Art Water Treatment Facility Grand Opening and Ribbon Cutting at 100 Utility Drive (directly across the street from the Flagler County Government Services Building), from 4 to 6 p.m.
Sept. 30: The Heritage Crossroads: Miles of History CME will meet at 1:30 p.m. in the Flagler County Government Services Building, 1769 East Moody Boulevard, Building 2. Plans for the coming year's activities will be discussed, and all are invited to participate. For information call 386-439-5003.
Oct. 3:The International Festival takes place in Palm Coast's Town Center from noon to 9 p.m.
Oct. 3: The Bulow Parks Historic Alliance will have an extra Trail Maintenance Day to prepare for the October 30 Candlelight Trail Walk. Workers are asked to meet at the Trail head at 9 a.m. wearing gloves, hats, appropriate clothing and carrying bug spray. Water will be provided.For information call 386-437-5338.
Oct. 5: Pink Army 5k Run/Walk for Breast Cancer, 7:45 am at Florida Hospital Flagler. Gather your family, friends, coworkers, neighbors and run or walk in honor of those who have battled and continue their battle against breast cancer. Proceeds from the Pink Army Run/Walk go to the Florida Hospital Flagler Foundation to educate and support women of Flagler County.
Oct. 6: The Flagler County School Board holds a town hall meeting at the Government Services Building.
USA Today's Alan Gomez to discuss immigration and its role in 2016 presidential election at Flagler College Forum: USA Today immigration reporter Alan Gomez will discuss recent attempts to change the nation's immigration laws, why they failed and how immigration has become a central issue in the 2016 presidential debate at the Flagler College Forum on Oct. 6. His presentation, titled "Immigration in the 2016 Elections and Beyond," takes place at 7 p.m. in the Lewis Auditorium and is part of the Forum on Government and Public Policy's "Road to the White House" theme leading up to next year's presidential election.
Oct. 10: Saturday Evening with the Artists at the Flagler County Art League: This is the League's signature event, an open-themed art show where Flagler artists show off their best work, their newest work, their most recent forays into other mediums or their latest artistic exuberances. The exhibit's popularity has a traditionally high rate of artist participation and creativity. Judge for the show is artist/sculptor Harry Messersmith. City Marketplace, 160 Cypress Point Parkway, Suite 207C, Palm Coast. 386-986-4668.
Oct. 14: The Bulow Park Historic Alliance meets at 6 p.m. in the Annex of the Flagler County Historical Society, 204 East Moody Boulevard, Bunnell. Plans for the October 30 Candlelight Trail Walk and other events will be discussed. For information call 386-437-5338.
Oct. 17: The Bulow Parks Historic Alliance's monthly Trail Maintenance Day, to prepare for the October 30 Candlelight Trail Walk. Workers are asked to meet at the Trail head at 9 a.m. wearing gloves, hats, appropriate clothing and carrying bug spray. Water will be provided.For information call 386-437-5338.

Police, Fire and Emergency Notes:
The Flagler County Sheriff's Office is proud to present the new Sheriff's Operations Center in Bunnell during an open house at the new building on Wednesday, Sept. 30, 2015, from 4:30-6 p.m. Our new building is located at 901 E. Moody Blvd., Bunnell. We will be conducting tours and look forward to showing you our new 34,000-square-foot facility.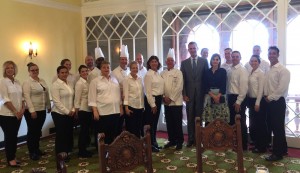 Six Stewart-Marchman-Act Behavioral Healthcare staff and their chef's prepared and served the King and Queen of Spain during St. Augustine's month-long 450th anniversary celebration. St. Augustine was the last stop on King Felipe VI and Queen Letizia's trip before they traveled back to Spain. Due to security reasons, they were not permitted to tell anyone until after the lunch, and all were required to obtain background checks. "We were honored to be selected to prepare and serve King Felipe VI and Queen Letizia lunch at Flagler College in St. Augustine College," said Ivan Cosimi, SMA's CEO. "With the talent of Chef David Bearl overseeing the delivery of food service at SMA, and conscientious staff like Kevin Gallagher, Alicia Vincent, Carolyn Sentelik, and Kelly Bazanos doing their part, our clients are treated like royalty every day," he added. The chefs that prepared the food were SMA's Chef Kirk Kief, Chef Kevin from WARM, and University of Florida Chef David S. Bearl. The SMA staff that served the King and Queen were Rhonda Harvey – Vice President for Residential and Crisis Services at SMA, Carolyn Sentelik – Stewart-Marchman-Act Foundation's Director, Ivan Cosimi – SMA's CEO, Kelly Bazanos – Executive Assistant to the CEO, and Alicia Vincent – Director of WARM. The last visit by Spain's monarchs to the city was in April 2001, when Felipe's parents, King Juan Carlos I and Queen Sofía visited St. Augustine. The royal couple's tour of St. Augustine during this visit included the Cathedral Basilica, which was the first Catholic church on the American continent and was given the first money by the Spanish crown in the 1790s according to Father Tom Willis.
VyStar Reaches 500,000 Member Milestone: Terry R. West, President/CEO of VyStar Credit Union, recently announced that VyStar achieved a major milestone in its 63 year history by surpassing 500,000 members. VyStar, formerly Jax Navy Federal Credit Union, was founded in 1952 by 12 people who knew how hard it was for military and civil service employees to access affordable financial services. The original founders worked together, contributed $5 each and formed what is today VyStar Credit Union. Their primary goal was helping working class people improve their financial condition by offering affordable financial services. Today, VyStar's mission continues to support the primary goal of its founding members by serving the financial needs of its members and providing quality services while maintaining fiscal soundness. As a result, the 12 original founders have grown to over 500,000 and the original $60 in deposits has grown to over $5.6 billion making VyStar the 19th largest credit union in the nation and the 4th largest financial institution in Northeast Florida. Terry West says, "We have our members to thank, past and present, for VyStar's success along with the solid foundation established by our original members. We feel this is a reason to celebrate." In celebration and appreciation, VyStar is offering a special, 15-month Certificate of Deposit for its members for a limited time only. Other special member appreciation events and promotions are planned during September and October in celebration of the 500,000 member milestone.

The Real Roots of '70s Drug Laws: "Today's disastrously punitive criminal justice system is actually rooted in the postwar social and economic demise of urban black communities. It is, in part, the unintended consequence of African-Americans' own hard-fought battle against the crime and violence inside their own communities. To ignore that history is to disregard the agency of black people and minimize their grievances, and to risk making the same mistake again. The draconian Rockefeller drug laws, for example, the model for much of our current drug policies, were promoted and supported by an African-American leadership trying to save black lives. During the 1960s, concentrated poverty began to foster a host of social problems like drug addiction and crime that degraded the social and civic health of black neighborhoods. After the Harlem riots of 1964 (which erupted following the shooting of a 15-year-old black male by a white cop), polls showed that many African-Americans in New York City still considered crime a top problem facing blacks in the city, while few worried about civil rights and police brutality." From The Times.
Carly Fiorina Really Was That Bad: "In 2009, Portfolio magazine ranked her the 19th worst C.E.O. of all time and described her as a "consummate self-promoter" who was "busy pontificating on the lecture circuit and posing for magazine covers while her company floundered." (That sounds like good preparation for running for president.) Mrs. Fiorina tries to obscure these harsh realities with a blizzard of her own "facts." On the campaign trail, for example, she speaks of having doubled her company's revenues. However, most of that increase came from adding in Compaq's sales, which is a misleading way to calculate revenue growth. While some of the intricacies of Mrs. Fiorina's performance may elude voters amid the dust storm that she has kicked up, her compensation won't. She banked $21 million in severance payments as part of the more than $100 million in compensation she received during what one critic called her "destructive reign of terror" (which included pushing for H.P. to acquire five corporate jets.)" From The Times.

Palm Coast Construction and Development Progress Reports:
The following is an update of ongoing construction and development projects in Palm Coast, through Sept. 23:
Palm Coast Parkway Six-Laning is 93 percent done: No change from last week: Contractor has placed the new 6″ reuse main into service and has prepared the old line to grout filled. Work in median continues and landscape along project continues.
Holland Park, 32 percent done: Began dewatering and removal of wetland muck in roadway area through former wetland. Excavation for lighting and fiber conduits began. Excavation continues for sidewalks in the ball field areas.
Palm Coast City Hall at Town Center, 94 percent done: Contractor has placed concrete around valve collars and identifying tabs. Wire testing has been completed. Carpet and Tile in (Phase 1) of the project is 95% complete. Furniture installation in Phase 1 first floor 80% complete.
Colechester Drive Bridge, 43 percent done: Seawall Caps being formed, work has begun on the bridge deck, South traffic barrier poured, North traffic barrier being formed, demolition of slope pavement continues.
County's I-95 Interchange Matanzas Woods Reclaim Water, 25 percent done: Contractor has installed approximately 1,000 ft. of reclaim water main total installed 5,000 ft. to date.
Palm Harbor Parkway Roadway Extension, 25 percent done: Clearing and fill work thru low areas continues.
North Old Kings Road Extension to Matanzas Woods Parkway, 12 percent done: Site clearing continues at 85 percent.
Island Walk Shopping Center Phase 1, 93 percent done: Final Utility Inspection was issued 9/21/15 for the first state on the west end of project.
Old Kings Road Force Main – Master Pump Station, 22 percent done: Jack and Bore casing has been placed under Old Kings Road at south entrance to spray field. The 16″ Force main piping installation has started.
Grand Haven Sales Center on Colbert Lane, 35 percent done: Water and Sewer services have been installed on site.

Road and Interstate Construction: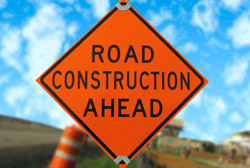 Palm Coast:
Flagler County Road 302 is Closed to all but local traffic as repaving began on June 7 and the roadway will be closed to all but local traffic. Others will be required to detour around County Road 302 using State Road 100. The roadway will be closed for 90 days, or until early September.
Palm Coast's Colechester Lane bridge to be closed July 7 through Sept. 4:  A detour will be established taking travelers over the Colorado Drive bridge instead. Signs will be posted directing motorists to the Colorado Drive bridge. The City of Palm Coast strives for safe construction zones. The City asks for the cooperation and patience of residents as this important bridge improvement project is completed. For more information, contact Palm Coast Customer Service at 386-986-2360.
Volusia: I-4 Widening from SR 44 to east of I-95, Monday and Friday, 7:00 a.m. – 5:00 p.m., Eastbound/Westbound shoulder closing. Sunday through Thursday, Eastbound and Westbound lane closures as needed from 8 p.m. to 6 a.m. Thursday, 9:00 p.m. – 5:30 a.m. EB road closure between Canal St./SR 44 and I-95 with detour at US 92 exit ramp.Motorists should be aware of traffic shifts near Canal St./SR 44.
County Road 304 Project Map and Description

Comment of the Day (From the Comment Section):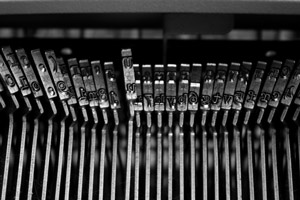 I/M/O, in "Trump Leads By Far Among Florida Republicans as Rubio Leaps Ahead of Bush": Who is Carly Fiorina? She is a Bush Family Dynasty Hack. Appointed by President George W. Bush to be the Director of the External Advisory Committee to the Central Intelligence Agency. Granted the highest Security Clearances our government can give a person. Having has access to this nations Top Secret foreign policy and military briefing she tried to pass herself off as a genius as to foreign and military policy when she was just parroting the briefings she had been allowed to have access too during the 2nd debate. She used Hewlett Packard to help build the NSA that spies on American Citizens. She diverted deliveries to "Retailers" to the NSA facility in violation of contracts she had with retailers.Between the NSA and selling Hewlett Packard technology to Iran she enriched herself. Her exact net worth, according to the 87-page disclosure document, is $58,954,494. She Has the 2nd Largest Net Worth Among 2016 Presidential Candidates. Seconf only to Donald Trump. Her Husband Was an AT&T Executive Which was also involved in building the NSA surveillance system. The Fiorinas Own a $6 Million Home in Virginia. Virginia where the Headquarters of the Central Intelligence agency is located. The home in Mason Neck, sits on five acres and has views of the Potomac River. The home is 23.65 miles from the Central Intelligence Headquarters Complex. Was allowed to send billions of Hewlett Packard computers, servers and the technology to Iran in violation of the Iran Embargo. Iran's nuclear technology program is chock full of Hewlett Packard technology. Asked by President George W.Bush to be the Head of the World Bank. Ran a vicious personal attack campaign against Senate Barbara Boxer where she attacked Senator Boxer's looks and hair styles. Who is Carly Fiorina who has now been nicknamed "KGBush" on message Board and Facebook., She is a Bush Family Hack and the consummate Washington DC Insider. She is so embedded in the Central Intelligence Agency and the NSA it would take a truckload of dynamite to dislodge her." Reply to I/M/O here.

Schiff Plays Bach's Italian Concerto