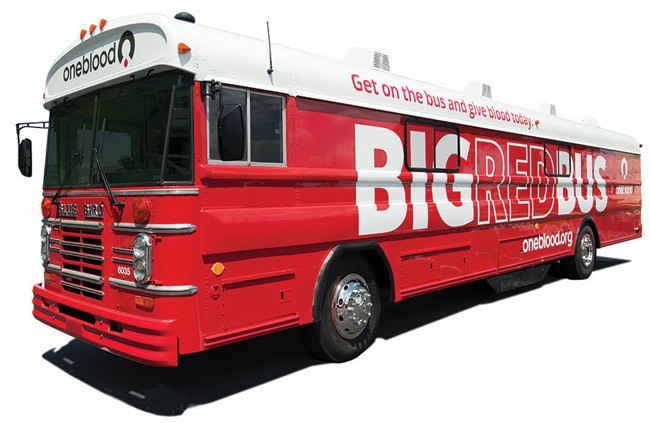 Mostly sunny, high in lower 80s, low in lower 60s. Details here.
Today's fire danger is Moderate. Flagler County's Drought Index is at 211
The weather in Affalterbach, Germany: partly cloudy high in mid-40s, low of 31. Details.
The Live Community Calendar
Today's jail bookings.
Today's Briefing: Quick Links

No government meetings scheduled at the county, Palm Coast, Bunnell or Flagler Beach. Palm Coast city offices and the sheriff's office are closed for Good Friday.
Early Voting in special election ends Saturday: April 4 is the last day of early voting in the special elections for House District 24 and Senate District 6. You may vote at the Flagler County Public Library in Palm Coast, and at the Supervisor of Elections' office iat the Government Services Building in Bunnell Friday and Saturday, from 8:30 a.m. to 4:30 p.m. In the Senate race, Republican Travis Hutson faces Democrat David Cox. In the House race, Democrat Adam Morley faces Republican Paul Renner.
Turtle Fest is at Veterans Park in Flagler Beach, from 10 a.m. to 4 p.m., with various environmental displays, large tortoise races and live music with Captain Nick and belly dancers, climaxing with the release of three turtles, right by the pier, to the north side, at 4 p.m.
Flagler County Fair and Youth Show continues today and through the weekend (At the county fairgrounds on Sawgrass Road, off County Road 13.)
First Friday in Flagler Beach: Come on out tonight, April 3rd, at Flagler Beach and listen to the tunes of Highway 1 and Tropical Rock Trio for the monthly town party.
Full moon beach stroll at Gamble Rogers Rec Area in Flagler Beach: Join a Ranger at Gamble Rogers Memorial State Recreation Area for this educational full moon beach stroll. All ages welcome, minors must be accompanied by an adult. The program will leave from the beachside pavilion. Visitors will learn about fun and interesting moon myths, facts and the effects of the moon on the tidal ecosystem while enjoying the spectacular rise of the full moon. Please bring water and dress for the weather. Bring a camera for beautiful photo opportunities! Visitors will have the option to walk for exercise or focus on an educational portion with minimal walking. Moonrise will be at 7:13 PM. RSVP is required. Please visit the website to register online or RSVP by calling the park (386-517-2086). Registration will close after the maximum number has been reached. Multiple dates are listed for registration in the event the program closes due to capacity. Please bring water and dress for the weather. This event is free with regular park entrance of $5 per carload of two to eight people, $4 for one person in a car and $2 per pedestrian or bicyclist; to be paid the day of the event.

There are no cases on the Flagler County court docket Friday.

University of Florida trustees meet today. (9:30 a.m., Gainesville)
Finance reports due in April 7 special election: Senate District 6, House District 17 and House District 24 candidates must file. Senate District 6 includes St. Johns, Flagler, Putnam and part of Volusia counties. House District 17 includes part of St. Johns County, while House District 24 includes Flagler County and parts of St. Johns and Volusia counties. The special elections stem from the November resignation of Sen. John Thrasher, R-St. Augustine, and the candidacies of Rep. Travis Hutson, R-Elkton, and Rep. Ronald "Doc" Renuart, R-Ponte Vedra Beach, for the Senate seat.

The Labor Department releases the jobs report for March at 8:30 a.m. The story here.
President Obama is in Kentucky and Utah, two red states, to talk about the economy.

Florida adoption agencies could gain right to deny gay parents on religious grounds: "Just three weeks after the Florida House overturned a ban on adoptions by gay parents, a panel in the same chamber Thursday advanced language allowing adoption and foster care agencies to discriminate based on their religious convictions. Both decisions are largely symbolic. Courts five years ago ruled the ban on gay adoptions unconstitutional, and the bill granting religious protections has no Senate companion. But Thursday's party-line vote on what supporters call a "conscience clause" in the House Judiciary Committee thrusts Florida into a bigger debate about religious protections and the fight for LGBT rights. Indiana lawmakers scrambled Thursday to change a Religious Freedom Restoration Act signed by Republican Gov. Mike Pence last week that attracted national attention because it allows business owners to deny service to people based on their religious beliefs." The Tampa Bay Times.
Employers at Disney agree to $10 hourly minimum: "Two companies that employ restaurant workers within Disney World have agreed to raise their pay to $10 an hour by 2017. Unite Here Local 737, a union that represents the 400 workers, has announced the pay agreement with Palmas Services and Patina Restaurant Group. Workers will vote whether to ratify the contract today. The wages will be similar to increases Disney World already agreed to for the tens of thousands of people it employs. At Palmas and Patina, the minimum pay will increase to $9 per hour this year, $9.50 next year and $10 in 2017. The companies' non-tipped employees whose pay is already above the minimum rates will receive increases of $1.50 over that same three-year period." Orlando Sentinel.
Poll: Bush now tops GOP field; Clinton runs ahead of all Republicans: "Bush — by far the best known among those running for the GOP nomination — is viewed favorably by 33 percent of the public, while 53 percent say they view him unfavorably. Only Clinton among all those included in the poll has a net positive rating, but by the slender margin of three percentage points (49 percent to 46 percent). Her favorability rating has dropped nine points in the past year and 18 points since she left the State Department in 2013. Clinton stands now as the leading contender in either party for the White House, with no serious opposition at this point in the race for the Democratic nomination. But as she prepares to launch her campaign, she emerges also as a polarizing figure, with huge differences in the way she is perceived by Republicans and Democrats." […] In the contest for the Republican nomination, Bush tops the field with 20 percent of Republicans and GOP-leaning independents saying they would support him if their primary or caucus were held today. He is followed by Sen. Ted Cruz of Texas at 13 percent and Wisconsin Gov. Scott Walker at 12 percent. Five other Republicans received at least 6 percent support, with an additional six candidates at either 2 percent or 1 percent. Bush, Cruz and Walker are the only three to register noticeable gains since the last Post-ABC survey on the GOP race in December." The Washington Post.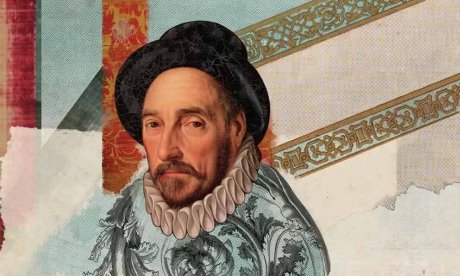 Our Contemporary, Montaigne: "When Montaigne retreated to his country estate at age thirty-eight, instead of writing about his life at the center of power, he wrote mostly about what he saw from his tower library. The fruits of that period of relative seclusion secured his place in posterity. As the New Yorker's Jane Kramer has pointed out, every French schoolchild learns the date of Montaigne's "retirement"—February 28, 1571—because of its significance to the literature of France and, indeed, the world. "He had his books for company," writes Kramer, "his Muses for inspiration, his past for seasoning, and, to support it all, the income from a large estate, not to mention a fortune built on the salt-herring and wine trades, which, in the last century, had turned his family into a landed gentry." […] A quick look through the essays turns up one gem after another. "I have never had any trouble except in the management of my own affairs. Epicurus says that to be rich is not the end, but only a change, of worries," he laments at one point. "Nature seems to have inclined mankind to social intercourse above all else. And its supreme point of perfection, I find, is friendship," he observes in another passage. Another turn of the page reveals this thought: "I can dine without a tablecloth, but hardly without clean napkins, as the Germans do; for I soil them more than they or the Italians, since I make little use of a spoon or fork. I regret that the royal custom of changing napkins, together with the plates, after every course, is not more widespread." And then one dips in and finds Montaigne bridging the ageless subjects of sex and death with cutting concision: "Everyone, certainly, flees from seeing a man born, and everyone rushes to see him die. To destroy a man we use a large field in open daylight. But to make a man we sneak into as dark and secluded a corner as we can." From Humanities.

Road and Interstate Construction: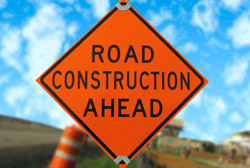 Flagler County: County Road 305 between CR 2006 and Tangerine. IMPACTS: Closure in force 3/17/2015 for the 2nd box culvert replacement. Detours detour via CR 110 to CR 95 to CR 2006. Truck Detour via Bunnell (SR 100 – SR 11)
Palm Coast: Palm Coast Parkway between Cypress Point Parkway and Florida Park Drive. IMPACTS: Lane shifts and closures will occur and this may cause traffic congestion on this already busy roadway. Most construction work will occur between 9 p.m. and 7 a.m. though weather and unforeseen issues may adjust the schedules. This project will be complete by December 2015.
Flagler-St. Johns Controlled Burn: The Florida Highway Patrol Friday continues to monitor a Prescribed Burn in the area of Faver Dykes State Park which may affect roadways in St. Johns County. Motorists are encouraged to use caution when traveling in these areas. Visibility may deteriorate quickly due to smoke/fog type conditions, especially during the night time and early morning hours. Motorists are reminded to reduce their speed as necessary to avoid a collision and utilize their low beam headlights in order to adapt to changing weather conditions.
I-4, Volusia County: The Florida Department of Transportation is advising motorists to be aware of an upcoming, eastbound traffic shift on Interstate 4 (I-4) near DeLand. FDOT and its contractor, The de Moya Group, are planning the overnight traffic shift on I-4 between the US 92 Ramp and I-95 for just less than two miles on Thursday night, April 2. Currently, the eastbound and westbound lanes are divided. The plans call for eastbound lanes to temporarily be shifted to the newly constructed westbound roadway. All traffic will switch over to the new concrete lanes on the westbound side and a barrier wall will be erected to separate eastbound and westbound traffic – similar to the temporary arrangement seen in the past on the eastbound side. This temporary arrangement will allow work to occur on the eastbound side constructing three concrete travel lanes with asphalt shoulders. A similar eastbound shift between the SR 44 and the US 92 Ramp was recently completed. Throughout this process overnight, and during future construction, message boards will be in place throughout the zone guiding drivers through the area. For the most up-to-date information on road and lane closures, go to www.cflroads.com and click on 'Lane Closures'. Times and dates could change based on weather conditions and other variables, updates will be provided if the schedule is modified.
I-95, Volusia: I-95 widening from SR 406 to SR 44, Sunday through Friday, 6:30 p.m. to 6:30 a.m., Southbound and Northbound double-lane closures on I-95 mainline; Monday thrpough Saturday, 7 a.m. to 4:00 p.m., Eastbound/Westbound single lane closures at I-95 overpass on Maytown Road, Indian River Blvd./SR 442.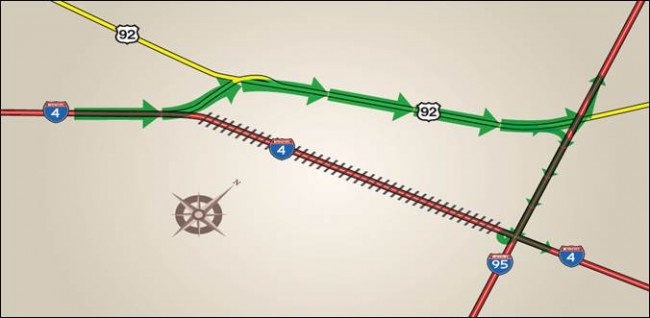 County Road 304 Project Map and Description

Culture and the Arts:A traveling, interactive sculpture was installed Monday at the Flagler County Library in Palm Coast. "IMAG NE" comes to Palm Coast through the efforts of and co-sponsorship of the Gargiulo Arts Foundation and Friends of the Library, with a $1,500 grant from Palm Coast. The sculpture will remain at the Library for a month and will then be moved to a site to be determined at Town Center. Its creator, Emma Ann, says her goal "is for the viewer to interact with the sculpture." She encourages people to snap pictures of themselves interacting with the work and post it on social media.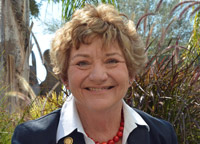 Traffic Ticket Collections Free Amnesty on Friday, April 17: Operation Green Light is a one-day amnesty giving drivers the chance to pay overdue fines, without having to pay the 40 percent collection feel. Hours at the Flagler County Courthouse will be extended for the occasion, stretching between 8 a.m. and 5 p.m. Clerk of Court Gail Wadsworth says her office has tabulated 7,793 cases that have gone to a collection agency. Of those, 4,507 are civil traffic cases. The total amount in collections for Flagler County is—to be precise–$1,872,973.91. Most people with such cases are driving on suspended driver's licenses. You may get your driver's license restored if you pay the overdue fine. (April 17)
Flagler County Job Fair on April 24: A limited number of spaces are still open for businesses interested in reserving a free booth at the second annual Flagler County Job Fair. The event will take place on Friday, April 24, from 12 p.m. to 6 p.m. at the Palm Coast Campus of Daytona State College, 3000 Palm Coast Pkwy SE, Building 3. Last year nearly 400 jobseekers attended the inaugural fair, which was hosted by the Flagler County Department of Economic Opportunity and CareerSource Flagler Volusia. This year Daytona State College and the Flagler County Chamber of Commerce joined the effort to positively impact Flagler County's economic vitality. Among the businesses that have already registered are CoastalCloud, Edwards Jones Financial Service, Beutlich Pharmaceuticals and Target. A complete list of attending companies is available here. Businesses wishing to secure a place at the fair and job seekers interested in registering for preparation workshops should visit the job fair website. For additional information about the fair, please contact Casey Scott at 386-313-4098 or by email here.



Blood donations are urgently needed this holiday weekend. Patients in our local hospitals are in need of blood transfusions, and the need for blood does not take a holiday. That's why OneBlood is asking people to donate immediately.
Big Red Bus schedule this weekend and the rest of the month in Flagler-Palm Coast:
Friday April 3rd 2:30PM – 6:30PM Woody's Bar B Q, 99 Flagler Plaza Drive, Palm Coast
Friday April 3rd 5:30PM – 9:00PM City of Flagler Beach First Friday, Second street, Flagler Beach
Saturday April 4th 12:00PM – 5:00PM Flagler County Fair, 150 Sawgrass Road, Bunnell
Thursday April 9th 9:00AM -2:00PM Florida Hospital Flagler, 60 Memorial Medial Parkway
Friday April 10th 12:00PM – 5:00PM McDonald's Restaurant, 5190 East Highway 100, Palm Coast
Saturday April 11th 12:00PM -5:00PM Walmart Supercenter, 174 Cypress Point Pkwy Palm Coast
Monday April 13th 2:00PM – 6:00PM CVS Pharmacy, 5151 Belle Terre Parkway, Palm Coast
Thursday April 16th 10:30AM -2:00PM Kangaroo Express, 890 Palm Coast Parkway SW, Palm Coast
Friday April 17th 1:00PM – 6:00PM Epic Theatre, 1185 Central Ave, Palm Coast
Saturday April 18th 8:00AM – 1:00PM St Elizabeth Ann Seton Catholic Church Heath Fair
Monday April 20th & Tuesday April 21st 9:00AM -2:00PM Daytona State College- Flagler/Palm Coast Campus, 3000 Palm Coast Parkway, Palm Coast
Saturday April 25th 1:00PM – 6:00PM Epic Theatre, 1185 Central Ave, Palm Coast
Monday April 27th 11:30AM – 4:00PM Flagler County Public Library, 2500 Palm Coast Parkway
Tuesday April 28th 11:00AM – 3:00PM Knights of Columbus Council 7845, 51 Old Kings Road North, Palm Coast
Wednesday April 29th 1:00PM – 5:30PM CVS Pharmacy, 1 Old Kings Road South, Palm Coast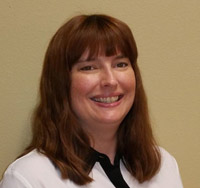 Mike Sleaford, Reunion Bank President and CEO, is pleased to announce that Cindy Hampton has been promoted to Assistant Vice President for their Port Orange location. "Cindy has over 20 years of banking experience and has worked her way up through the ranks," Sleaford stated. "She also grew up in the area and knows the community and our customer's needs well." Hampton has been with the bank for three years and will continue to be in charge of deposit operations. She is also responsible for ACH wire transfers and back office operations. Reunion Bank of Florida, as of the end of December, reported total assets of $280 million with total loans of $208 million and total deposits of $254 million. The Bank reported Net Income before Tax of $2,278,087 year to date ending Dec. 31. Reunion Bank of Florida is headquartered in Tavares (Lake County) with full service branch offices in Port Orange, Ormond Beach, St. Augustine, and a Loan Production Office in Kissimmee and Orlando.