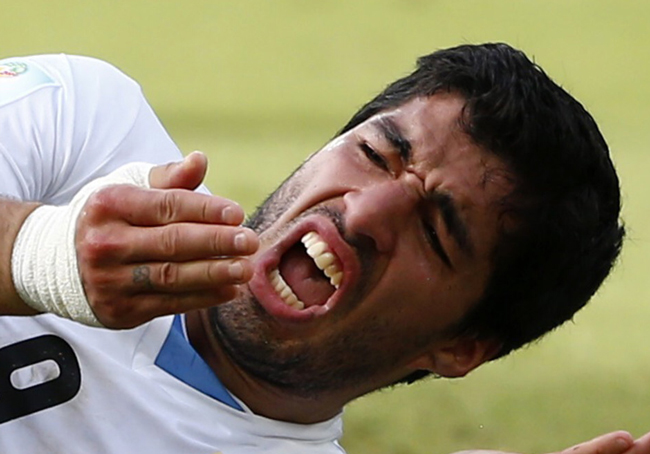 Luis Suarez, the most despicable top-league professional football player on the planet—and one of the sport's most brilliant strikers—has done it again.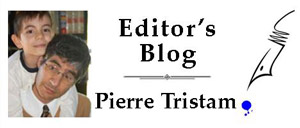 He has bitten a player. Again. Bitten. As in sunk his fangs in the shoulder of another man. His victim today was Italy's Giorgio Chiellini, himself a thespian master of the first order, but in this case he was not acting. He was reacting as anyone would when a monster chomps at you as if you were a piece of prime rib. He had bite marks clear as an Everglade alligator's chomps. And what did Suarez do? He sprawled on the ground in agony, pretending to have been whipped in the face, but more likely feeling the pain of his latest reenactment of a man starved out of his mind. But to do this in front of a television audience of a billion: what was this madman thinking? And what the hell was ref Marco Rodriguez thinking? Clearly, nothing.
World Cup 2014
---
Goals So far: 150

Matches: 55

Average: 2.78 (2010: 2.27)
Brazil 1, Chile 1 (Brazil on PKs) | USA 0, Germany 1: Small Loss for a Big Win | USA 2, Portugal 2 | USA 2, Ghana 1 | France 3, Honduras 0 | England 1, Italy 2 | Costa Rica 3, Uruguay 1 | Colombia 3, Greece 0 | Chile 3, Australia 1 | Spain 1, Netherlands 5 | Mexico 1, Cameroon 0| Brazil 3, Croatia 1

Moments later, on a set piece that had players jockeying for position near each other, and Chiellini probably wondering what next piece of flesh the Uruguayan cannibal would go after, Uruguay scored its lone goal of the game, enough to knock Italy out of the tournament and itself advance to the next round.
"Suarez is a sneak and he gets away with it because FIFA wants their stars to play in the World Cup," Chiellini told Sky Sport Italia after the match, in comments reported by ESPN. "I'd love to see if they have the courage to use video evidence against him. The referee saw the bite mark too, but he did nothing about it."
Let's hope it ends there: Suarez should be thrown out of this tournament and be forbidden from World Cup qualifiers starting two years from now.
Suarez is worse than a monster. He doesn't belong on the pitch. Screw his talent: the man is a criminal, a bigot and a menace no footballer should have to endure. This was his third recorded biting incident. He bit Chelsea's Branislav Ivanivich in a league game in April 2013 season. Served a slap-on-the-wrist 10-game suspension for that (while some media, including the New York Times, continue shamelessly to qualify the incident as Suarez "apparently" biting another player). In November 2010, Suarez bit Otman Bakkal of PSV Eindhoven, when Suarez was playing for the Dutch football league's Ajax. He got seven games for that.
In 2011 he called Chelsea's Patrice Evra, the French national player, all sorts of bigoted names throughout a game, including a Uruguayan version of nigger that Suarez actually defended, saying in Uruguay it's not as big a deal. He got an eight-match suspension for that. But when's the gingerbread treatment going to end? The guy needs to be knocked out of the game for a year. All competitions. Then serve out the ban for the qualifiers to the next World Cup. Maybe then he'll get the message.
Instead he gets his agent to line-up interviews with arbiters of taste like the Times, which grants him a lavish, absolving headline in May ("Luis Suarez Reaps the Benefits of Good Behavior") while an ESPN portrait a colleague sent me goes as far as justifying the biting by way of outrageous psychobabble, such as:  "A man doesn't bite simply because he is crazy. He bites because he is clinging to a new life, terrified of being sucked back into the one he left behind." ESPN's Wright Thompson goes so far as to claim that because Suarez doesn't want to go back to the poverty he came from, he fights ferociously on the field, and occasionally bites.
Absurd. There's nothing special about Suarez in that regard. The majority of Latin American players emerged from poverty and play all over the world. You don't hear of them masticating the living schnitzel out of their opponents.
In a piece on Uruguay a few days back I laid out the facts on the despicable Suarez, "apparently" upsetting a commenter, who took me to task for focusing on Suarez's incisors and of course telling me how I "don't know what Suarez had to endure when he arrived in the European soccer league to make it to where he's been."
I think I do, having endured so many rehabilitating feature stories about the little chomp of horrors that I wondered whether he had the same agent as Richard Nixon. But that's beside the point. The more relevant point is that it doesn't matter what he endured. It's irrelevant. His cannibalism isn't. If Suarez appears again on the pitch in Uruguay's round-of-16  match, this World Cup, so far the most entertaining in memory, will have lost its magic, and FIFA will have once again proven what a corrupt, immoral organization it is.

Pierre Tristam is FlaglerLive's editor. Reach him by email here.