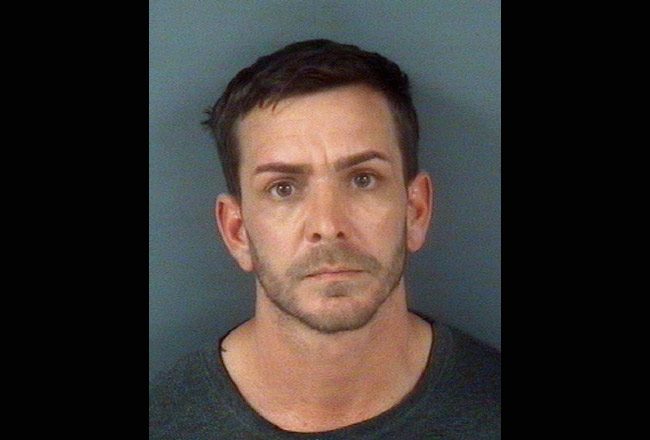 The Las Vegas Police Department's Major Violators Unit arrested Bryan Patrick Loveland, 38, of Palm Coast on Monday a fugitive warrant from Flagler County.
Flagler Sheriff's Detective George Hristakopoulos contacted the Las Vegas Police Department on a tip that Loveland may be in the area going by a false name. The Las Vegas Police Department was staking out the residence within hours of the tip and took Loveland into custody without incident.
"Detective Hristakopoulos did an outstanding job by tracking down this pervert," Sheriff Rick Staly said. "We will go after dirtbags no matter where they are and bring them back to face justice. A special thank you to the Las Vegas Police Department for assisting us."
"The unit in Las Vegas was among the most professional and courteous I have ever dealt with," Detective Hristakopoulos said. "It's great to know we have partners nationwide willing to help us track down criminals."
Loveland is being housed at the Clark County Detention Center and is awaiting extradition to Flagler County to face a charge of lewd/lascivious molestation of a 12-year-old child. In April, Loveland was arrested by the U.S. Marshalls Florida Regional Task Force in North Carolina and extradited to the Flagler County Detention Facility. He had posted a $150,000.00 bond and then violated the terms of his release by fleeing the state. Once returned to Flagler County, Loveland will be held with no bond.
Previous stories are below.

Palm Coast's Bryan Loveland Back in Jail on 2 New Molestation Charges Hours After Bonding Out
April 21, 2017–Mere hours after posting bond and going home, Bryan Loveland, the 37-year-old Palm Coast man arrested two weeks ago on charges of sexually assaulting a minor girl was arrested again on two new similar charges and again booked at the Flagler County jail. He had previously faced a $50,000 bond. He now faces a $300,000 bond.
Loveland was arrested earlier this month in North Carolina on a Flagler County warrant for lewd and lascivious molestation of a 12-year-old girl, an alleged incident that took place last Christmas. He was extradited to Flagler County from a jail in North Carolina on April 19. He bonded out Thursday at 1:22 p.m. He was rearrested and booked back at the jail shortly before 7 p.m.
According to the newer arrest report, Loveland is accused of twice molesting a 12-year-old girl two days before last Christmas, when, the report states, "he kissed the victim on her lips against her will. The victim described the kissing as making out," and that she was "weirded out" by it and told Loveland to stop, which he eventually did. Later that night, the victim claimed, Loveland "touched her inappropriately" in her privates even as she "repeatedly tried to push [him] off of her and away from her, but he would not stop." The alleged victim told Loveland that "her mother was the person he needed to be doing things of that nature to, not her." Loveland was in a relationship with the girl's mother.
The charges are second-degree felonies. A no-contact order is in effect against Loveland, regarding the 12-year-old girl. Loveland had entered a plea of not guilty to the earlier charge. He is represented by Palm Coast attorney Mark Dwyer.
The previous story is below.

Bryan Loveland of Palm Coast Arrested on Charge of Molesting Girl, 12, On Christmas
April 5–Bryan Loveland, a 37-year-old resident of Palm Coast's Ryan Drive, was arrested Tuesday afternoon by U.S. Marshals in North Carolina after several days' search on charges of allegedly molesting his 12-year-old stepdaughter last Christmas.
Loveland, who calls himself "Mr McLovin" on social media, has had recurring arrests or charges locally and in North Carolina since the middle of the past decade. He was found in Fayetteville, N.C., after several days' search, though just two days ago he had changed social media profile to feature an image of himself with his wife and step-daughter.
The child reported to a deputy in early February that she had been "sexually touched" by Loveland on Christmas day and that he'd allegedly tried to have sex with her, according to his arrest report, but that she was afraid that if he went to jail, the family would lose everything. The child told the deputy that in one alleged case of molestation, a friend's father walked in. Though heavily redacted, the report points to at least two witnesses of incidents aside from the alleged victim.
One of the witnesses told the detective that Loveland was "flirting with me, flirting with the little girl," and that he was not acting like a father but rather "more like a 'boyfriend'" to the alleged victim, the report states. He told the victim, apparently in front of the witness, that he "loves her more than he loves her mother," and would touch her on her private parts and kiss her lips and neck, scaring the girl. The witness "stated that she initially didn't want to get involved, but then saw the molestation with her own eyes."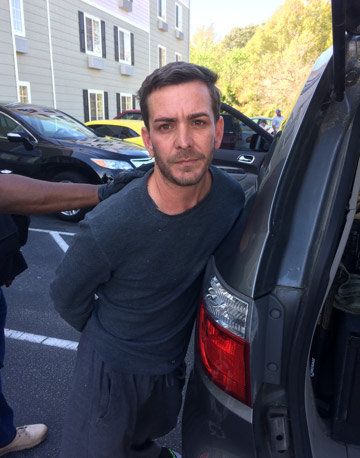 That same night, Loveland crashed his vehicle into a ditch, after someone (the report blacks out the person's identity) confronted him with the allegation. Loveland denied it, got into a truck and drove off, crashing it on Rymshaw Drive.
On Christmas night a few months ago he was charged with hit-and-run after leaving the scene of a crash near 58 Rymshaw Drive, with property damage, and driving on a suspended license. He was to be arraigned in Flagler County court the day of his arrest in North Carolina, though he'd filed a conditional not-guilty plea earlier, waiving his right to appear at arraignment, and asking for a jury trial. He's represented in that case by Palm Coast attorney Mark Dwyer.
Loveland had pleaded guilty to driving without a driver's license a year ago. In 2010, he was found guilty of drunk driving and causing serious bodily injury, a third-degree felony, that resulted in his a sentence of four years' probation and the suspension of his license for three years. He successfully terminated probation early in August 2013.
The alleged molestation case was investigated at length by detective George Hristakopoulos. On Feb. 25, he got a call from Loveland, who told the detective that "I was not to speak with him, his wife, or his stepdaughter, without his attorney being present," Hristakopoulos wrote in his arrest report. "Mr. Loveland stated that he and his family want the investigation to be over so they can live their life. At one point in the conversation, Mr. Loveland asked me what would happen to me if he contacted my supervisor and told them that I had battered him at his residence." The report does not include the detective's answer, though investigators and detectives generally invite individuals to contact whom they wish in such situations.
Loveland was being held Wednesday evening at Cumberland County jail in North Carolina, pending extradition, though he also faces a charge of violating a domestic violence injunction there, according to the Cumberland jail records. The molestation charge is a second-degree felony in Florida.
"Thank you to the U.S. Marshals and the North Carolina Violent Fugitive Task Force for the joint effort in locating and detaining" Loveland, Staly said in a release issued late this afternoon.