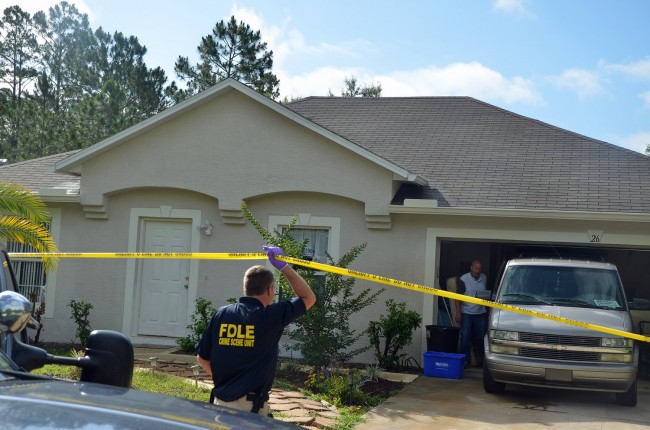 New details emerged Monday in the murder of 76-year-old Leonard Lynn of Palm Coast's R-Section, indicating that, according to his alleged assailant's confession, Lynn was killed the evening of Wednesday, May 29, three days before authorities found him in a pool of his own blood in his bedroom at 26 Ryken Lane.
His alleged assailant–his roommate of several months, 42-year-old Erick Niemi–confessed to beating and choking Lynn to death, then dragging him to Lynn's bedroom and leaving him there, dead, while Niemi himself continued to live in the house for the following three days.
Saturday night at 9:20, some 72 hours after the murder, Lynn's worried son and daughter in law–Lisa and Steven Lynn–had come by the house to check on Leonard. They were able to make their way into the house, only to see blood on the floor of a common area, and two interior doors locked. They called police. Neighbors had last seen Niemi returning to the house just that evening, around 6 p.m., on his bicycle.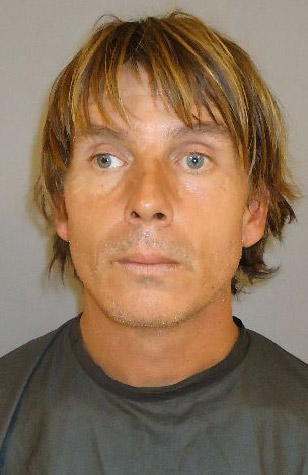 Niemi was arrested as he was in Lynn's Dodge Caravan, parked along Ryapple Lane in an area where he had apparently gone to park the evening of the murder, to which he confessed, according to his arrest report.
Sunday, authorities released a redacted arrest report that blanked out the details of Niemi's confession. An unredacted copy of the report relates Niemi's confession, after he was given his Miranda rights.
Niemi, according to the report, said he got into a verbal argument with Lynn at 8 p.m. Wednesday (May 29), and the confrontation turned violent. Niemi said "he was angry with how [Lynn] had been treating him and tripped Leonard Lynn, knocking him to the ground." Niemi then "straddled over [Lynn], who was lying on his left side with a pillow partially covering his face and pleading with [Niemi] to stop."
Niemi said he choked Lynn "with his right hand while striking him with the heel of his left palm several times repeatedly knocking his head to the wood floor for 1 -2 minutes until [Lynn]'s body went limp. Erick Niemi believed the victim was deceased at that point and then dragged the lifeless body of Leonard Lynn into the master bedroom, leaving him on the floor by the bed."
Judging from what Lynn's son and daughter in law and authorities found Saturday evening, Niemi locked Lynn in the bedroom and carried on living at the house the following three days.
Niemi, the report adds, made no attempts to call medical units or law enforcement. That same night, he said, he took Lynn's car to Ryapple Lane, just as he did the evening Lynn's son and daughter in law showed up, followed by paramedics and cops.
Once authorities forced the bedroom door, Leonard Lynn was found there on the floor, with a pillow covering his face.
Niemi is being held at the Flagler County jail on a second-degree murder charge and a grand theft charge, without bond. A second-degree murder charge means that the killing was carried out without pre-meditation, though it does entail that the killer carried out the deed "with a depraved mind" (as Florida law's wording has it). It is a first-degree felony.
Niemi's confession to detectives does not equate to a guilty plea, which must be entered formally in court. Should Niemi plead guilty, he will not face the death penalty (which does not apply to second-degree murder) but he would face a minimum of 17 years and a maximum of life in prison at sentencing.
He would have faced a minimum of 25 years had he used a firearm in the act–as his likely current cellmate at the Flagler County jail, Paul Miller, will face at his sentencing on June 18. Miller, 66, was found guilty of second-degree murder five days before Lynn's death for killing Miller's neighbor Dana Mulhall in Flagler Beach during an argument in March 2012. Miller shot Mulhall five times.
Because of the shortage of cells and the restrictions the jail is under–to keep individuals accused of murder separate from other inmates–men facing murder charges or awaiting sentences to that effect are locked up in the same cell. Miller last year shared a cell with Carson Merrill, who was eventually sentenced to 25 years for "accidentally" shooting his wife with an AK-47 in the couple's home. Miller, until his transfer to a state prison after his sentencing, is now presumably sharing a cell with Niemi.