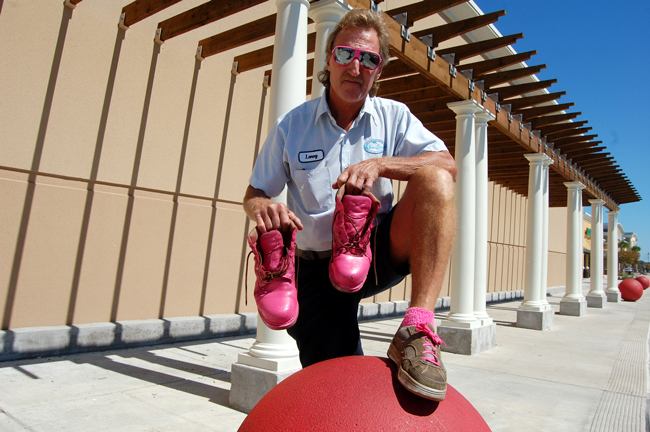 [Update: How Lenny Grocki kept his job.]
This is Breast Cancer Awareness Month, and the pink is everywhere—or trying to be.
Earlier this week Florida Hospital Flagler presented its "saving lives" and "Pink Army" campaign to the Flagler County Commission (including pink cookies). It's an effort to enlist as many participants as possible in the battle for awareness about the second-most common cancer among women, and support for those suffering from it. Flagler Beach City Commissioner Jane Mealy joined the army, so did Commission Chairman George Hanns (he's a private). The hospital is sponsoring a fund-raiser Saturday evening south of the Flagler Beach Pier from 6 p.m. in. The pink is all over the nation, down to NFL game balls with decal pink ribbons and football players with pink cleats, gloves, chin straps, towels and wristbands, and pink padding on post padding in end zones.
Locally, Linsdsay Rew of Florida Hospital Flagler told the commissioners, "we wanted to engage the community and encourage them to be the voice, talk to their friends, their family, their neighbors, about the importance of early detection, and screening mammograms. So the Pink Army was born."
Lenny Grocki considers himself an army of one. He's all about raising awareness. His mother died of breast cancer in 2004. That year he grew his hair so he could cut it and give it to Locks of Love, the organization that provides hair pieces to poor children who lose their hair through chemotherapy and other medical issues. Last year, Grocki painted one of his steel-toed boots pink and wore them at work, beginning on Oct. 1, and kept them on until the paint faded in late December.
Grocki did the same this year. He painted the pair pink again, and went to work. He might get asked about it—why the pink?—and draw attention. But that's the point: it's his chance to do what breast cancer-awareness organizers want: spread the message, educate, tell people about the devastation, move them to do something about it.
That's not the kind of reception he got from his supervisor at work. Grocki, who's 56, works for the City of Palm Coast Utility Department. He's been there six years. Randy Zaleski, his direct supervisor, told him last week to go home and change. The human resources department told him they couldn't do anything. It  was up to his supervisor's discretion.
"So I got home and I was going to mention it to my wife and she said, it's funny you should say this, I just got this email from your sister," actually a Facebook post (Grocki admits he's not computer-savvy) that read: "I salute my little brother Lenny; he's not on Facebook but he told me every October he paints his workboots pink for our mom, passed May 21, 2004. Lenny, his wife Janice & I had a wonderful talk on remembering mom, her passing, & how she is still with us."
"Of course when I saw that I was like, there was no decision to make. I was not taking them off," Lenny said. "I went back to work with my boots on, and I said listen, I plan on wearing these for Breast Cancer Awareness Month. They said if you do, we're going to have to end up sending you home. I said well, I'm going home if that's what it comes to." He'd been told that he had altered the work uniform—utility workers wear standard Palm Coast shirts, pants or shorts, and are given $90 to buy a pair of workboots. Lenny has about five pairs. He never touched the actual uniform, which he respects as he does his job. And he didn't paint the boots he spent the city's money on.
He went home. That was Oct. 1. On Monday, he returned with pink socks and pink laces on a different pair of shoes. He figures that wearing accessories wouldn't interfere with the official uniform. "Pink is pink. I'm not trying to make a boisterous statement. I'm just honoring Breast Cancer Awareness Month."
His supervisor summoned him on Tuesday. This is what he was told: "Basically, Lenny, if you come in with this on, I'll give you to the end of the week. You can celebrate this but, they put a deadline on it. Come Monday, you walk in with these socks and those laces, disciplinary action will be taken. This is this coming Monday. I'm a little scared. I've got to stick with my heart and my feelings." He asked colleagues whether they'd support him, but he also understands their situation, which may be as precarious as his. "We get threatened every day with 'you're lucky you have a job.' We get told that. It's not a threat. We get told, you're lucky you have a job, almost constantly. I'm very worried." Palm Coast laid off some 15 employees this fall in budget-cutting moves.
Lenny adds, "The best thing that could happen to me is if I went into work Monday morning and my fellow employees or somebody was there with pink socks on and pink laces. You know, breast cancer awareness is a lot of things. It's not just breast cancer. It's turned into all cancer awareness, and it's a support, and here I am supporting something, and now I need some support, and I've got no one. I'm out there cold."
Richard Adams, the director of Palm Coast' Utility Department, doesn't dispute Grocki's efforts or intentions. He disputes the manner and timing of it.
"Obviously he is showing support for a very important cause and I can't fault him for that," Adams said. "However, when he is working in a workplace there is a time and place for everything, and we expect our employees to be professionally attired in the uniform presented to them."
Adams suggests there may have been a better route for Grocki. "There have been approved activities that have actually been fund-raisers that the employees have gone through the proper channel to get approval to conduct those activities," Adams said. "This particular employee has chosen to do his own thing without support of management, nor has he requested any kind of approval to stray from the policy." Adams added: "Believe me I understand the cause and I support the cause but there is a method to properly support cancer awareness, and just showing up in pink boots is not it."
Grocki's job entails answering work orders, hooking up and disconnecting water service at homes and businesses, answering emergency calls. "I deal with people all the time. That's my main job," he says. How does wearing pink boots or pink socks and laces interfere with the job?
"You could make that kind of argument for anything," Adams said. "Like for instance you could show up in a ratty t-shirt that has inappropriate words on it. How does that impact the work? Well, it doesn't, but how the public perceives us is important and it's important for us to present a professional appearance. I'm not sure how it would be received if someone showed up in hot pink boots and talking at your door about turning the water on" or conducting other city business.
But all bits of attire that happen to diverge somewhat from the city's uniforms aren't the same, Grocki says: a cancer-awareness emblem isn't ratty. It's noble. "This isn't bizarre. This isn't blatant, Grocki said. "I'm not walking around with my hair pink or my mustache pink. Tattoos are running rampant around that place. There's nothing said about that."
Mealy, the Flagler Beach commissioner, was struck by the city's reaction against the pink. "It's all right for the football players but it's not ok for him?" she said. "It doesn't seem appropriate to me at all that they reprimanded him."
Mayor Jon Netts was not aware of the issue. "I'm sure the city has a dress code for its employees," he said. "I can't imagine that pink shoe laces would be a violation, or a lapel pin, or a ribbon. I don't know. First I've heard about it. I really don't have any details. I guess, wearing pink boots and pink this and pink that, and the city has a uniform you're supposed to wear, you should be in uniform."
Mary DiStefano, a Palm Coast City Council member, works part-time at Radiology Associates Imaging Centers in Palm Coast. "I know at Palm Coast imaging we did more decoration this year than we've ever done," she said. "And are you aware of the pink bagels?" Radiology Associates takes food to various medical offices that submit patients—and bagels. This year they're taking them pink bagels to honor Breast Cancer Awareness Month. Instead of taking her business to Daytona Beach, DiSrtefano said she asked Strathmore Bagels on Palm Coast Parkway if its cooks could come up with pink bagels. They did.
"Now with the issue of an employee, I wouldn't get into that, because that's management," DiStefano said, "but if they have regulations and they meet with the public, I have to support that. But you know the pink army the hospital is stirring up. We never had that before." At the radiology office, employees wear pink ribbons, and DiStefano gave Strathmore the pink ribbon to wear on their uniforms.
Grocki is hoping he'll get some support from his colleagues when he goes to work on Monday. He's not hopeful. "That only happens in the movies," he says. "This ain't the movies."
Thursday evening, when JJ Graham, owner of Hollingsworth Gallery, heard about the boots issue, he asked Grocki for the boots to put on display as part of a new local contemporary art show opening at the gallery Saturday. Grocki agreed.
The gallery is located on the floor above the Palm Coast City Council's chambers, and below the city administration's main offices, including those of City Manager Jim Landon. The Palm Coast City Council is officially marking Breast Cancer Awareness Month at a council meeting later this month.