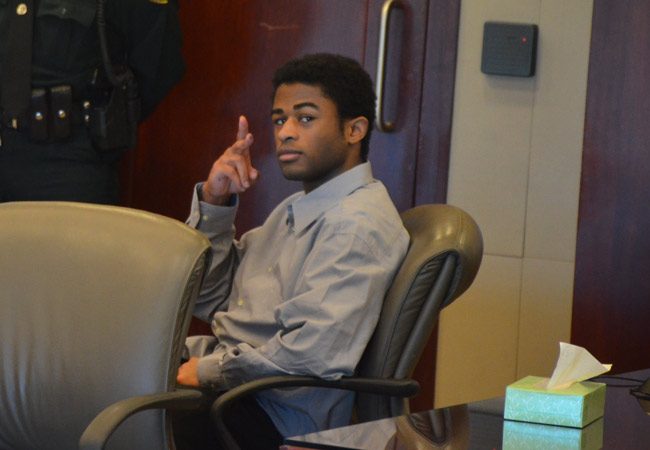 L'Darius Smith is 21 years old. He's been at the Flagler County jail for 13 months awaiting a trial that started today. The trial centers on three accusations that when Smith was 15 or 16, he forced two girls he often lived with as family, and who were 8 and 9 at the time, to masturbate him. In both cases he allegedly told the girls that he would kill their mother and the rest of their family if they didn't comply, in one case allegedly using a paint-ball gun to intimidate the younger girl, who didn't know it was a fake gun.
He was charged as an adult in part because the charges came to light last year when one of the girls made the allegation to her grandmother, though he could potentially have been charged as an adult even if the allegations had emerged before he turned 18. The younger sister at first denied that anything had happened to her, but later described an incident in the garage that followed the same pattern as what had happened to her sister. The difference was Smith allegedly using the paint-ball gun and, according to what she'd told her mother, striking her on the head with it when she wasn't following his instructions.
If convicted, Smith faces up to 15 years in prison and a likely designation as a sexual offender.
There is no evidence in the accusations but for the testimonies of the two girls, their mother and grandmother, and one of the girls' best friends, who may testify Friday. Much of those testimonies are shaded by time and the young girls' jittery memories, by the fact that they were not revealed until four years after one of the alleged incidents, and by almost inherent inconsistencies in the retelling of distant incidents when remembered by different people: Peyton Quarles, Smith's attorney, sought to exploit every little one of those inconsistencies today as he questioned witnesses, knowing all he had to do was drop a little doubt in jurors' understanding of the case either to gain an acquittal or lower the gravity of the conviction to something less dire than a second-degree felony.
Smith himself, however, did not seem to grasp the gravity of his case. He appeared in civilian clothes, as defendants on trial do so as not to prejudice the jury by wearing jail garb and chains. Beyond that, he often acted as if he were the subject of a disciplinary hearing at school rather than a sex-offense accusation involving children who once looked up to him. Every time a lawyer asked a witness to identify him by pointing at him, Smith waved at the witness as if in greeting, and in one case showed one–the younger girl he's alleged to have molested–the thumbs up when she described his shirt's color. During a break, he winked at a reporter taking pictures, then did the peace sign, then sat down and tapped on his legal pad as if to a tune only he could hear.
When court resumed and the girls' grandmother took the stand, a man walked in, sat in the courtroom on the prosecution's side, spread his arms on top of the bench, and immediately glared at Smith. Smith glared back. The duel went on for about 90 seconds. The three bailiffs were not aware. None of the lawyers or the judge were. Then the two men began nodding their heads slowly, as if challenging each other. Then Smith slowly brought his fingers to his eyes and mockingly made as if he was crying. Only then a bailiff walked up to the man on the bench and told him: "If you continue to try to contact the defendant you'll be removed from the courtroom, you understand?"
It wasn't Smith's first such display. Last November he was found guilty of resisting arrest and sentenced to a month in jail (which he'd already served) after a staring contest with a bailiff during a court hearing on Oct. 31, 2016. He'd just walked into the courtroom, had seen someone in the audience with whom he tried to make eye contact, was ordered by a bailiff to look forward, not back, then things degraded. As the bailiff described it in an arrest report, "Once Smith was seated, he was observed to be agitated and instantly began to stare at me with an aggressive look while muttering something unclear." The bailiff then tried to calm him down then felt Smith had to be removed from the courtroom. Smith refused to get up and at one point tried to head-butt a bailiff before he was taken to a secure area."
None of that of course was part of today's trial.
In his opening argument today, Assistant State Attorney Joe LeDonne reduced the case to its essentials: the girls' allegations, the corroboration from the people they spoke to, and the explanation of their four-year silence: The older girl "didn't tell anyone for some time because she was afraid, she was embarrassed." Until she told her grandmother, who told her mother, who insisted that she had to call the cops–and pursued authorities for eight or nine months until Smith was jailed. (He's remained in jail on $51,000 bond.)
Quarels's opening was wordier. He enumerated the large number of children who either lived in the house or who spent time there, the children had siblings and Smith himself had several siblings, all of whom at one time or another ended up under the same roof, and if not that, then one house down: two families intermingled their two households to such an extent that at one point one of the attorneys had the two girls' mother outline the names of all the children in the two houses, their ages, and their relations to each other. (Smith's father, for example, who lived in the house next door and where the younger Smith lived part of the time, has three sets of children from three different mothers.)
Quarles focused the date of one of the alleged incidents around the time when an uncle from Chicago came down to celebrate the 40th birthday of the girls' mother's boyfriend, when the house was so filled with children that the girls slept with their half-sisters in their bunk bed–the night when the first alleged abuse took place. Quarles tried to create the impression that the house was too busy, too full, for the girl's story to be real.
But the girl then took the stand. She did not want to be there. She did not smile. She spoke in a voice barely above a whisper. Her answers were clipped but clear and to the point.
Smith, the older girl testified, had made her watch porn before the incident and had threatened her that he'd tell her mother about it as part of his leverage. "At the time I didn't know it was bad," she testified. "He told me it was just people having fun, but when he used it to threaten me, that's when I thought it was wrong and I'd get in trouble." The girl did not testify to one detail, as her mother did when she took the stand later this afternoon: that the reason he'd made her watch was "so she'd know what she was doing."
The alleged encounter took place on her bunk bed one night when one of her half-sisters slept next to her, her sister and another girl slept in the lower bunk. She said she tried to wake up the girl next to her by repeatedly pinching her as Smith was forcing her to masturbate him, but the girl wouldn't wake up. She tried to get away from the bunk, he grabbed her arm, causing her to hit her head on an object and forced her back up. She said he tried to touch her, causing her to scream, but no one woke up–details Quarles later made her repeat a few times, not hiding a tone of incredulity.
LeDonne asked her how the incident ended. "He just put it away," she said, "and then he said thank you and he walked out of the room. I sat in my room for a couple of minutes to figure out what had just happened. Then I went to the bathroom, washed my hands and cried, then I washed my face and went back to my room."
The second incident, the girl said, took place when she found herself alone with him in the playroom, and he again took out his penis and forced himself on her.
Her younger sister looked more comfortable when she took the stand, smiling, greeting LeDonne as if she were meeting a new acquaintance, and speaking more brightly than her sister had, but as soon as questions about her alleged encounter with Smith began, her tone got more somber and her demeanor changed. Quarles didn't question her much, but he got her to say that she had been on the top bunk on the night of the birthday party–a detail that he is likely to point to as an inconsistency in the girls' stories, and one the assistant state attorney did not address–as it could easily have been addressed–when he had a chance to question the girl again.
The day's testimony concluded with those of the girl's grandmother and mother, who corroborated the accounts as told to them by one or both girls, though the younger girl, her mother said, continuously refused to "deal" with the matter or speak to her about it. She said she found out about the details of her younger daughter's encounters through a therapist.
The trial is expected to conclude Friday.