The following incident and arrest information was compiled using official documents, reports and affidavits obtained from government and law enforcement agencies. This feature is not inclusive. It is a sampling of reported incidents in the Flagler County area. Note: The U.S. legal system provides the presumption of innocence to those charged with a crime until guilt is proven in a court of law.
The previous crime report is available here.

Three Cars' Windows Smashed in, Purses Stolen at Fitness One Gym
A deputy was dispatched to Fitness One gym on Old Kings Road on Sept. 28 in reference to three vehicles that had been broken into. A gym patron reported arriving there at 9:40 a.m. for a fitness class. When she was ready to leave at 11 a.m., she found the rear passenger window of her car had been smashed and her purse was taken from the seat. The only item that was taken from the back seat of the vehicle was a purple and pink patchwork Coach purse. It is unknown who may have done this. Two unknown vehicles were seen in the parking lot. One was a small, maroon passenger vehicle and the other was a light colored SUV. Information was given in reference to notifying all financial institutions, as well as the three major credit bureaus.
Identical stories were reported by two other women who had classes that morning, at the same time, at Fitness One. Both women had one of their car windows smashed in. Both had left a purse in the car. Both had had their purses stolen, along with various credit cards, store credit cards, Florida driver's licenses, insurance cards, and other sundry purse things.
Deputy's Digital Camera Goes Missing
Flagler County Sheriff's Deputy David Edmonds reported on Sept. 13: "I noticed that my agency issued digital camera was missing. I searched my patrol vehicle thoroughly for the camera but met negative results. I searched my residence for the camera and also met negative results. I have searched my patrol vehicle multiple times over the past weeks and am positive that it is no longer in my possession. It is unknown if I left the camera behind on an incident scene. The camera is no where to be found and is now believed to be lost. The camera is described as a General Electric (GE) model A830 digital camera bearing serial number 82AIBKOUOI 1957.
A Halloween-Minded Shoplifting Pair at Walmart
James Cooke, Walmart's store security officer, reported to a deputy on Sept. 28 that he
observed two white women, Jessica Rhoades, 23, and Ashley Orabona, 26, in the seasonal department of the store allegedly taking merchandise out of a package and placing it into their purses. James stated that he then followed the two over to the grocery area where they took more merchandise out of their cart, remove the items from the packaging and place the items into their purses. Jessica and Ashley then proceeded to a check out lane where they paid for the items in their cart, but not the items concealed in their purses. The two then proceeded pass all points of sale with no attempt to pay for the items.
The items in question: miscellaneous children's Halloween costumes.
Ashley and Jessica were issued a notice to appear in reference to retail theft. Ashley was also issued a trespass warning at the request of James. James also completed a written statement. All items were returned to the store.
A Suspicious "Investigator" Looking for Pieces of April
A sheriff's deputy responded to a residence on Radcliffe Drive on Sept. 27 in reference to a suspicious incident. He reports: "Upon arrival I made contact with April Brogan," a 23-year-old woman. "April stated that a few days ago a male who advised that he was 'Investigator Ashley Hull' had contacted her at her workplace at Dylon's sports bar in Volusia County. April stated that Ashley advised her that he had been looking for her and that her address was wrong on her driver's license which could possibly violate her probation. April also stated that Ashley began telling her about suspicious activity going on in her neighborhood and told her that he was investigating her. April stated that Ashley stated that he was hired as a repo-man through Car Time in Bunnell to repossess a vehicle that she was behind on payments. April also stated that Ashley advised her that some fingerprint results recently came in and that April's boyfriend would not be getting out of jail soon (scheduled to be released next month) and would be getting charged with four more robberies. April stated that Ashley never informed he that he was a law enforcement officer but was wearing a name tag around his neck and April felt that he might have been trying to pass himself off as a law enforcement officer. April showed me a card that Ashley had given her which had Investigator Hull written on it with a case #10-10213. April advised that she notified Car Time of the vehicle's location and the vehicle has been repossessed as of the time of this report.
"I made contact with Ashley via telephone (who was located in Aegis as included in this report) [phone number deleted]. Ashley stated that he was a private investigator and was hired by Car Time to locate April to have her vehicle repossessed. Ashley stated that he did advise April that her address was wrong on her driver's license which could result in her violating her probation. Ashley stated that he was trying to look out for April because she seemed like she was a nice person. Ashley stated that he had been watching April's residence for several days and noticed a lot of strange things happening in the neighborhood. Ashley stated that you notice a lot of strange things when you sit in a neighborhood for a few days. Ashley stated that since the vehicle had been repossessed the job he was hired to do was completed. I advised Ashley of the seriousness of someone thinking that he may be a law enforcement officer and Ashley stated that he never told April that he was a law enforcement officer. This case is being documented for informational purposes only."
Stolen: Remote-Controlled Boat and Jewelry Worth $7,000
A deputy responded to a burglary report at 64 Furness Place in Palm Coast on Sept. 27. Valerie and William Jusick reported the burglary. They reported leaving their home on Sept. 19 to attend a funeral in Connecticut. They returned the evening of Sept. 24. When they got home they realized that they left their house keys inside the house so William walked around the house in hopes to find an open window. He was in luck and found the back kitchen window unlocked. William lifted the window open and climbed inside the house. Afterward he walked to the front door and let his wife inside. On Sept. 27, Valerie noticed that her jewelry box was taken from the top shelve in her closet and was laying by her dresser.
After she noticed this she looked on the top of her dresser and noticed her gold and sapphire brooch was missing. She knew she had it sitting on her dresser because she was going to wear it at the funeral but changed her mind at the last minute. She told William of this and they walked around the house to see if anything else was missing. When they went to the garage they noticed that their son's 5-ft, customized blue and white remote control speed boat was missing from the homemade PVC stand.
They stated the boat was worth about $2,000. Valerie described the brooch as a gold brooch with several stems with six to wight sapphires attached on each stem. She said it is worth approximately 5,000. All the computers and flat screen televisions were untouched. The sheriff's office believes the suspect(s) came in through the same window as William did and exited through it. Since the family has returned there for approximately four days before anything was noticed, the scene was contaminated and processing was not feasible. No suspects at this time.
Assault and Battery By and On a Deaf Person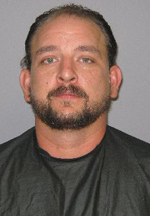 A deputy responded to a report of an assault and battery at 3 Zinzendorf Place in Palm Coast. The deputy responded to the Walgreens at 5000 E State Road 100, at the corner with Belle Terre Blvd. Upon arrival the deputy made contact with another deputy and the victim, Daniel Meehan, 54.
The other deputy said Wood stated that he was flagged down by Meehan due to being in a physical altercation with his roommate. All subjects involved were hearing impaired and that all communication would be conducted by hand written notes. Meehan told a deputy that he was sitting in the chair when his roommate, Allen Faulk, 34, approached him and allegedly hit him twice on the face with his fist. He stated that Faulk then allegedly pushed him onto the floor. The argument started over a bill regarding their living arrangements. Meehan stated that he did not hit Faulk back in defense, nor did he provoke the incident. He gave a written statement and advised that he wanted to pursue charges against Faulk. Both deputies then followed Meehan to 3 Zinzendorf Place where the incident occurred. Meehan was instructed to remain in his vehicle until after the investigation was completed. Upon arrival one deputy made contact with Faulk standing in the
drive way of the residence.
Faulk was asked what had occurred. He stated that Susan Stevens, 42, and Sandra Hill, 42, were in a physical altercation and that Meehan pulled Stevens away from Hill. He stated that he then hit Meehan and that he knew that he shouldn't have done that. Faulk refused to give any written statement. One deputy then made contact with Stevens and Hill also on scene at the residence. They were both given the opportunity to give a written statement. Both refused. No one else reported any other incident, nor did any one want to sign charges for any other acts of violence. Faulk was placed under arrest for the charge of battery. He was then transported to the Flagler County jail without any further incident.
Burglaries and Larcenies
Reported Sept. 29 at 17 Burton Pl., Palm Coast: a stolen Dell laptop. The dog at the residence was locked up in a room during the apparent burglary.
Reported Sept. 27 at 261 Parkview Drive: a stolen tag belonging to a 2003 PT Cruiser, Florida tag number 112TIV, decal number 06823449.
Reported Sept. 28 at 25 Penny Packer Lane in Palm Coast, which is currently vacant. The owner lives primarily in Illinois. Stolen: two Channel umbrellas, three Louis Vuitton purses, three generic handbags, one black Prada handbag, a Craftsman self-propelled lawnmower, two crystal picture frames, two Sieste blankets. Total value stolen or damaged: $3,335.
Reported Sept. 26 at Madison Green Apartments: stolen laptop.
Reported Sept. 26 at 135 Westchester Lane: stolen: laptop from the front seat. The driver's side door had been left unlocked.
Reported Sept. 27 at 25 Langdon Drive in Palm Coast: stolen laptop, from the home's front room, on a desk.