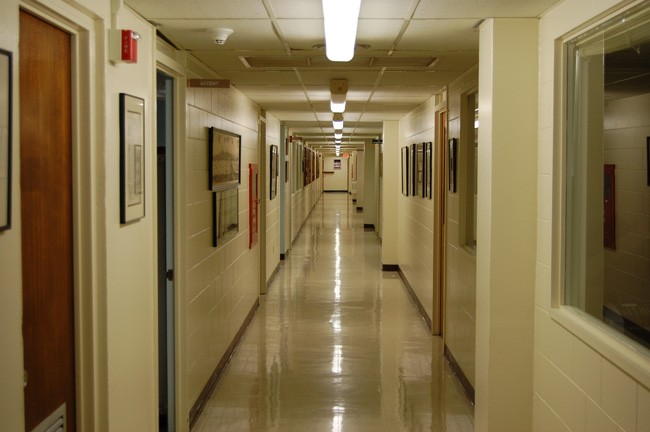 Note: If you're a News-Journal or GateHouse employee, email us your insights about the layoffs. Your identity will be protected.
Repeating a pattern it displayed after a previous acquisition, GateHouse Media, owner of the Daytona Beach News-Journal, laid off a dozen people at the paper on Monday and Tuesday, and dozens more at the 16-odd newspapers GateHouse acquired last November when it bought Halifax Media for $280 million.
Pat Rice, the News-Journal's editor, announced the news to staff in a brief meeting late Tuesday afternoon, saying the lay-offs were not a reflection of the quality of anyone's work, but that he was the one who'd made the decisions regarding newsroom cuts.
Four newsroom employees lost their job, including business reporter Fatima Hussein and photographer Lola Gomez, who were relatively new to the News-Journal, sports writer Brent Woronoff, who's been covering Flagler and Volusia sports for more than three decades, and Barry Gear, a night metro desk editor and former bureau chief in New Smyrna Beach.
Seven people in advertising and marketing lost their jobs, including Brad Gordner, the long-time, marketing development director. An undetermined number of vacant positions may remain unfilled.
The News-Journal had four reporters covering Flagler County until Julie Murphy took a job as a spokesperson for Flagler County last month. Her position remains unfilled for now. The paper is about to lose another Flagler reporter: Natalie Kronicks, who'd been covering the Flagler County School Board, is taking a job starting March 16 as the marketing coordinator for Flagler County, alongside Murphy. That leaves Tony Holt as the only hard-news reporter in Flagler (he covers courts and Palm Coast and has been at the paper a little over two years), with Aaron London remaining as the long-time business reporter and News-Tribune editor.
---
The Flagler bureau loses two of its four reporters to county government.
---
The News-Journal's total staff had peaked at more than 800 employees a decade ago before the paper began its spiral down a legal labyrinth when it was still owned by Daytona Beach's Davidson family. By the time Halifax bought the paper, employment had been cut by nearly half. It had since been cut significantly again, before the GateHouse layoffs, to the point of necessitating some creative rearrangements of newsroom furniture at the company's 6th Street building, to diminish its cavernous feel.
Neither the News-Journal nor GateHouse, a Pittsford, N.Y.-based company, have officially announced the layoffs: Rice's last column, on March 1, invited readers to join a 12-member panel that would periodically meet with the paper's staff. "Simply put," he wrote, "we need the insight of our customers." GateHouse's latest news release announced on Feb. 27 the appointment of Janet Hansson as the publisher of the Providence Journal–a week after the paper completed three rounds of layoffs that started when GateHouse bought the paper in 2014. The Journal lost 12 copy desk employees in mid-February after losing 22 employees in September, including eight in the newsroom, suggesting that successive rounds of layoffs may be part of GateHouse's approach.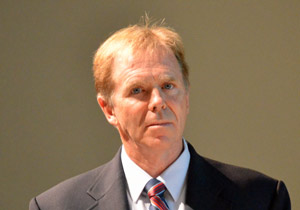 Before buying Halifax, GateHouse was just emerging from bankruptcy and owned about 400 publications, 78 of them dailies, with a combined circulation of just over half a million. The Halifax acquisition, which included all of the New York Times Regional Group papers Halifax had itself acquired at the end of 2011, nearly doubled its overall circulation.
Elsewhere in the ex-Halifax chain, Jim Romenesko's media blog has been reporting a steady stream of emails from staffers pointing to the extent of the layoffs and reflecting the same shape of the ax seen at the News-Journal: long-time employees, who command higher wages, have been hit especially hard. The Lakeland Ledger, for example, lost its photo chief, Calvin Knight, and two other photographers, reducing that department to less than half its size a few years ago. The paper lost six other newsroom staffers. (Former Ledger digital editor Barry Friedman has a full list of names here.)
Romenesko also posted that "Ledger people lose insurance at midnight tonight. [I'm told it's the same at other papers.]" That has not been confirmed: at the News-Journal, the company recently changed insurance provider, going with Blue Cross, and changed its defined contribution plan administrator, but reportedly did not end either for employees. At least not yet.
In January, after GateHouse acquired the Halifax papers, employees' first paychecks under the new regime were delayed because of what GateHouse executive Bernie Szachara described in a memo to employees as "a problem with the bank transfer of your first GateHouse payroll cycle." In a subsequent email, also reported by Romenesko, Szachara wrote: "We apologize again for the inconvenience and concern that this problem has caused, and assure you that we will continue to do everything we can to support employees and get you paid accurately and in a timely fashion."