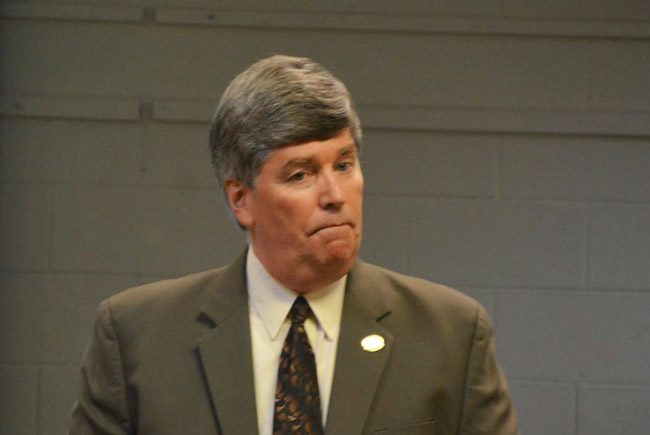 Tuesday's Palm Coast City Council discussion of its ongoing goals was supposed to be a routine affair: City Manager Jim Landon and his staff would present the quarterly update, council members would discuss it here and there, and the agenda would move on to the next item.
It proved anything but routine as Mayor Milissa Holland and at times council member Nick Klufas repeatedly challenged Landon's handling of what the city calls its "Strategic Action Plan," the obscurity of the presentation, its lack of timelines or implementation dates set too far in the future, and what Holland called a "disconnect" between council wishes and Landon's execution.
In one case, Holland said the council called for a "Shop Local" initiative from Landon's administration almost two years ago but it has yet to hear any movement on it. In another, she cited innovation initiatives focused on Town Center that are dragging so much as to signal meager movement, such as the gathering of "stakeholders," only at some vague time in 2019, with other initiatives set out for 2020.
"We're talking about innovation," Holland told Landon. "2020 is like the anti-innovation discussion. We're really talking about something that needs to be a very strong priority. For us to evaluate in 2020, it just doesn't make a lot of sense for me."
"This is really our means of accomplishing things," Klufas said, "where really this is the direction that we're giving the single person that we have any influence over."
The discussion–or mostly one-sided criticism of Landon's methods as Landon went into a defensive mode, alternately deflecting to his staff or implying that council members were misreading the presentation–was the latest example of a council at once more assertive with Landon and less tolerant of managerial habits that have as if encrusted themselves like barnacles on a boat enough to slow it down: Holland wants speed. Landon wants to glide to retirement.
The two dynamics are increasingly clashing. The last few weeks tell the tale.
Recurring Confrontations
Some members of the council were particularly displeased to find out about the way Landon spoiled what would have been a feel-good donation of a fire truck to the school district's Fire Academy with a heavy-handed press release he issued that ignored to the point of contempt the county fire services' involvement in the academy.
At a workshop in late July Holland and Klufas criticized Landon's habit of sitting on lengthy council presentations and issuing them only the day of the meeting, entombing council members under reams of information the day they are to discuss the items. The council members said that gave them little time to prepare or ask intelligent questions. Landon claimed he couldn't prepare the presentations sooner in most cases. But Landon has used the method–at odds with most local government administrations, which make their agendas available to press and public several days ahead of time–to minimize questions and challenges.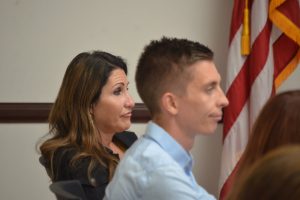 Two weeks earlier, a displeased council killed a $100,000 plan Landon had put forward to design a recreation and community center near the city's tennis center, ostensibly in response to a council goal, though that was not quite the case: Landon's timelines, definitions and costs for the project differed from the council's understanding of those matters. A week before that, Holland forcefully rebuked Landon's involvement in the selection of the city's next manager, saying: "I do not tell Jim how to manager his employees and I do not need him to tell me how to hire our next city manager." (It's no small detail that Holland stopped using the "Mr. Landon" moniker that almost everyone else obsequiously uses around him, addressing him simply as "Jim.") And in May, the council countered Landon's long-held method of holding closed interviews for a council member's appointed replacement, requiring public interviews instead.
And all this has happened largely in the absence of Heidi Shipley, the council member who's been most at odds with Landon (she's been ill), and since the departure of Landon's other most-frequent council foe, Steven Nobile, who resigned in May. He was replaced by attorney Vincent Lyon, who's kept a low but not silent profile. Looking at the past few weeks, there's been an unmistakable shift on the council, with Holland increasingly pressing for more responsiveness from Landon and Landon digging his heels while claiming to have been following council direction all along. Tuesday produced a similar scenario.
We've got "Stickers"!
City Administration Coordinator Denise Bevan started the presentation on the "Strategic Action Plan." But her role would prove minor in the 75 minutes that followed, which resembled Supreme Court justices grilling the attorney before them than it did any usual discussion on routine matters: Holland stopped Bevan moments into her presentation and directed a question at Landon–knowing the presentation was really his. She asked whether there were timelines as to when goals were to be met: there were none in the presentation. Landon gave a discursive answer.
"So yes, is the answer," Holland said, before getting to one goal she thought should have been accomplished by now: her "Shop Local" initiative, encouraging residents to shop locally so as to keep dollars and as much of the tax base local while benefiting local merchants.
"It was an actual campaign to come back and actually show us how you're going to educate the community on the significance of shop local," Holland told Landon. "Where are we with that? Because I haven't seen a campaign come back to us. I haven't seen how we're going to structure this other than me going and speaking to organizations."
Landon said that "just yesterday" his administration reviewed "performance measures for next year, and it was on there," he said without specifying what had been performed other than vaguely referring to "stickers."
"We've already done a number of things with Shop Local, with the stickers etcetera, but an actual, full campaign, it is scheduled for next fiscal year," Landon said.
---
"I haven't seen the sticker, I don't know about a sticker, but if we have a sticker, I'd love to see where we're placing the sticker."
---
"So it's two years ago, it was the first year that we adopted that as a goal, or we did as a council," Holland said. "So I just need to know becaused that's frustrating to me that we've lost two years on educating the community." She said she's yet to hear any feedback from residents that such an initiative exists.
"We can give you an update, but we've done a number of things on shop local," Landon said.
"I've not heard one," the mayor said. "That would be helpful. But that's an area that's frustrated for me when we adopt a goal and I don't hear back."
"Well, that's one of the things we're doing right now, is trying to give you an update of where they are," Landon said. In fact, "Shop Local" was not part of the presentation and would not have been had Holland not brought it up.
"I appreciate that, but what I'm saying is that there's others we've not heard back from," Holland said before essentially accusing Landon of having wasted half her term by delaying action on the issue. "I need to know from you how you view these and if it's a sense of urgency to adopt and actually implement a strategy from the adoption of goals, where we are with the timeline. It's important for me, because we serve four-year terms. These goals are critical to each and everyone of us, and so wasting two years, for me, is just not something I'm a fan of."
Landon defended himself by pointing to the quarterly reports he submits council members.
"Those things are massive in size though, and the annual report is hundreds of pages," Klufas said.
Beven at that point bailed out Landon ("Mr. Landon, if I may?"), telling council members the quarterly reports would soon come appended with report cards that make it easier to discern what's what.
But something had stuck unpleasantly with Holland, and not for the last time that day, she told Landon how she expected him to conduct himself: "I don't think stickers really communicate effectively to our residents," she said. "I haven't seen the sticker, I don't know about a sticker, but if we have a sticker, I'd love to see where we're placing the sticker. So I think that goal should come from you, like bring it to the council, say: 'This is the campaign that we've launched, tell us what you think about it, tell us if we can improve upon it.' That's an important conversation for me."
"OK," Landon said.
She said she wasn't interested in "just a quarterly" report, but in a continuing conversation with the council, so the council can have its continuing input.
"Mayor, if you give us the opportunity, that's what's on the agenda right now," Landon snapped.
Timidity 2021
Bevan resumed her presentation, and again was stopped as Landon was again challenged regarding the council priority of creating a new vision for Town Center. The powerpoint presentation slide included the line: "Internal stakeholder group established via Innovation Team and will seek external stakeholders in FY19."
"So this is a good example: 'Seek external stakeholders in FY 2019.' What does that mean?" Holland asked. "Does that mean December 2019 you'll have an external stakeholder group? Because to me that's a pretty simple goal." Holland referred to a previous discussion about those stakeholders that included identifying the hospital, cultural arts groups and others who thrive in or around Town Center as stakeholders. That had already been decided, but not executed since. "And FY2019? That's crazy to me," Holland said.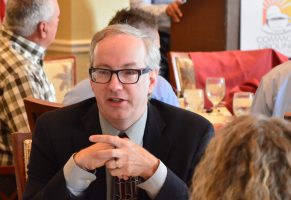 Lyon joined in: "If we already have that list of people that we think are identified, shouldn't they have already been contacted, saying this is a city goal we're working on, and let's move forward on this? Have we contacted them?" he asked.
Landon didn't know. His deputy, Beau Falgout, said there's been informal meetings with stakeholders, and would get back to the council about it. Holland was not mollified. "To operate like silos, back here, will end up in failure, because nobody will know what each other is doing," she said, questioning Landon's claim that "it's an ongoing process."
"We need a timeline, Jim, where, 'I'm bringing it back to this council by this date,'" she told the manager. "I don't need to hear how many fire hydrants you just maintained or cleaned. That's the day to day operations of the city. Your team that you built run the day to day operations. This is a very specific goal that I need to know, when you're bringing it back to this council for adoption so we can move forward on these strategies. That's what I need. If I have that, I will be very satisfied. I need more than 'FY 2019' and 'FY20.'
"OK. That's good feedback. That's what we need," Landon said. When he claimed that performance measures were ongoing.
"That's good that you correct that because that's not what that says up there, It literally says, 'established for FY19,'" Holland said, pointing to the powerpoint in front of everyone.
Landon then implied Holland was just misreading what was on the screen–what he or his administration had written: "I just realized that's what you're reading into that, that's not how it actually works," he said. "What we are doing is making sure that all of city council's priorities that you established in 2018, April of 2018, are going to be–someone is being held accountable to make sure they're getting done. It is not to say that we're starting those in 2019, and I think that may be the miscommunication."
Later in the discussion he again deflected responsibility for the wording, saying it was the mayor's "interpretation" that was causing a misreading of what he intended, until Klufas spoke up: "I don't think it's just your interpretation," Klufas told the mayor. Only then Landon conceded: "It's everybody's interpretation but it's not reflective of what we actually do." If that was the case, Landon's presentation had been badly worded, but he did everything he could not to concede the point.
How To Manage A City
Bevan resumed. Beven was stopped. And council members talked about the impending hiring of an IT director, giving Landon directions he'd never gotten from a council before: where and what to look for in hiring the next director, as that person will have direct oversight of another major council priority (a reinvention of the city's broadband system into a money-maker). "We need to challenge them, we need to say this is a challenge for an upstart to take on really a community that is ripe for transformation, and it's also a beautiful community to live," Holland said.
As if not to be left out, even Council member Bob Cuff, the least confrontational of the group, wanted a proposal to press Florida Power and Light to explain its approach to burying power-lines moved off the back-burner. Landon had said there'd been no movement on that council goal.
"If you're not working on something and we've adopted it" as a goal, Holland said, "I think it's incumbent on you to come back to this council and say, this is a priority I can't tackle right now because I don't have the resources, and then it's for us to decide. Well, this is a priority for us, and we need to support you in this challenge, and say how do we accomplish this because this has been identified as a priority by this council."
"That's what we're doing right now, and I'm hearing you loud and clear," Landon said.
Holland, discussing the "citizen engagement" item on the list of goals, then went as far as telling him how he could be a better manager, something Landon doesn't hear every day (or any day), least of all from a younger woman: "This will also allow you to say what you want to measure, frankly, to give to us as a council, to report to us not just with the matrix but to say, all right, this strategy was adopted, and now we're able to capture the data and analyze the data, and me as a manager I'm able by dashboards or the click of two buttons of a report say, 'we now know we've got a better handle on our swale system because we've made that other investment.' So this will tell the whole picture moving forward in a way that will allow us to best utilize the data but also best help you in support of managing the resources as well as the infrastructure issues we're currently having."
At the end of the 75 minutes, Holland said: "I hope you'll take my input positively this morning about how we just need more of a response from you about your timelines."
"I guarantee you people are taking notes," Landon said, adding an oddly self-pitying note by way of conclusion of his own: "You all are helping make the point of how much we have, when you think about how much we present to you and how much we have going on, it is truly a lot, a lot of work."