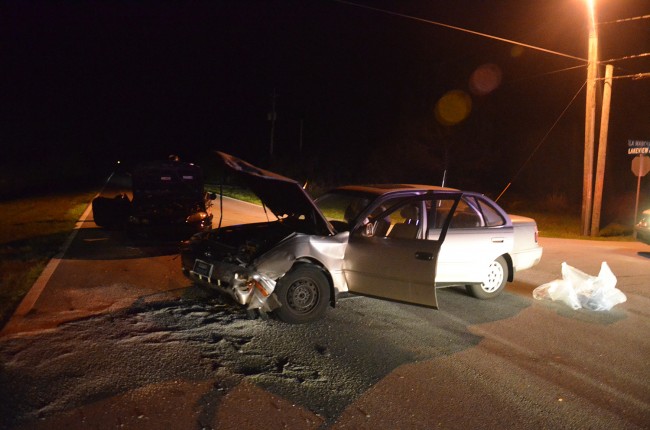 A wreck just before 9 p.m. on Lakeview Boulevard–the road that continues north from Belle Terre Parkway, past Matanzas Woods Parkway–sent one person to the hospital and closed Lakeview between London Drive and Laramie Drive.
According to a preliminary Florida Highway Patrol investigation, a woman was driving north on Lakeview, at the wheel of a Toyota Camry, when an individual–whose identity was not yet known at the time of the preliminary investigation–at the wheel of a Ford Fiesta appeared to have blown through a stop sign at La Mancha Drive, making a left turn south onto Lakeview. The Toyota's left-front struck the Ford broadside.
The woman driving the Toyota was not injured and was at the scene. But 45 minutes after the wreck, she was still going through bags and possessions to try to produce her insurance and driver's license papers to a Florida Highway Patrol trooper–who could not verify her identity until then. The driver of the Ford was taken to Florida Hospital Flagler with non-life-threatening injuries by Flagler County Fire Rescue.
The Palm Coast Fire Police diverted traffic north on Lakeview onto London Drive, and south on Lakeview onto Laramie.