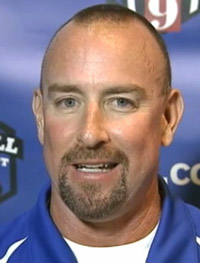 Keith Lagocki, the long-time coach at Matanzas High School, along with three family members, escaped injury Sunday afternoon when a Flagler County Sheriff's deputy's cruiser rear-ended Lagocki's car just west of Belle Terre Parkway. The deputy was also not injured.
Lagocki and the deputy were both traveling west on State Road 100. The deputy was alone in his cruiser. Lagocki had three family members in the vehicle, according to the Florida Highway Patrol.
Deputy Joseph Barnett, 40, a seven-year veteran of the Sheriff's Office, was "trying to keep pace with a potential violator," the FHP incident report states, when the crash happened. The potential violator was on a motorcycle, in the left lane of the four-lane, divided highway. Barnett was in the right lane. He did not have his emergency lights on.
Traffic then slowed in front of Barnett as a car turned onto the road leading to the Palm Pointe apartments. Barnett, the report states, could not stop in time. The front of his cruiser, a 2014 Foird Taurus, struck the rear of the 2014 Ford Flex Lagocki was driving.
FHP has ruled out alcohol, and both drivers were wearing seat belts. Charges are pending, the report states. It does not clarify against whom, but generally, in crashes of this nature, charges–if they are handed down–are faced by the driver that rear-ends a vehicle rather than by the driver being rear-ended. The sheriff's cruiser sustained $2,000 in damages, Lagocki's Ford had $1,000 in damages, according to the report.
Lagocki was for eight years Matanzas High's head football coach. He resigned from that position two years ago. Last year he coached boys' tennis. His wife Frances is an admired reading teacher at the school.