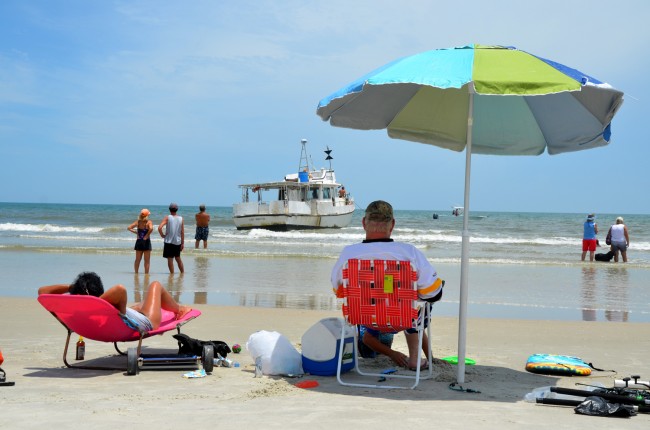 The 40-foot Lady Maritza, registered to Demar Fishing Inc., ran aground near South 23rd Street in Flagler Beach before dawn this morning after its pilot fell asleep. The boat bobbed and rolled in the surf, its keel deep in the sand, for the rest of the morning and early afternoon before a combination of tides and tow lines pulled it out. Neither boat nor crew of three appeared the worse for wear.
"They were out fishing this morning, had pulled their last line up at around 1 o'clock, were moving to another fishing spot," Shane Wood of the Flagler Beach Fire Department, who was at the scene, said early this afternoon, as the boat was still weaving in the surf. "The pilot fell asleep at the helm, and the boat ran aground, I'm not sure the exact time. We got the call around 20 to 7 this morning for it, after first light, when people were able to see it, so we're guessing not too long before that because the captain said it happened right before dawn."
The Lady Maritza is a shark boat. It had shark aboard. The Florida Fish and Wildlife Conservation Commission was at the scene for a while, investigating.
A smaller boat carrying the boat owner arrived at midday, along with a larger boat dispatched to work as a tow. "They've been working the last hour with its motor, trying to work its way out, they've moved it a couple of feet maybe," Wood said. But it was a little later in the afternoon that the boat finally broke free of the sands.
The incident did little more than provide a spectacle for some 30 people who gathered atop the dunes and a few more who lounged on the sands along the surf, watching and waiting. A few people swam close to the boat, and a surfer helped the boat crew stretch lines to the other boats, which couldn't creep in closer to the boat for fear of getting stuck themselves.
"There were no injuries, no hazards with the boat or anything like that," Wood said.
Federal fishing records indicate that in 2008, the Lady Maritza was assessed three fines totaling $23,000, including $15,000 for interfering with an investigation, for failing to "maintain fish intact through offloading ashore."
Last October, the fishing vessel Satisfaction, a 50-foot boat with 600 pounds of shark aboard, wrecked just north of Flagler Beach as waves sent it upright before it went aground, in pieces. Its crew of two swam ashore and were unharmed. The boat itself was demolished.