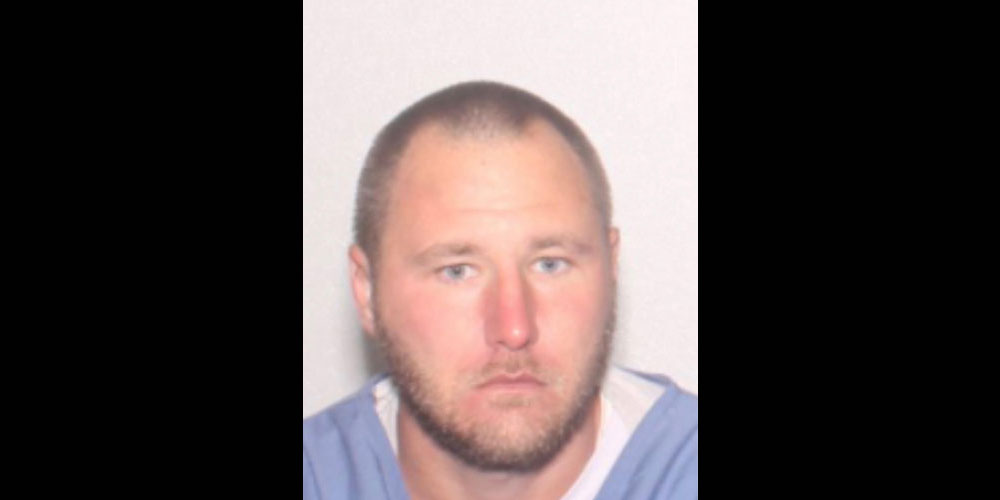 Flagler County Sheriff's deputies Saturday morning were searching in the area of Commerce Boulevard, Wells Place and Woodlawn in Palm Coast for Kyle Knever, a 35-year-old felon considered "armed and dangerous," according to the Sheriff's Office.
By 11:30, he'd been located and secured.
The incident began around 9:30 this morning when he had appeared outside his ex-girlfriend's house, armed and uninvited. Knever, who served three prison terms in the last 13 years and was released from his last one less than a year ago, served three years for robbery-home invasion a decade ago. His other prison stints were the result of drug convictions.




Knever was described as "being a white male, 35 years old, wearing tie-dye shorts and a white shirt, but he may have changed his clothing," the Sheriff's Office reports. "If seen, DO NOT APPROACH," but call 911. The Sheriff's Office is asking that residents remain indoors and avoid the area in question for now. Flagler County Fire Flight, the emergency helicopter, is assisting in the search.
There have been reports by residents of an individual running and appearing to evade detection, and at around 11:30 a.m., he was located in the area of Woodside Drive.
According to his latest state prison record, Knever is a resident of 42 Bogey Circle in New Smyrna Beach.
His arrest report released on Monday indicates that as he was lurking around his ex-girlfriend's house, she and her son confronted him and noticed his gun tucked in his waistband. Her son had initially noticed Knever walking on Pine Lakes Parkway toward his mother's house. When they confronted him, they had a brief argument and Knever may have reached for his gun, at which point she ran inside and called law enforcement.
"Numerous citizens called stating the suspect was running though their backyards," his arrest report stated. "Corporal Lowe spotted the suspect's shirt hanging from a fence at 75 Woodlawn Drive. The resident at 3 Woodside Drive called the Communications Center and stated he had the male sitting in his backyard, waiting for law enforcement. Several deputies responded and took the suspect into custody without incident. Once he was placed in the rear seat of my marked patrol vehicle, I read him his Miranda Rights via a card produced by the Seventh Judicial Circuit in the State of Florida."
No gun was found. Knever denied dropping it.
"This is a great example of residents working together with law enforcement to protect our community and apprehend a suspect," Sheriff Staly said. "I want to thank the public for all of their calls, especially the caller who ultimately led us to the suspect's location and enabled us to take him into custody without incident. Unfortunately, a local business manager did not cooperate with our investigators and has evidence we need so we will be back with a subpoena. If they destroy the evidence they will be arrested. This guy is a convicted felon and witnesses saw him heading towards the victim's home with a gun. This could have had a much more tragic outcome."
This investigation is ongoing and further charges may be pending. The FCSO is requesting that anyone with home surveillance footage in the "W Section"
of Palm Coast recorded on 5/1/2021 between 8:30 AM – 11:30 AM please call the Non-Emergency line at 386-313-4911 or email [email protected]