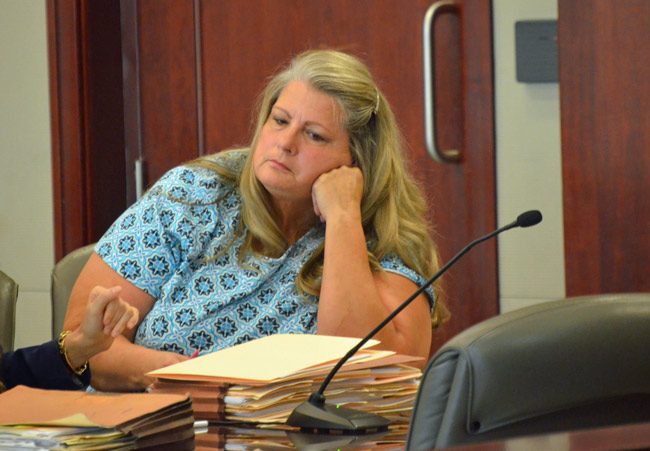 Kimberly Weeks, the former Flagler County Supervisor of Elections, is now a felon eight time over: she pleaded no-contest to an eighth count on Nov. 20, finally ending the three-year case against her, at least in Flagler. At the same time, and several months late following various snafus, she filed a notice of appeal with the Fifth District Court of Appeal in Daytona Beach through her attorney, Kevin Kulik.
A jury found Weeks guilty of seven felonies on April 5. She was sentenced on May 18 to a relatively light punishment: one month at the county jail and 18 months on probation. The sentence is stayed pending the outcome of the appeal. Light as the sentence may be, Weeks, who before her plea in November had maintained her innocence, doesn't want to be branded a felon. By being so, she loses her state pension. She served six tumultuous years as elections supervisor starting in 2008 until her resignation in January 2015, five months before a grand jury indicted her.
She was convicted on seven counts of illegally recording state and local officials during telephone conversations, including the secretary of state, who had told her at the beginning of the conversation that he did not wish to be recorded. He did so on a conference call, surrounded by other members of his staff. One of the counts included recording the Palm Coast city clerk. It's a third-degree felony under Florida law to record someone without the person's permission, outside of public venues where there is no expectation of privacy, or public meetings. A circuit judge threw out several counts against Weeks for falling in either of those two categories, but the other counts remained.
Weeks argues that none of her recordings of conversations with officials could be considered illegal because in every case, she and the officials were conducting public business, which could not be considered "private" or warrant the expectation of privacy. That's the argument Kulik is taking to the appeals court: that the lower judgment is untenable.
Weeks pleaded no contest in an eighth count that did not involve a public official, but rather a private person she had been speaking with, in person, apparently in her front yard, discussing family matters, and recording on her cell phone. The same penalty applies: a month in jail and 18 months' probation, and the same stay applies. Weeks also reserves the right to reverse her plea should the appeal go her way.
He hasn't yet filed the actual appeal, and had to plead with the appeals court to be able to do so because as far as the Fifth District is concerned, it was filed well past the deadline. Kulik said he followed the rules, though officially the appeal was not filed until Nov. 19, a day before Weeks's plea agreement.
Kulik filed a notice of appeal at the clerk's office in Flagler on June 1. It was rejected three days later for lacking the required $100 filing fee. Kulik pleaded that he was not aware of the June 4 rejection. "It is, of course, impossible to 'e-file' a filing fee," he wrote in his explanation to the appeal court, shifting the blame to the Flagler clerk's office. "The usual procedure, statewide, is for the clerk to contact the attorney for the fee, via credit card, check, or other payment method."
Flagler County Clerk of Court Tom Bexley said his office would have–and did, according to his log–send an electronic message to Kulik regarding the incomplete filing, explaining what is needed to complete it. Kulik, in other words, would have received a message saying he needed to pay the $100. "These are automated messages sent from the Florida e-portal," Bexley said. "It's bullet-proof. I don't want to say it's 100 percent, but this thing works."
Kulik had erred in filing the appeal anyway: he'd filed an intention to appeal at the Fourth District Court of Appeal, though Flagler is in the Fifth District. He corrected that mistake with an amended filing on June 4, the same day his original notice had been rejected. That filing was rejected the following day, again "unbeknwonst" to Kulik until Oct. 19, when Kulik was reviewing the filings both in Flagler circuit court and at the Fifth District. Only then did he realize there were no traces of any filings.
Kulik is pleading to the Fifth District that a Supreme Court precedent from 1975 establishes that an appeal filed with or without fee immediately acts to "vest jurisdiction" in the given appellate court, so that "the subsequent deposit of the fee after the running of the appeal time limit will not affect the jurisdiction of the appellate court." He also cited a Fifth District case supporting his argument.
Kulik re-filed the amended notice of appeal on Nov. 16, paid the $100 fee on Nov. 20, and mailed the required $300 fee to the Fifth District.
"Because Appellant's Notice of Appeal was originally timely filed, Appellant requests this Court not dismiss the case for lack of jurisdiction," Kulik argued.
On Dec. 4, a three-judge panel consisting of Vincent Torpy, Wendy Berger and Frederic Wallis accepted the appeal.