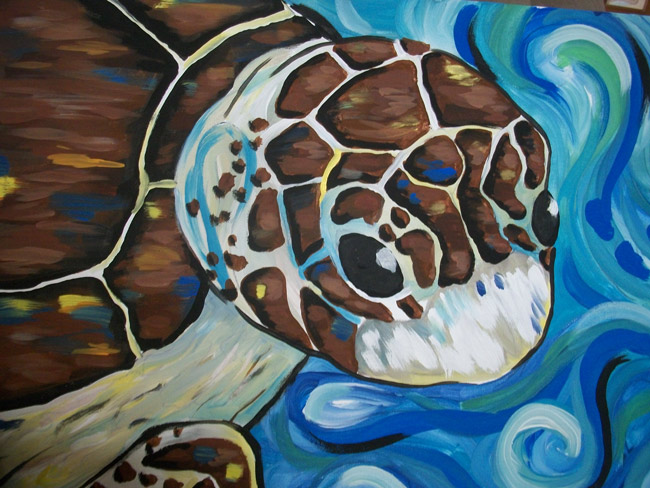 Two years ago Kelly Kryspin, then 16, heard about Frank Gromling's art shows at Gromling's publishing house. Gromling owns Ocean Publishing in Flagler Beach, a small publishing house he used to upend the conventional understanding of books, art and nature by merging the three every chance he gets. When Gromling published Explore the Southeast National Marine Sanctuaries with Jean-Michel Cousteau in 2010, for example, the publishing house's offices became a gallery for a show featuring Rick Cannizzaro's "Wonders of the Reefs" paintings.
A friend suggested Kryspin give Ocean Publishing's shows. She did, and mentioned to Gromling that she was an artist herself. Her turtles may even be related to Cannizzaro's.
A year later, Gromling gave her a call and asked her to paint a mural framing the outside of Ocean Publishing's storefront on State Road A1A. "I was so impressed by her acrylic creatures, each with its unique personality, I knew right away that Kelly deserved her own art opening at our gallery," Gromling said. Meanwhile she won Best in Show and a first place award in painting at the Flagler Auditorium's last Holiday Extravaganza Art Show in December.
On Friday at 6 p.m., Kryspin's very first solo show—"Ocean Pop"—opens at Ocean Publishing, with an annex show next door at Nerdz Comics & More. She'll be showing nearly two dozen nature works at Ocean Publishing and a half dozen pop culture works at Nerdz in what, for Gromling, is another first—a cross-cultural show that bridges genres, generations and of course two businesses.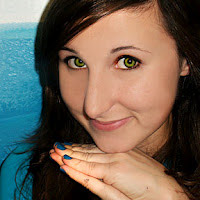 Kryspin has shown her work before, namely at the Gallery of Local Art in Flagler Beach, but not solo. She studied at Douglas Anderson School of the Arts in Jacksonville and is a senior at Flagler Palm Coast High School. She'll be heading next to the University of Central Florida for a fine arts degree, and she'll be vying for internships at Pixar or Disney. Her aim ultimately is to be an animator in what she calls a "very detail-oriented career."
She's been working toward that goal since second grade, when she won her first art contest. I've just always loved it and want to do it for the rest of my life," she says. For the last few years she's been working on commission, painting murals around town, including those at Ocean Publishing and the Beachside Bakery, and painting animal and individual portraits for people: children, grandchildren, and a lot of turtles. People like their turtle paintings. Kryspin has done about 20 of those.
The show at Ocean Publishing features some 20 nature-related pieces– whales, dolphins, a few birds that can be found around the beach, seagulls, an owl, a quartet of turtles. The works range in price from $30 to $200. Next door at Nerdz, there'll be five paintings of superheroes or villains—Catwoman, Wonder Woman, Batman, Superman, Black Cat (that's the one from Spider-Man), all priced around $40. I'm very excited to have my own show. I've never had something like this before and been able to show as many pieces," Kryspin says.
Her turtles can have a quizzical look to them. A whale she painted has the look of a happy scamp trying out a broad smile. A dolphin springing from the ocean seems to share a lot of that proud-peacock DNA. The lines of her paintings are sharp and self-assured. The colors—endless shades of blue, brown, dashes of yellow—are all Florida.
Kryspin, who has two brothers (one of them already attending UCF) was born in Jacksonville. She moved to Palm Coast three and a half years ago. She is the daughter of Debra and Wayne Kryspin. Debra teaches second grade at Wadsworth Elementary.



"Ocean Pop" opens at the Ocean Publishing Gallery and Nerdz Comic's next door at 200 South Oceanshore Boulevard, Flagler Beach on Friday, Feb. 10 at 6 p.m., with live music by guitarist Alex Ceserani and refreshments. The public is invited.