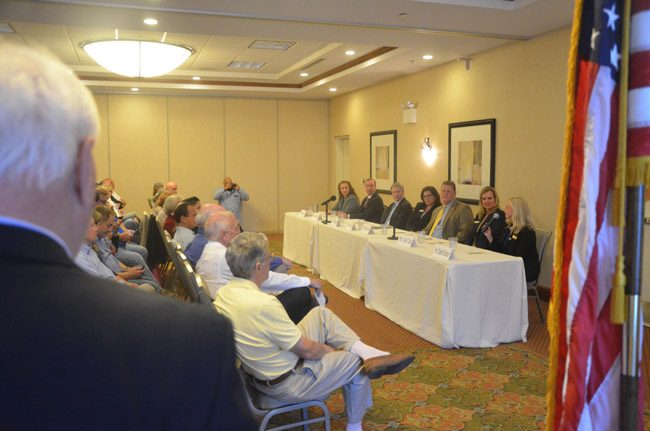 It's not often that you get two or more judges together for a social, let alone a social and public, event, where judges–who prefer to refer to themselves as "The Court"–will cozy up to the first person singular and to the public, answer a few questions, and reveal the occasional nugget most otherwise would not.
That's what seven judges did this evening at the Flagler Palm Coast Forum, the Ed Fuller group devoted to civic and electoral discussions featuring candidates running for office: these seven judges are all up for re-election in November, assuming they draw opposition. So far, none has. (The qualifying window is in early May.)
"I don't ever recall seven judges being in Flagler County, coming to meet the citizens of Flagler County just for the sole purpose of meeting them," Ed Fuller told the judges. "I believe it is history."
The newsmaker was Terence Perkins, a former chief judge in the circuit currently serving on the felony bench in Volusia County: he's been assigned to Flagler County starting in June. He will replace Circuit Judge Dennis Craig.
"I've got a secret for you," Perkins, who described himself as "the old man at the table," said. "Some months ago I was approached by our now chief judge, Judge Raul Zambrano, and Judge Zambrano had a very soft spot in his heart in Flagler County," this being the county where he had his start as a judge. Zambrano has spent the last weeks juggling judges to account for the forced exile of one of them—Scott DuPont—whom the Judicial Qualifications Commission has recommended be removed. DuPont served in Flagler and Putnam. Zambrano ordered DuPont out of local courthouses pending the resolution of his case. Last month the chief judge significantly realigned local judges' assignments. But his order had said nothing about Perkins.
As it turns out, Zambrano had asked Perkins if he could combine a criminal and civil docket and serve in Flagler. "In a Minnesota minute," Perkins said he told Zambrano. So starting on June 4, he will serve the balance of his term in Flagler County, longer if he is re-elected, as appears almost certain.
Perkins's announcement did not diminish the regret surrounding the departure of Judge R. Lee Smith, who's served on Flagler's family law bench for the past two years, and who has been reassigned to Putnam County. "Nobody wants to see this man go," Melissa Moore-Stens, the only county judge at the table, said, sitting next to Smith. She was likely not exaggerating: Smith made his mark quickly effectively in Flagler, managing to evoke a reaction among admirers unusual for young judges: affection.
"As far as I'm concerned, there's no more important work that gets done in the courthouse," Smith said of dependency cases that decide the fates of children removed from unsafe family environments– children who "have the biggest obstacles and the biggest odds against them." Smith, the youngest of six, all the rest sisters, endorsed Chris France, his replacement, as a "family man" ideally suited to take over for him. France was among the judges present.
"Sometimes the chief judge says please, sometimes he doesn't," France, a long-time prosecutor, said of his new assignment, clearly not one he had volunteered for anymore than Smith had for Putnam. France was more comfortable speaking about others to his left and right—or in front of him, such as R.J. Larizza, the State Attorney and his ex-boss, who was in the audience—than he did about himself.
He was flanked by Judges Leah Case and Elizabeth Blackburn to his left, and Mary Jolly, Perkins, Smith and Moore-Stens, to his right. (Moore-Stens made a little news herself, though not during the forum: she'll briefly be a sitting judge on the Fifth Circuit Court of Appeal in October, a rarity for a county judge, though she's also a regular as a teacher of other judges at the Florida Judicial College program.)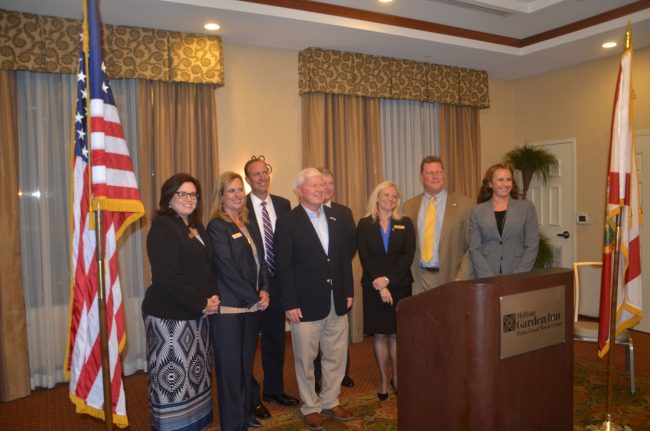 Fuller a few months ago called each of the seven judges and asked if he or she would participate in a public forum to "take the mystery out of" one of the most frequently asked questions the day of the election, as Fuller describes it: "Who do I vote for judge?" The question is asked most often the day of the election, when most voters first think about judicial candidates if they think about them at all, even though as Case put it this evening, "you're going to be affected by a judge: either you, a family member or a friend."
All seven judges agreed to appear this evening, welcoming the chance to lower the veil—and of course to sway a crowd. Not that the crowd needed swaying: Most of the 80 or 90 people attending at Palm Coast's Hilton Garden Inn were either themselves elected officials or intimates of the political process who don't typically ask themselves who to vote for: they know, though they themselves often influence others' decisions. So the crowd reflected an invisible multiplier effect the judges were certainly aware of. But only Fuller asked questions, and only a few, since the judges' introductory remarks about themselves took up about half the allotted time.
They each spoke in turn, almost all of them having been prosecutors at one time or another, most of them having practiced great varieties of law, sometimes after other careers (Blackburn was an educator before she took up the law, Smith worked for five years for then-U.S. Rep. Ander Crenshaw, the Republican whose district stretched across northeast Florida), some of them having argued frequently before the Florida Supreme Court or even the United States Court of Appeals for the 11th Circuit, as Jolly did when she was a county attorney.
"We're all dealing with difficult issues whether it's in a criminal courtroom or a civil courtroom or a family courtroom where children are being removed from a family," Blackburn said.
This was not the place nor the lineup to field controversial questions: nothing was spoken about DuPont, though he's clearly been on the minds of more judges than they care to admit. Nothing was said–or asked–about the racial homogeneity of the Seventh Judicial Circuit (which includes Flagler, Volusia, Putnam and St. Johns), reflected by both the line-up of this evening's judges and the audience they faced. Nothing was said about the incongruities of running sitting judges through elections or the hyper-politicized process of gubernatorial appointments to the bench. Instead questions focused on previous high-profile cases, on explanations of the ad litem program (when the court appoints a guardian for children and advocate for them and their best interest as "stewards to our community," in Jolly's words) and the complications of litigants who, for lack of money, represent themselves in court.
The sheriff, all five county commissioners, Palm Coast's mayor, the state attorney, a candidate for Congress and one judicial candidate (for an open seat in St. Johns) attended among a crowd at times thickened by a squad of bailiffs: judges never travel without protection.
And uniquely so for a forum ostensibly organized with the year's elections in mind, not a single one of the judges uttered the phrase most often heard at such events: "Vote for me." If luck holds for them, they won't have to: if they draw no opposition by May 4, voters will not see the judges or their names again, absent litigation that takes them to court.