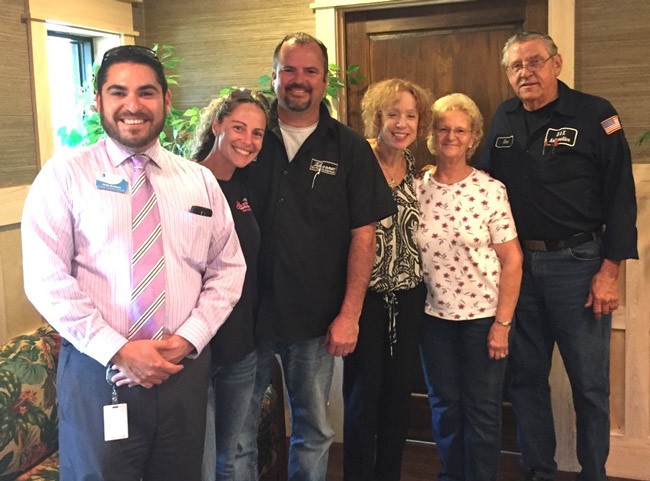 Margaret Sheehan Jones, a Certified Commercial Investment Member with Parkside Realty Group, brokered a $450,000 transaction for real estate and the equipment of D & K Automotive and Tire Repair at 102 North Main Street in Bunnell last month.
"It's so great to see a generation able to retire and a new generation coming in to take over and continue the reputable service D & K has provided since 1988," Sheehan Jones said. "We worked with Intracoastal Bank on the financing and they took great care of the buyers."
Sheehan Jones represented both the buyer and the seller in this transaction. The property was sold by Dolores and Don McCalligan and purchased by Paul and Beth Barrow. The buyers are owners of Barrow Auto Repair located at 13 Enterprise Dr. in Bunnell.
"We were growing out of our space," said Paul Barrow. "This move is a needed expansion for us." D & K Automotive has been in business for 29 years and services vehicles for the City of Bunnell, as well as cars, trucks, vans, and other fleets. The property sits on a third of an acre at the corner of State Road 100 and Main Street just west of the railroad tracks in Bunnell.

Palm Coast Data Awarded Fulfillment Service Contract with Fort Worth, Texas Magazine
Palm Coast Data is pleased to announce it has reached a multi-year agreement to provide fulfillment services for Fort Worth, Texas magazine, which has a circulation of 20,524.
Fort Worth, Texas magazine is a monthly publication focusing on life in and around Fort Worth. It delivers content about local food, fashion, culture, businesses, homes and more to a broad demographic of readers from millennials to retirees.
Palm Coast Data will deliver its industry-leading eCommerce and traditional fulfillment services for the magazine.
"Through print, the web, online video, live events, social media, and more, Fort Worth, Texas magazine has developed an expansive audience across our region," says Hal Brown, Publisher. "As we continue to grow, we are confident Palm Coast Data will help us efficiently and effectively deliver our readers exciting content through digital and print magazine models."
"Palm Coast Data is excited to partner with this innovative magazine dedicated to creating an exceptional experience for its audience," says Rory Burke, President and Chief Executive Officer. "Our ability to deliver seamless digital and print fulfillment services will enable Fort Worth, Texas magazine to expand its reach to readers across multiple platforms."