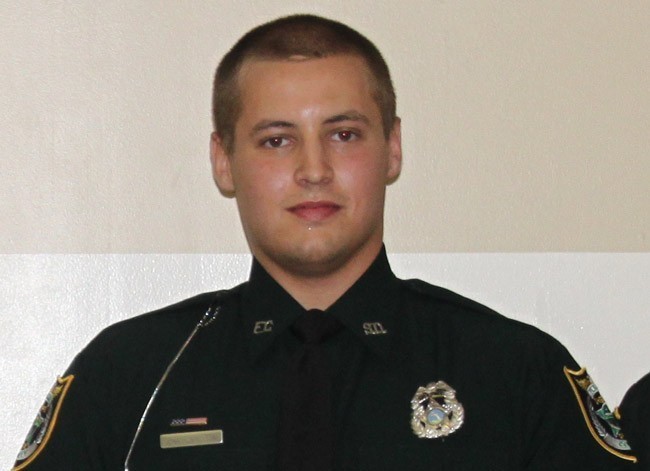 For a rookie, Flagler County Sheriff's deputy Jonathan Kuleski has had a busy and somewhat calamitous first year on the job: he's totaled two patrol cars, both times in what the sheriff's office ruled were preventable crashes. And he's been the subject of two internal affairs investigations. He was cleared of wrongdoing in one. He was found in violation of a department policy in the latest one, completed on the last day of 2015—not driving his patrol car carefully and prudently.
The sheriff's office's Dec. 31 finding underscores a recurring complaint of residents around town: that cops at times drive recklessly, endangering other drivers. Such complaints are usually anecdotal and undocumented, the result of brief but elusive sightings of speeding patrol cars. The Kuleski case documents one such instance and shows to what extent the department analyses those instances, at least when one of its vehicles is damaged beyond repair.
Kuleski, 22, was hired at the sheriff's office on Aug. 20, 2014. He'd previously worked with the Bunnell Police Department.
Last May, he was involved in a crash that totaled a patrol car and that a department crash review determined to have been preventable. He was assessed remedial training. A month earlier, he was involved in a policing case that resulted in his first Internal Affairs investigation. Deputies had responded to a noise complaint in a wooded lot in Palm Coast's W Section, at Wood Aspen and Wood Acre lanes. When they got there, they discovered a drinking party of about "15 young adults listening th music and drinking alcoholic beverages," among them Kuleski. No arrests were made as Kuleski and others said everyone was of legal drinking age. Kuleski, who was still on probation as a new hire, told deputies at the time that he was unaware that the gathering was on private property, otherwise he'd not have gone there, he said.
An Internal Affairs investigation completed on June 28 cleared Kuleski of wrongdoing. The road incident that led to the second Internal Affairs investigation took place less than three months later, on Sept. 19.
Kuleski was working the 6 p.m. to 6 a.m. shift in Zone 4, which includes the W Section. He lives in Zone 5, which includes the Seminole Woods area. At 3:34 a.m., he checked out at his home, in Zone 5. Two minutes later he was dispatched to a suspicious person call on Wynnfield Drive. But he did not leave his house until 3:42. He would later tell investigators that he was out of his zone and delayed responding to the call because he was using the bathroom at his house.
Leaving his house, he traveled through the Seminole Woods area to U.S. 1, then to White View Parkway, where the crash took place. As he drove up U.S. 1, the interval investigation showed based on GPS reports obtained from the patrol car, "he reached speeds in the upper 70 to lower and upper 80 miles per hour." The posted speed limit along the way is 60. When he turned onto White View, where the speed limit is 45, his speeds were 59 to 62 just before the crash, the investigation showed. It had been raining throughout his shift. At 3:55 a.m., he crashed.
In his testimony to investigators, the report states, Kuleski "said when he approached the area near the church he went to turn his defoggers off. He said he leaned forward and his foot slipped due to all the rain they had."
Kuleski elaborated in comments to the Flagler sheriff's deputy who investigated the crash: "While changing the air conditioner settings which require me to move my entire body slightly forward due to my vest and belt which require my seat to be farther back for me to fit into my vehicle comfortably," he said, his foot ""slipped while it was on the brake causing me to brake harder than normal."
According to the internal investigation, Kuleski said "he went off the edge and hydroplaned a little bit. He said after spinning out he tried to gain control of the vehicle but couldn't due to the puddles and rain water. He said he had to make a choice of going into the ditch or towards the median." But he acknowledged driving too fast. When an investigator asked him if he'd screwed up, Kuleski said he had, but that he'd learned his lesson.
Kuleski was not hurt in the crash. "This recent crash was the second one for Deputy J. Kuleski within a year where both vehicles were a total loss for the agency," the internal investigation concluded before finding that he had violated the agency's standards of conduct under the section controlling driving: "Personnel shall operate official vehicles in a careful and prudent manner, and shall obey all laws and all agency orders pertaining to such operation."
The consequences for Kuleski's latest crash have not been determined. "It is out for a disciplinary recommendation," a sheriff's spokesperson said Thursday.