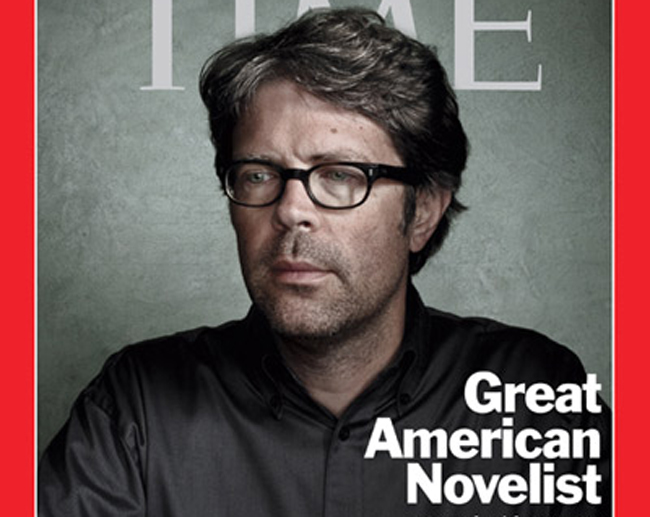 Stetson University just scored a coup: Jonathan Franzen will be delivering the annual J. Turner Butler Lecture and reading from his work there on Nov. 22.
Franzen is the celebrated author of Freedom, an acerbic, storytelling sweep through late 20th and early 21st century America that reevaluates society's cavalier brandishments of "freedom." Barack Obama helped make the novel a topic of national discussion when he picked it up this summer. The book is currently 10th on The New York Times Best Sellers list and will be a likely clean-up winner of this year's prizes. Franzen's previous novel, The Corrections (2001), is one of the last decade's biggest sellers.
Stetson's James Turner Butler Creative Lectureship features just one lecture each year. Last year's speaker was Art Spiegelman, the Pulitzer Prize winning author of Maus, a graphic novel of the Holocaust. Marc Powell, an assistant professor in Stetson's English Department and a novelist in his own right (Prodigals and Blood Kin), suggested Franzen for this year. It worked (Franzen is getting paid for the appearance).
Franzen will be attending the Miami Book Fair (scheduled from Nov. 14-21), so he'll make his way to DeLand immediately afterward, and only for the one-hour event. Franzen will appear at the Athens Theater. The event is free. But there's quite a catch. Just 450 tickets are available in the small venue. The tickets will be made available to students and faculty first. If by Friday some tickets are left over, those will be made available to the public.
Sat the lecture itself, Franzen intends to speak about his work for 20 minutes, read from his work for 20 minutes, then take a few questions for 20 minutes. He won't be giving interviews.
Freedom is the story of the Berglund family, a collection of less than exuberantly likable husband, wife and teen-age son living somewhere in St. Paul, Minn. Husband Walter is the passive-aggressive type who works for a coal company while preaching the virtues of nature. Wife Patty is Venus-smooth on the surface, but all Mercury volcanoes and depression beneath. Son Joey quits the house to live with his girlfriend, who happens to be a neighbor.
"As the novel proceeds, however," Michiko Kakutani wrote in her Times review of the book in August, "Franzen delves further into the state of mind of his creations, developing them into fully imagined human beings — not Nietzschean stereotypes easily divided into categories of 'hard' (shameless, ambitious brutes) or 'soft' (pathetic, sniveling doormats); not bitter patsies fueled by ancient grudges, but confused, searching people capable of change and perhaps even transcendence."
The novel landed Franzen on the cover of Time in August and sent several columnists dueling over the meaning of the book in the context of the frayed political and social atmosphere of this century.
"In chronicling one Midwestern family as it migrates from St. Paul to Washington during the 9/11 decade," Frank Rich wrote, "Franzen does for our traumatic time what Tom Wolfe's "The Bonfire of the Vanities" did for the cartoonish go-go 1980s. Or perhaps, more pertinently, what "The Great Gatsby" did for the ominous boom of the 1920s. The heady intoxication of freedom is everywhere in "Freedom," from extramarital sexual couplings to the consumer nirvana of the iPod to Operation Iraqi Freedom itself. Yet most everyone, regardless of age or calling or politics, is at war — not with terrorists, but with depression, with their consciences and with one another."
David Brooks, the suburban conservative, took a lesser view: "Freedom tells us more about America's literary culture than about America itself," he wrote. "The serious parts of life get lopped off and readers have to stoop to inhabit a low-ceilinged world. Everyone gets to feel superior to the characters they are reading about (always pleasant in a society famously anxious about status), but there's something missing. Social critics from Thoreau to Allan Bloom to the S.D.S. authors of The Port Huron Statement also made critiques about the flatness of bourgeois life, but at least they tried to induce their readers to long for serious things. "Freedom" is a brilliantly written book that is nonetheless trapped in an intellectual cul de sac — overly gimlet-eyed about American life and lacking an alternative vision of higher ground."
For more information about Friday's tickets, if they're available, contact Stetson at 822-8920.