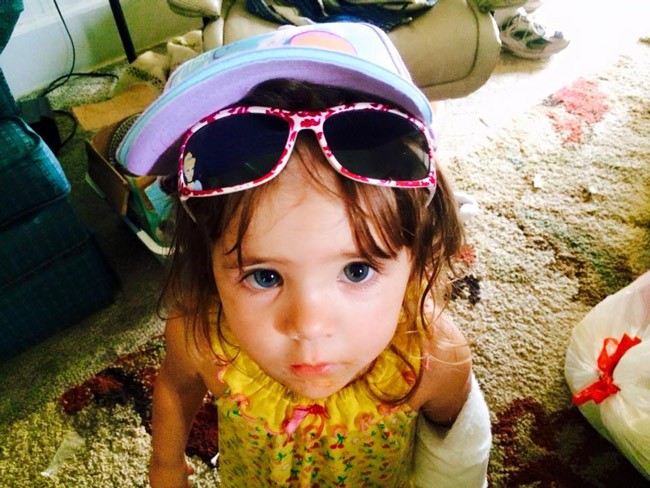 It's been an unforgiving week for the family of Jessica Johnson and James Ghormley, who are raising three young children: Madison, 5, Elizabeth, 2, and Landon, who's just shy of his first birthday. Early last Friday, their house on stilts at the south end of Flagler Beach was leveled by flames and spread to their neighbor's house, rendering it uninhabitable.
All five family members were hospitalized, Jessica with severe burns. They'd all made it out of the house thanks to Jessica's step-father Bob, who smelled something burning not long before the flames engulfed the whole house. (Jessica's step-father had come to spend the night so he could babysit the two younger children the following day, and Jessica could spend mother's day with Madison at a school event.) But after everyone got out Jessica realized that Madison had run off. She'd gone back into the house. She loves her pets. She wanted to save them: two dogs, a rabbit named Yogurt, a few turtles.
The pets all perished in the fire.
Jessica ran after her daughter. That's when both got the majority of their burns, Jessica severely so. She managed to find Madison and throw her to James below, from the balcony, then jumped herself. But she still had to be airlifted to the burn unit at Orlando Regional Medical Center's burn unit, where she remains, intubated and struggling through ups and downs and the prospect of surgeries ahead, including an extensive one Monday. Her breathing has not improved as doctors wished.
"You never know what your reaction is going to be in a situation like that," Liz Williams, the Flagler Beach Police Department detective, said. "Frozen fright is a really true phenomenon, and you never know in a situation like that if you're going to be frozen or if you're going to rush in and save your child." Williams spoke of Jessica's remarkable courage in those moments as she essentially saved her daughter's life.
Williams has kept in close contact with Tracy Johnson, the mother of Jessica and the grandmother of the children, who's shouldered the bulk of the burden of caring for the family. Williams helped set up a Facebook page that centralizes the fund-raising efforts on behalf of the family. It so happens that the police captain's administrative assistant, Donna Kearney, belongs to Friends of Flagler, the fund-raising group, and has put that group to work for the Johnson-Ghormley family.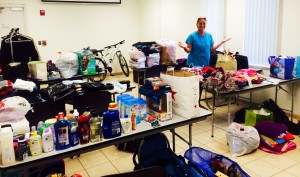 "The community has just been remarkable. It's amazing to me how the community has come together," Williams said. The police department is not soliciting aid but it's facilitating the effort, and allowing some of its space to b used for donations as well as enabling donors to make monetary donations safely at the station. Just today, Flagler Beach Mayor Linda Provencher was organizing what has been donated so far in a back room at the station.
Friends of Flagler provided the family with a Visa card, another donor provided a gas card, though the condition of the family vehicle is uncertain, and of course a major priority is finding the family a home. Derek Fraser, the Bunnell fire chief, has donated a mini-storage unit for larger items to be stored. Next Tuesday, with a donated truck from Santa Maria del Mar, the Catholic church in Flagler Beach, will go around, picking up donated furniture for the family.
Christmas Come True's Nadine King has led a similar effort, and the two organizations have now joined forces so there was no duplication of services, Williams said. But donors can contribute through either organization, and keep up with what's been donated at the Facebook page.
The Facebook Page will post the latest donations, allowing people to keep up with what's been donated and what's lacking. For example, two strollers have so far been donated and a third will be donated by evening.
Flagler Beach's Police Captain Matthew Doughney suggests: "If anyone wants to donate large items (boxes of clothes, furniture, etc.) and they're unable to get to the Police Department, please have them contact my Administrative Assistant, Ms. Donna Kearney at (386) 517-2037, and we'll make arrangements to pick up donated items. Thanks!"