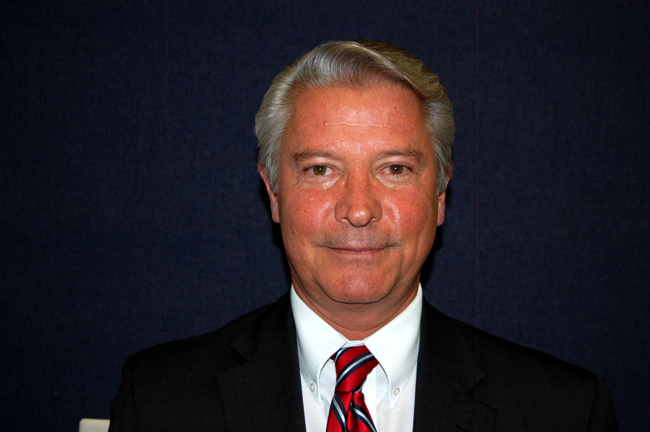 One of three Group 5 candidates born in New York City—Mark Dwyer and Sid Nowell are the others—John Selden, 54, is a graduate of Princeton University, earning his law degree from New York Law School, clerking at two law firms while going to school. He spent the first part of his career practicing law with a firm in New Jersey with clients on both sides of the Hudson River, arguing appellate and federal court cases in New York and New Jersey as well.
Selden briefly worked for the Atlanta-based National Asbestos Council before moving to Florida in 1990, getting admitted to the Florida Bar and working in the Hillsborough County Public Defender's office and back in private practice in Fort Lauderdale and West Palm Beach through the 1990s. In 1999, he joined the Public Defender's Office in the 7th Judicial Circuit, working as an appellate specialist in the Volusia County office, where he's been since.
"My extensive appellate background has taught me both the need for accuracy, to avoid waste of judicial resources, and the skills to sit as an appellate judge over County Court appeals," Selden writes in his disclosure statement to the Florida Bar. "After years of playing Rugby Football, my decade of experience as a certified referee has given me the skills of making swift decisions, and communicating in an authoritative manner while remaining calm and composed, even in the face of the hottest contests."
It's notable that of all the candidates running in Group 5, Selden's website is the most detailed regarding his work history, noting precisely where and who he's worked with in every year of his career and offering relevant detail about his experience within each job he's worked. An example from the five years he worked at Willis & Selden in new Jersey, from the mid to late 1980s: "Served as trial counsel in over 100 criminal cases.  Also solely responsible for all office management and administration, including computer operations, and for writing and arguing all complex, pre-trial motions and numerous appellate briefs.  Presented oral argument before the New Jersey Supreme Court which changed state law on a point of evidence." (The emphasis is his.) All other entries are similarly detailed.
Selden is also candid about his personal past, noting an "amicable" divorce along the way and a more recent second marriage. Selden ran for a 7th Judicial Circuit seat four years ago. He lost the four-way race to Clyde Wolfe of St. Augustine.
In his disclosure statement to the Florida Bar, he notes: "For the last two years, I have been supervising, training and mentoring 11 attorneys in five, busy court divisions (two felony; two misdemeanor; one juvenile), working directly in the courts on a daily basis, and allowing me to see the demands placed on our judicial system in these economic times. This teaches a valuable lesson regarding the demands of the position and the need for efficiency. Lastly, I am the only candidate in my group who has recently had the honor of having been nominated to the Governor by the 7th Circuit Judicial Nominating Commission (another candidate was selected for appointment: Judge Perkins)."
Selden has two teen-age step-children from his second marriage. His name is eponymous with one of the most famous jurists of the past half millennium—the John Selden who first voiced one of the most common legal warnings to laymen and lawyers alike: ignorance of the law excuses no one.

Candidates for Circuit Court Judge (Click on the Name to Go to the Candidate's Page)