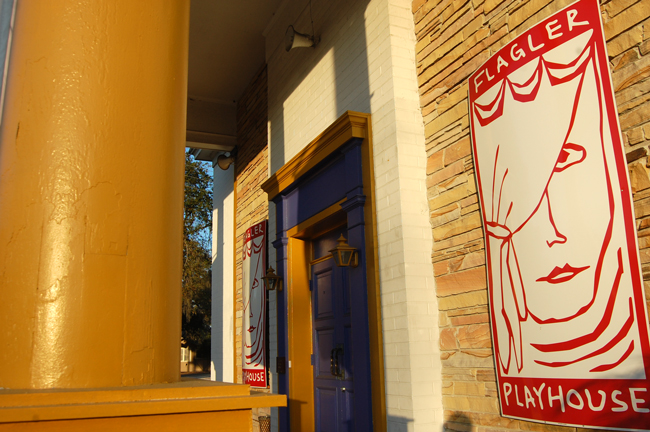 It happened last week, not 24 hours after the end of the Flagler Playhouse's 12-performance run of "Hairspray," the Playhouse's most successful show in the theater's 32-year history: John Sbordone, a member of the board, the theater's artistic director for the last six and a half years, and the director of 28 of the last 29 shows at the Playhouse—and by all accounts the man chiefly responsible for the theater's success—angrily walked out. So did Diane Ellertsen, the board president and choreographer at the Playhouse since 2006.
The pretext was wine. Sbordone and Ellertsen are volunteers, as are all cast and most crew members on Playhouse productions. The pair would log long hours in preparation for every show in addition to their board responsibilities. They'd have a glass of wine during the evening, as did many patrons: wine is sold at intermission. Before every show they greeted everyone coming in, and shook their hands on the way out, like ministers at the church door—literally, in the Playhouse's case: it used to be a church. "We have a very convivial, a very friendly atmosphere, that's how we built those audiences, that's how we made it happen," Sbordone said this week. "And then all of a sudden, it wasn't—well, this was about something else."
A Matter of Wine
Some board members wanted to adopt a procedure banning wine consumption by anyone not a patron. Sbordone took it as a menial slight. At that particular board meeting on Feb. 7, nothing was said about the success of the show. Rather, as Sbordone described it in a subsequent letter to the board, "insults rang out. 'The theater is dirty.' 'You are a volunteer just like the ushers and shouldn't be treated differently.'" The "harangue," Sbordone wrote, "was incessant and unrelenting." The wine matter, though it had been discussed at previous meetings, was too much. "The insults were hard-felt. We are not just volunteers like any other." So he walked out.
The following day Sbordone and Ellertsen sent in their resignation. So did a third board member, Jack Bigelow. The board did not stop them or ask them to return to the table, though several board members called Sbordone to make other overtures. To Sbordone, it was a pre-mediated "coup" led by three members of the board: Patricia Love, Kathy McArdle and Michelle Orlowski. "I believe that it was a concerted effort to take over," Sbordone said. "We don't know why."
Love and McArdle adamantly deny anything of the sort was planned. (Orlowski did not return a call.) "We neither asked for the resignations or encouraged the resignations," Rick Bowman, the board's treasurer, said. "They just decided they would resign on the own." And by voice vote in an emergency meeting a day after Sbordone tendered the resignation, a majority of the remaining board members—including Rick Bowman, and Kathy Thompson—accepted the resignations. One (Karen Phillips) was absent.
"I don't know if it was inevitable," Nancy Howell, the longest serving Playhouse Theater board member, said. "I've been with them since the beginning and watched the Playhouse become the Playhouse throughout its changes. John sees the artistic side as the most important side, and I must admit so do I, and I guess other people feel there are policies and procedures that have to be followed. But I think everybody overreacted, and everybody overreacted very quickly, and we were out there and couldn't think of a way back. Last week was probably one of the worst weeks that I've spent in a long, long time. I felt I was in the middle."
Howell was in rehearsals for "Waiting in the Wings," the Playhouse's show opening next week, when the board met that Monday evening. She wasn't told about the meeting's developments. The email she wrote the board afterward suggests board members knew that they were treading in quicksand: "I told you at the last meeting that the 'wine' issue was one that you had better think about carefully and be prepared for the consequences," Howell wrote. If you did and if you are, please fill me in! How do we get to the point that we are willing to lose our president and artistic director over a glass of wine, or a bottle of wine, or a case of wine??? We have just had our most successful show ever. Do you think that would have happened without John and Diane? For heaven's sake, we wouldn't have a theater without them."
An Offer Taken as an Ultimatum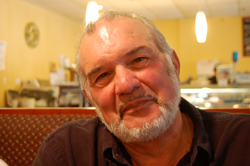 Sbordone, several board members say, left them no choice as he followed up with demands they would not meet. They offered to bring him back to direct and finish out the season, and reapply later should he still want to be a board member. Sbordone took that offer as another snub. He was willing to return as director as long as he was reinstated as artistic director with full control of the theater's artistic direction and budgeting for the plays, and Ellertsen's service was acknowledged formally. The board didn't go for that, and was turned off by Sbordone's two-page counter-proposal, in which he included sever criticism of the board's focus on minor procedures at the expense of the theater's larger purpose.
"We have been lucky to have him, he's a tireless worker," McArdle said. "We will miss him, there's no question about it, but again I keep coming back to the point that he resigned, and he had probably along the way, probably had three or four different opportunities to handle things differently than he chose to do."
McArdle added: "I think there were board members who were leaning in his direction in wanting to find a way to bring him back in until they read that memo." To Love, "it certainly did not make it easy for us to reconsider."
Despite the overtures on both sides, there's been no backtracking, and by the end of last week a core group on the 10-member board had, as had Sbordone and Ellertsen, hardened their positions. Harsh words were exchanged, prides and feelings hurt, making a less drastic resolution seem unlikely even though Sbordone says he is willing to direct again, "but only on my terms, I wouldn't do it on theirs. But I don't know that I would do it without her, because she's been a vital part of every show that we've done." And Ellertsen is adamant:  "I can't look at those people and know how they feel about me and be able to work," Ellertsen said.
"I am Volatile"
Sbordone is volatile. That's nobody's secret. Volatile is his own description for himself. He can be intimidating with actors, too, and inflexible. In that sense, walking out and resigning, especially after feeling demeaned a day after his most rousing stage success, was not entirely surprising: he was in character. What remains surprising and contradictory, considering the season's tenor and the praise Sbordone commands even from his critics on the board, at least publicly, is the speed with which the board formalized the break-up, though several members said they had to, given that the rest of the season was ahead. "It would have also been a simple matter not to resign," Love said. "Believe me, if you know John even a little bit, you can't talk John into anything." And the board had to move forward: "We lost a president and an artistic director in the matter of a moment. Time is of the essence, we're in the middle of a season," Love said.
Actors who've worked with Sbordone and Ellertsen, and even members of the board and people in the arts community at large have been shocked and dismayed, and are questioning whether the Playhouse can sustain what Sbordone built, or return to its more moribund days as The Little Theater, when its actors wandered homeless  from stage to stage like characters out of Pirandello.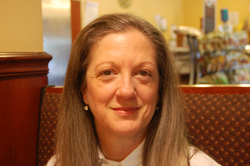 Laniece Wilson and Josh Fagundes, who had leading roles in "Hairspray" and have worked with Sbordone for several years, doubt they'll return to the Playhouse stage if he's not the director. They both experienced his volatility. They credit it for their growth as actors. "He may be the most intense director that I've ever worked with but he's made me such a better performer because of it," Wilson, who was in the first play staged at the Playhouse in Bunnell, said. "A lot of people may be disagree with him being as aggressive as he is, but I for one appreciate it, because he doesn't do it in a malicious way at all, it's not to attack you, it's not to make you feel bad, it's only to make you better."
Asked if he plans on returning to the Playhouse, Fagundes said: "I can't say no outright, just because I don't know what my future holds, but all things considered it's not likely, and I know it's not just me. A lot of people associate the Playhouse with John and Diane."
The Flagler Playhouse's Evolution
Sbordone's arrival led to two essential changes in the organization: the Little Theater found a permanent home at a former church in Bunnell, becoming the Flagler Playhouse, and seasons were established with a set number of plays. Shows started selling out and broadening the Playhouse's appeal to audiences and actors. "Hairspray"'s cast of 45 was the largest, including several actors from the county's two high schools. Sbordone also is a consultant for Matanzas High School's drama program.
Love, the new board president, says the theater will move on and keep building on its recent success, which was making it a serious player in the local art scene. "We need to be able to feel that this theater belongs to the community and will continue to grow and prosper not based on one individual but based on the whole community that's willing to support us, and again with full knowledge of what John has accomplished," Love said, stressing that the Playhouse would look toward cutting edge plays and tap into younger audiences—something Sbordone liked to do, but not without resistance from the board. "Without a doubt we are not old and stuck in the past," Love said.
At the same time, the Playhouse has to pay its bills. It doesn't have a mortgage. The building is paid for. But it has about $5,000 a month in overhead, more than a third of it in insurance costs. It helps to do popular shows. Sbordone tried to combine the popular with the edgy. Hence "Jesus Christ Superstar" and "Hairspray."
As often happens on boards of artistic organizations, there's a business-minded, conservative wing, and a more liberal-minded, creative, artistic wing. Recall a similar rift recently at the Flagler County Art League. The Flagler Playhouse board was in that mold.
"It should be a healthy friction that exists between the business side and the artistic side," McArdle, one of the board members, who was brought in for her business background, said. "I guess I think the struggle seems to come down to—there doesn't seem to be any flexibility on the artistic side with John. There's probably people who would say well, in something like this the artistic side should win out every time. I don't necessarily feel that way. The artistic vote is probably worth more than the business vote, and it probably should be in something like that, but this didn't have anything to do with the artistic side, it had to do with getting our house in order."
Three of the remaining board members—Love, McArdle and Bowman—aren't worried that the Playhouse would return to its little days as the Little Theater. They consider the base of talent in Flagler County broad enough to rely on for future actors and directors, and to maintain the Playhouse's standing as a serious performing arts organization.
A Future Between Optimism and Doubt
Howell, the longest-serving board member, isn't as optimistic. "I'm not sure they completely understand how great a commitment that is. I can't believe they don't, but you're not going to find too many directors" willing to invest the time Sbordone did, Howell said. "Unless they know something I don't know, I don't know anybody locally committed to our theater. We're going to have to borrow directors." And pay them.
The Playhouse is paying Bruce Heighley of the Daytona Playhouse to direct "Waiting in the Wings," which opens March 4, and "The Me Nobody Knows," which opens April 29. He was going to volunteer for "Waiting in the Wings." The board decided to pay him, however, when he agreed to also direct the next show. Rehearsals for "The Me Nobody Knows" are on Wednesday at the Playhouse, at 6 p.m. But the Playhouse has paid directors on occasion in the past, and pays some of its technical crew.
Since last week and the fallout from the original meeting and conversations since, Sbordone has explored several possibilities to keep directing, locally and elsewhere. One of those is to create a new troupe that would combine the talents from Matanzas and Flagler Palm Coast High School. Another is to possibly stage plays at City Market Place, site of two art galleries and two dance studios and a nascent hub for the arts. He's also maintained a healthy dose of anger over the way he was treated.
"With only 10 people you'd think that things would be easier to communicate. We've been watching them write procedure after procedure after procedure, and it's not that they didn't run the procedures through everybody, but you've got to care about that stuff, too, and maybe my sensibility should have been sharper toward that stuff," Sbordone said. "I'm sure there needs to be some kind of guidelines. But I'm old school. I want to do things with a handshake. I want to look someone in the eye and know I can trust them."
Maxine Kronick, a veteran of the performing arts who ran Flagler's Theaterrific, Flagler's children's theater, for many years, and has been a long-time friend and colleague of John's—and his confidante this past week—wasn't into mincing words.  "He was royally screwed. Absolutely. Absolutely. They wanted him out. He was railroaded," she said. ""He gave all of that time, day and night, and that's the thanks he got. I'm very disappointed. But I'll say this: I'm not surprised. It was only a matter of time. You can't fly like an eagle when you work with turkeys. They don't get it. They just don't get it."
Kronick added: "This is not the first time that some members of a non-profit board, who know nothing about theater, make a determination and have no conception of what it takes to produce a successful work. They are numbers people, and have little respect for creativity even if it is hugely successful. John and Diane have given their all to make this theater special. In all my years of the entertainment business, I have never known an artistic director to not take a salary. John never took any kind of compensation, to my knowledge. He is an amazing visionary that has great talent and this board has made a major error, in my opinion. As for the future of the theater without Diane and John, it will close its doors."