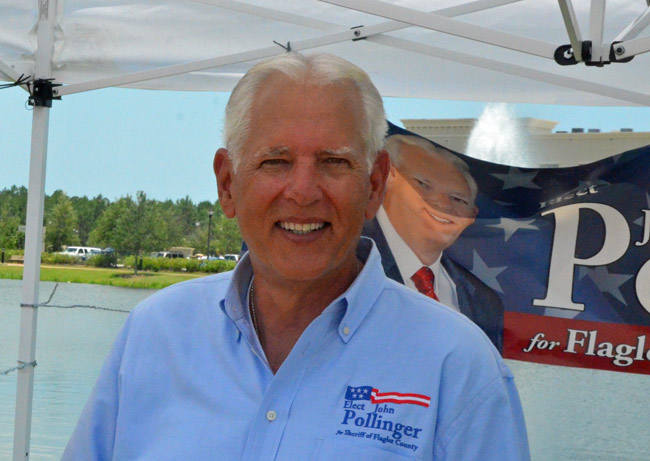 Last Updated: 4:19 p.m.
All day local politicians, officials and others have been waiting anxiously for Flagler County Circuit Judge Dennis Craig's ruling on the John Pollinger case–whether Pollinger, a candidate for Flagler County Sheriff, may or may not stay on the Aug. 14 primary ballot as a Republican.
That ruling will not be handed down today, FlaglerLive learned late this afternoon, moving all expectations to Monday at the earliest.
Anne-Marie Shaffer, an ally and former campaign manager for Ray Stevens, also a Republican candidate for sheriff, sought a court injunction on Monday to keep Pollinger from appearing on the Aug. 14 ballot, describing him as "unqualified" as a Republican because he had, in new Jersey, been registered as a Democrat.
Florida law requires a candidate running in any partisan race to sign an oath that states he has not been a member of another political party for at least 365 days prior to that paper being signed. Pollinger registered as a Republican in Florida in 2009. He'd moved to Palm Coast in 2008. His New Jersey registration was never annulled. Pollinger himself annulled it in January. Seizing on that timeline, Shaffer–backed by the Stevens camp and a faction of local Republicans–argued through Jake Kaneyy III, her attorney, in court Monday that Pollinger knew he had been a registered Democrat until January.
Pollinger's attorneys–Michael Chiumento III and Ron Hertel–argued that the suit had no merit on its face, and that an injunction would have been improper at that point. The judge took that approach "under advisement," but then asked both sides to make their arguments on the merits of the case, which they did. The judge then offered both sides the chance to file additional arguments by Thursday. Since the qualifying period for local office ended today at noon, the judge was expected to hand down a decision before then, though had he ruled in favor of Shaffer, it would have made it impossible for Pollinger to run as an independent (which would have been his only other way of staying in the race). Pollinger himself said on Thursday that he had no intention of doing so.
Meanwhile, Pollinger signed the oath and is on the Aug. 14 ballot. In a sense, that was the first victory his attorneys were seeking, since Craig refused to issue an immediate injunction this week and force the name off the ballot, even pending a decision on the case.
Nevertheless, it's not clear what would happen if Craig were to rule against Pollinger appearing as a Republican, and if he were to release that ruling Monday: Supervisor of Elections Kimberle Weeks said Friday that the ballots are going to the printer on Tuesday, presumably lending enough time to erase the name from the Republican column, especially if a judge's order requires that erasure.