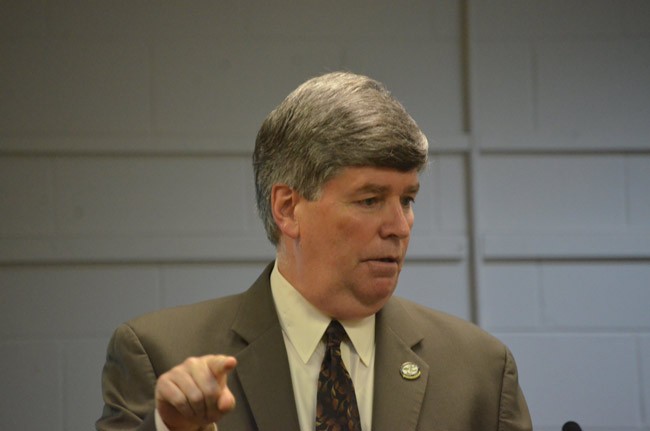 It took City Manager Jim Landon being three time zones away—at a conference in Seattle—for the two newest members of the Palm Coast City Council to speak about him this morning with a candor they never have in his presence, though what they said explicitly is widely known implicitly: that he's too controlling, that he doesn't listen to certain council members' perspectives, that he too narrowly pre-packages recommendations that come before the council to reduce possible outcomes, and that he sends distinct signals to those who cross him, even if it's a council member.
"If I go to the city manager and I say I really don't like the way this has been handled, this is wrong, the way it's being handled, and I'd like to talk to you about it," Council member Heidi Shipley said, "I have been told: 'You need to stay out of it.' OK. So, then, maybe what I'm supposed to do here is just this, you know?"
Shipley went on to explain that it wasn't just a personnel—from which council members are supposed to steer clear—nor was it the only time it had happened. "I just want at least be heard and at least be able to say to the city manager, can you look at the way that I'm looking at it, instead of just—you know, now that person might be fired for going to you. I have a problem with that."
Shipley was speaking in the context of a discussion fellow-council member Steven Nobile had started, at the end of this morning's workshop, to let the rest of the council know that come next Tuesday, he would be making a motion at the council meeting to establish a charter review process. Nobile has been discussing the matter since spring, to great resistance from the rest of the council, especially Mayor Jon Netts and Council member Jason DeLorenzo, who say the charter isn't broken and shouldn't be fixed, and nor are residents clamoring for a review.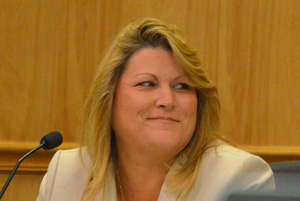 But for the second time this month, Shipley leaned closer to Nobile with intimations that she'd support a review as well. She's been somewhat dissatisfied, if not disillusioned, with the nature of the job lately. What has happened since she'd shown some support for Nobile may explain why. She said today she could see a few items in the charter that could bear reviewing. "How you see your city council job going might be different than me and Steve, as we're new," Shipley said, "but I know, since I said OK with Steve on the charter review, I have had a little bit of a cold shoulder, and people acting a little different, because you want to side with him, huh? Ok. That makes me a little nervous."
Landon is at the annual International City-County Management Association's conference until Wednesday in Seattle, and on vacation the rest of the week. The meeting this morning had been a swift workshop to discuss cost overruns in one water project and a few other routine issues. Nobile brought up the charter matter at the end, when council members bring up issues not on the agenda.
He had his own rebukes of the city manager's style, though he couched them time after time in qualifiers that assured his listeners he had no problems with Landon. But he does think there is too much distance between council members and the day-to-day operations of the city administration.
"People feel—and I'm not talking about a dozen, I'm talking about thousands and thousands of people in this town, believe the town is run by the city manager," Nobile said. "I'm sorry, I phrased that wrong: that the focus of the town and the direction of the town is directed by the city manager. He does what—and I'm not talking about Mr. Landon. Mr. Landon does a great job. I have full confidence in what he does. But they believe he directs the town, not the council. The council is the way I've heard it been put, the council approves what the manager brings to them."
---
Manager Jim Landon's control framed as the impetus behind a push for a charter review.
---
DeLorenzo said the manager enacts policy that the council sets in broad strokes. But Nobile, in a surprising turn, said that council salaries should be higher—he suggested what equates to $40,000, or 80 percent of county commissioners' salaries—so that members could look at the job as a job and involve themselves over specific areas of responsibility in city government (much like Netts himself described was the case when he served in an elected position in New Jersey, though Netts said the roles could be very politicized: Netts at the time was to supervise finance, police and fire).
That's what causes Landon to recoil when discussions turn to council members' roles: he does not abide interference in his administration, though council members are not precluded—as Bill McGuire said—from having conversations with staff members. The Palm Coast charter, like virtually all local government blueprints, makes clear that elected officers are not to direct or interfere with the running of government administrations. Nobile was under the wrong impression that county commissioners are deeply involved in the running of county government.
"You as a city council person, you can get involved in the day to day affairs of the city to whatever degree you choose," McGuire told him.
"No, that's not true, the charter says I'm not to interfere," Nobile said.
"It is true," McGuire retorted, "I come up here every day and talk to the staff members to find out what's going on and find out what direction they're moving in, and if I don't agree with them I'll sit down with the city manager."
"So the charter changes, you're going to close the store?" DeLorenzo asked Nobile, referring to his gun shop.
"I wouldn't run," he said, then elaborated about his concern, again returning to Landon's control: "I'm speaking personally, not for the people," he said. "I don't like, personally, that the manager is in more control than I am, than I can get involved, even if I had the time to come in here. I simply am not going to direct, nor am I going to get involved in, you know, I can ask questions, but I could do that here. City manager comes, I could ask him all the questions and get all the information I need. I don't need to go. But technically, based on the charter, that's all I can do."
Nobile said he "would like to be part of their day to day," then put it bluntly: that the manager doesn't present the whole story to council members when making recommendations. "I always feel that we're not getting everything that we could have, I feel like we're getting what is directed to the staff," he said. Nobile is reluctant to tell city staff to go back to re-work an item if six months' work has already gone into it. "I'd rather be ahead of that and say wait a minute, there's three choices, there's four choices, let's look at this, let's look at this, and that can't be done by one person everywhere," he said.
A meeting with the chairmen of the Republican and Democratic executive committees, who both pressed Nobile to push for a charter review, led to his latest attempt, he said. That, and reading former palm Coast Mayor Jim Canfield's interview in a January issue of the Observer saying that a charter review was in order. (At one point Netts, to Nobile's displeasure, inelegantly suggested that the quote may have been false.) Nobile said he had bi-partisan support for the proposal. "At our next business meeting I'll make a motion to create this review," he said, "and if somebody wants to second it and vote on it, and at that point we can say—if it passes, it passes, if it doesn't, then they know what their next step is to be."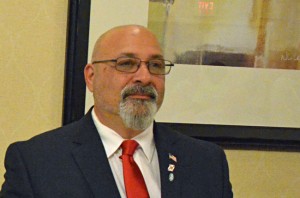 Among the ideas floated: changing representation in the city to seven council members instead of five, having those members elected only by the constituents in their own districts as opposed to constituents across the city, raising salaries, and, based on Nobile's comments, changing the responsibilities of council members.
To Netts and DeLorenzo, there's still no reason to do a charter review. "The problem that I have with this—way down deep I say if it ain't broke, don't fix it. I'm not aware of any significant problems," Netts said.
"The issue to me is not the cost of a charter review," Netts said, "but what is it that you want to change? I am very much opposed to single-member districts, for example."
"OK, but that's where I have some—yes, you may oppose, and I may oppose on something, but isn't it up to the citizenry to decide how the government is governed?" Nobile said, then, in another surprising twist, noting that "what scares me now" is that the Republicans and Democrats he spoke with would be making charter proposals that end up on the ballot.