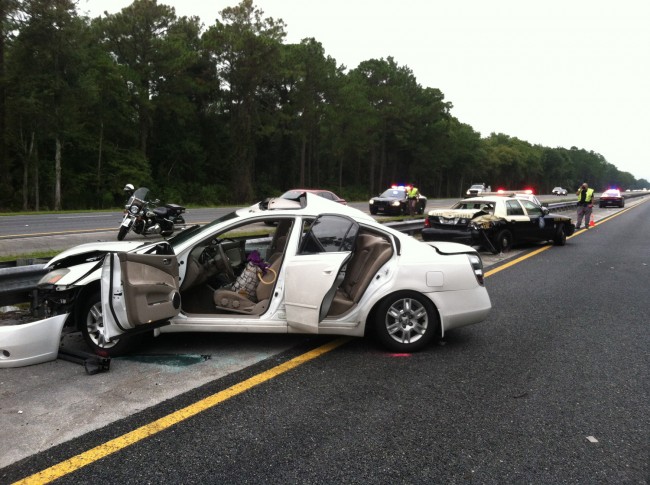 Jessica Dow Nash, a 31-year-old resident of Fortress Place in Palm Coast, is in critical condition at a hospital in Jacksonville following a vehicle crash involving her Nissan and three other cars on I-95 just past the Flagler-St. Johns County line early this morning. Two of the cars were Florida Highway Patrol cruisers.
FHP was investigating an earlier crash near mile marker 315, with two troopers' vehicles in the left emergency lane, and troopers on foot in front of the vehicles. "Two troopers were properly positioned behind the original traffic crash to protect the scene and preserve evidence while completing the investigation," an FHP report states.
Traffic was slowing as it approached the crime scene as drivers sought to look at any damage, as drivers often do, though the highway was not blocked.
Nash, who was driving a white 2006 Nissan Maxima, "failed to observe traffic slowing ahead," the FHP report states. She rear-ended a 2001 BMW, driven by Oscar Mariano, a resident of Palm Coast's Biscay Lane. The impact was violent, causing the Nissan to lose control and then striking the rear of one of the FHP patrol cars. The Nissan struck the cruiser on its passenger side, and from the force of that collision, the FHP car knocked into the second cruiser.
Nash was taken to UF Health of Jacksonville "with life threatening injuries," the report states. Mariano was not injured. Trooper Colise Frazier, 62, suffered minor injuries. The trooper was taken to Florida Hospital in St. Augustine and had been released by mid-afternoon, an FHP spokesman said. Trooper Dennis Shorter was also at the scene at the time of the wreck, but was not injured. Subsequent to the crashes I-95 remained partially closed until around noon, causing back-ups.