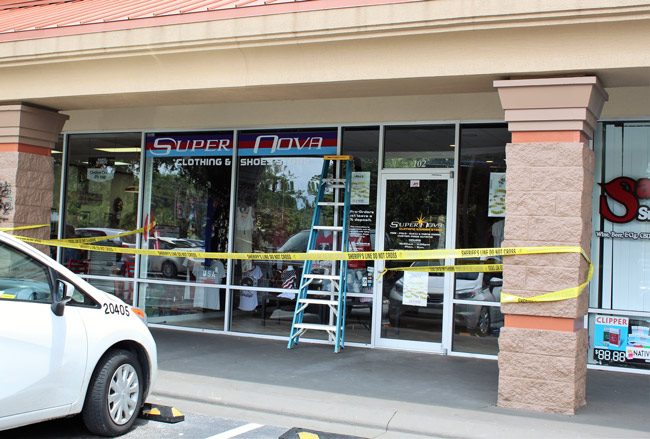 Note: all charges against Jerard Davis were dropped on Oct. 30, 2018. See the story here.
Last December Jerard K. Davis of Palm Coast launched incorporated a company called "Supernova Funworld Place" and opened a storefront this spring on Palm Coast Parkway called Super Nova Clothing and Shoes, not far from Sunshine Academy, the child care center.
It looked like something of a turnaround for Davis, a 32-year-old resident of 7B Buttonwell Lane in Palm Coast. Davis has twice served stints in Florida state prison, both times for manufacturing and selling crack or cocaine, among other charges. He was released from his last stint in July 2013, though his proclivity for drug offenses didn't ebb. In April last year a county judge found him guilty of possessing drug paraphernalia and withheld adjudication of guilt on a pot possession.
He also had other issues with the law. In 2016 he was found guilty of violating an injunction against dating violence and was sentenced to almost a year in jail. He'd faced the same charge a year before, though the charge was dropped in that case, but a disorderly conduct charge stuck, as did a criminal mischief charge. In short, Davis is a familiar face at the Flagler County jail, though he'd not been seen there in almost two years.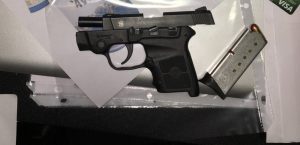 That sabbatical ended today when Flagler County Sheriff's deputies served a search warrant at Davis's Supernova Funworld Place, then an arrest warrant, the first triggered by a sighting of Davis in a Facebook post brandishing a firearm, which would be a violation both of an active injunction against him and a felony, since, as a convicted felon, he's not allowed to possess weapons. At the store, deputies and detectives found a firearm that looked just like the one in the Facebook post–a Smith & Wesson Bodyguard .380 handgun, which was on a shelf in the back office.
The weapon was there "every day," Davis told detectives, and he often moves it out of the way but he doesn't carry it because he knows he's not supposed to, he said. He did not appear to understand the concept of possession of a weapon in a store registered under his name. As for the video posting, he hesitated at first, according to his arrest report, then said the weapon he was brandishing there was really a BB gun that looked just like the Smith & Wesson.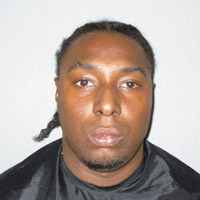 That's not all detectives and the SWAT team found when they descended on the store Thursday in mid-afternoon. They also found several grams of white, rock-like substances that turned out to be crack cocaine, several grams of pot, ziplock baggies, pot in ziplock baggies, a digital scale, a rolled pot cigar and a ziplock style bag full of little bags.
Davis conceded that the crack was his, but he insisted it was for his personal use. "Based on the quantity, the packaging, the digital scale, the amount of empty baggies and the previous knowledge of Detective Rodriguez that the defendant actively sells crack cocaine," Davis's arrest report states, detectives concluded that Davis was in possession of crack with intent to sell–and that he was using his store to deal drugs. The drugs were valued at $400.
Previous undercover operations at the store confirmed that Davis was distributing a variety of narcotics from the business, including Fentanyl laced Heroin and Cocaine, according to the Sheriff's Office.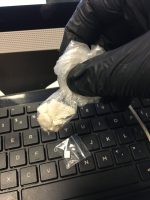 Since Sunshine Academy is less than 1,000 feet away, that aggravates the charges against him considerably, as is the case when drugs are trafficked within the orbit of any school, church, day care center or public park. He now faces three drug charges and a charge of possession of a firearm as a convicted felon, plus a charge of violating the terms of an injunction. Two of the charges are felonies.
When the Sheriff's Office reported on the arrest at its Facebook page this afternoon, it referred to Davis's "business" in quote marks. Sheriff's detectives, the report states, "received numerous complaints about Davis being involved in suspected drug sales in Flagler County. Supernova Clothing and Shoe Store opened in early June of 2018, and [the Special Investigations Unit] continued to receive complaints alleging Davis to be involved in drug activity, specifically at his store and threatening other business owners."
Davis was also allegedly selling counterfeit merchandise–counterfeit name brand clothing that was displayed for sale throughout the store. Davis advertised on his storefront brands including Nike, Polo, Gucci "and many more custom-made outfits!" His store hours were 10 a.m. to 11 p.m. seven days a week.
Further charges by the Sheriff's Office and possibly federal authorities are pending against Davis.
And there was this: Palm Coast officials discovered on June 12 that the store was operating with no business tax receipt. Davis was cited. And the store had received no occupancy permit and no building permit for a commercial interior alteration (the front counter had been taken out), a city spokesperson said. "They didn't respond," the spokesperson wrote in an email, "so our next step was to notify the property owner (owner of the shopping center) – that notice of violation was for no occupancy permit and no building permit for a commercial interior alteration. That occurred July 10. (We can't cite the property owner for the business tax receipt issue)."
Davis was booked at the county jail on $12,500 bond, which he posted within hours: he was released just after 3 this morning.
He quickly took to Facebook: "Crazy how stereotypical the Flagler county sheriffs office can be going off of a person past to justify their actions," he wrote between 2 and 3 p.m. today."Never wanting to see a young black owner succeed is the truth in all of this. Thanking God/Yahweh that we have the support of the community and knowing that the truth will be really revealed once this is all said and done. They say don't judge a book by its cover. You also shouldn't judge a person from their past. People do live and learn and Do Grow up. We ask that you don't give up on SuperNova clothes and shoe store due to these allegations. The REAL TRUTH WILL COME TO LIGHT. Stand by."
He then posted an 11-minute video, taken live, of himself cutting someone's hair as the person holding the lens echoes what he'd written. The video is shot in the store, which then takes center stage to highlight the fact that it's open for business. (See the video here.) Several selfie-videos show him reveling in his new store. Several postings are illustrated with pictures of his young children.