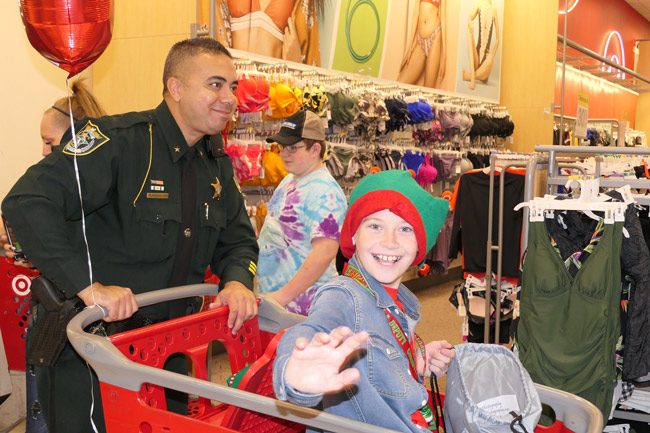 Jeffrey Foust, 11, recently moved to Flagler Beach with his mother, Ginny. They moved from Loretto, Tenn., where Jeffrey's father, Jeff Foust Sr., was a Lawrence County Sheriff's deputy until his death on December 7, 2011, at 42. The date happens to coincide with this year's Christmas With a Deputy event in Palm Coast.
As a tribute to his father and without coaxing by anyone, Jeffrey decided to save all of his allowance throughout the year in order to present Christmas gifts to the Flagler County Sheriff's Office. As December drew near, he asked his mother to take him to purchase gift cards so that he could give them to the local deputies.
Jeffrey bought fifty $10 gift cards for deputies and four $25 gift cards for what he referred to as the "Big Dogs" at the Sheriff's Office–the supervisors. Arrangements were made for Jeffrey to present the gift cards to Sheriff Rick Staly on Friday, December 7th, just before the annual Christmas with a Deputy event at Target, where 124 selected children accompany a deputy for a night of holiday shopping, each with a $150 gift card.
In a surprise twist, Staly told Jeffrey that he would be participating in the Christmas with a Deputy event for his kind heart and generosity.
"This young man has had to endure so much pain at such a young age, but you can see his strength and drive to overcome the loss of his father and carry-on his father's tradition of service to community," Staly said after meeting Jeffrey. "The world could use more young men like Jeffrey. I am proud of him and we are so appreciative of his kind gesture to the Sheriff's Office this holiday season."
Many Sheriff's Office deputies chose to use Jeffrey's gift to pay it forward and add the gift card to the holiday shopping experience of the child they accompanied to the Christmas with a Deputy event.