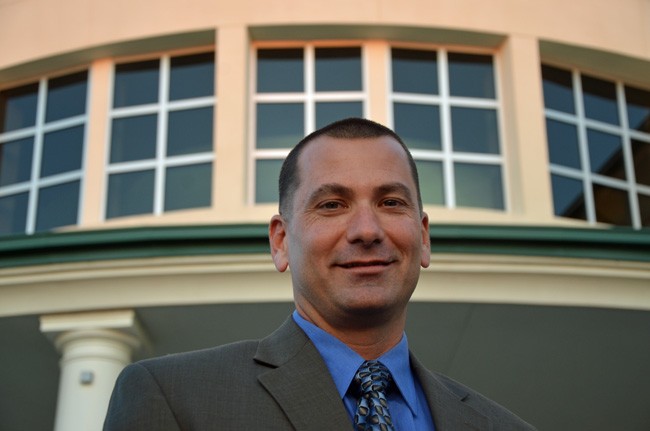 Sheriff Jim Manfre announced Thursday that Senior Commander Jeff Hoffman, who just graduated from the FBI Academy last week, has been promoted to the position of Chief Deputy effective April 15, 2015. The promotion follows the recent announcement that Undersheriff Rick Staly will retire next month. That means the undersheriff position is eliminated.
"Sr. Commander Hoffman has been an asset to the agency and to the community," Manfre said. "By promoting him to Chief Deputy the agency will save a significant amount of money, which follows my original management philosophy of having more deputies on the street to serve the public instead of having high ranking officials in the office."
Hoffman was making $83,000 a year. Staly was making $105,000 as undersheriff. In his new position, Hoffman will be making $95,000.
"By eliminating the position of Undersheriff, we've been able to add first line supervisors and deputies to road patrol. I am also pleased to announce that Corporal Jason Neat and Corporal Jon Welker have been promoted to the rank of Sergeant and Deputy Ryan Emery has been promoted to the rank of Corporal." These promotions are also effective April 15, 2015.
Hoffman began his law enforcement career with the Daytona Beach Police Department in 1991 where he worked in patrol, public housing, street crimes, crime suppression, narcotics, internal affairs and SWAT. In 2012, he retired at the rank of Captain from the Daytona Beach Police Department where he
was responsible for managing all uniformed patrol operations, including the K9 and Marine Units and a Crime Suppression team. He assisted in strategic planning for numerous internationally known special events to include the Daytona 500, Bike Week and spring break. In 2012, he accepted the position of Chief of Police of the Bunnell Police Department. In late 2013 he was hired by the Sheriff's Office and appointed to the position of Senior Commander of the Neighborhood Services Division.
Hoffman grew up in the Orlando area graduating from Oviedo High School. He attended Warner University where he attained a degree in Organizational Management. He is also a graduate of the Police Executive Research Forum (PERF) and graduated from the prestigious FBI National Academy in Quantico, Va., on March 20. He is currently enrolled in the Master's Degree Program in Administrative Leadership at the University of Oklahoma.