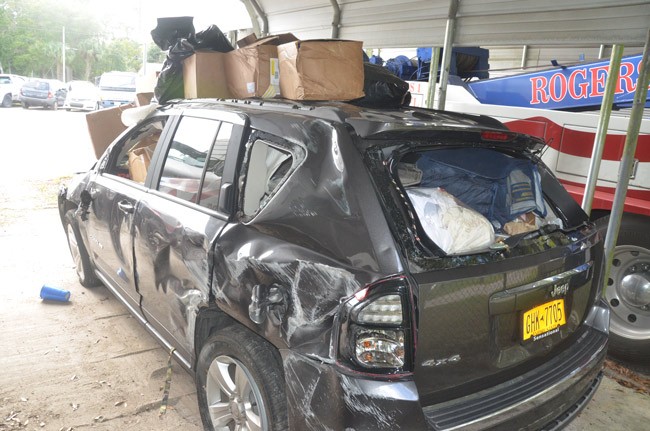 Two people and a pet rat were involved in a single-vehicle roll-over on I-95 between State Road 100 and Palm Coast Parkway late this morning. The wreck, in the southbound lanes of the Interstate, backed up traffic from mile marker 285 to a distance of six or seven miles north.
The male driver of the wreck–who has not yet been identified–was seriously injured. He was initially thought to have sustained life-threatening injuries. That was later amended to "serious" injuries. A passenger who was sitting in the back seat was only slightly injured. Both were taken to Florida Hospital Flagler.
The vehicle, a Jeep Compass, rolled over near the Florida Hospital Flagler highway sign. It was loaded with boxes, which ended up strewn all over the highway, bringing traffic to a standstill. A pet rat in a cage was in the car. The cage was crushed and the rat, a female a few years old called "Sweetie,"  escaped, but according to Carley Chandlee of the Flagler Humane Society, ran to one of the occupants of the vehicle who'd gotten out. "We were calling her our little survivor and hero over here," Chandlee said.
The black and white-colored rat sustained a minor scrape on top of its head and was taken to the Humane Society after the wreck. In mid-afternoon, "Sweetie" was being returned to its owner.
A Florida Highway Patrol spokesperson said alcohol or drugs were not involved in the crash, but the investigation is still looking at the possibility of distracted driving.
The Palm Coast Fire Department, Flagler County Fire Rescue and the Palm Coast Fire Police responded to the scene, as did the Flagler County Sheriff's Office. Roger's Towing of Bunnell towed the vehicle. The scene was cleared shortly after 1 p.m. and traffic was flowing normally again.