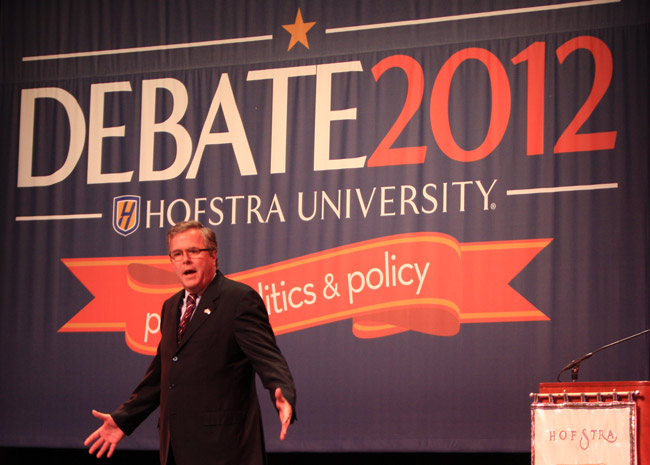 By Steven Kurlander
The dust hasn't settled yet from the presidential election, and the 2016 race for the White House has commenced.
The early Republican Party favorites include Fla. Sen. Marco Rubio, New Jersey Gov. Chris Christie, Romney's vice presidential candidate Rep. Paul Ryan of Wisconsin, and former Utah Gov. Jon Huntsman.
But the most formidable — and electable — candidate for the Republican Party right now is former Fla. Gov. Jeb Bush.
Jeb, with his successful record as governor and his recent realistic stances in addressing major inadequacies in the GOP's positions on immigration and social issues, is the only national figure in the Republican stable who can both turn around the GOP and run nationwide and, possibly, win in 2016.
And winning the next presidential election is a life and death issue for Republicans not only in terms of returning its party's power to the White House but also in rebuilding its relevance in American politics and refurbishing its deteriorated brand on a national level.

Right now, so early in the new cycle, it is imperative that a new, strong leader in the GOP seize the moment to present a new, refined conservative philosophy that is more empathetic to the needs of the American electorate. To date, only Jeb Bush has demonstrated he can fill that void.
Coming on the heels of the Romney loss, the GOP now has the almost impossible task of bringing to the forefront a populist candidate who can play to the hearts and minds of both extremist social-conservative and tea-party primary voters in early, small primary states like Iowa, New Hampshire and South Carolina. The candidate also must gain support of key voting blocs like Hispanics, single women and young voters, to say nothing of union voters and Reagan Democrats in the general election.
Again, only Jeb Bush has demonstrated that he can fill that need.
Bush's protégé Rubio was quick out of the gate. He recently made a visit to early primary state Iowa, a visit labeled as the beginning of his campaign for the presidency.
All of a sudden, you also saw a lot of former Utah Gov. Jon Huntsman on the news talk shows as well as a news item about how the Obama campaign most feared Huntsman as the most formidable general election opponent, even though he got knocked out early in the 2012 primary season.
In terms of 2016, Chris Christie is lying low in the aftermath of Hurricane Sandy, which greatly impacted his state. Christie is also in the GOP political doghouse for embracing Pres. Obama and his help during the storm. At least he did not hug him as Charlie Crist did, ruining his chances altogether.
Most of the field faces serious political challenges. Both Rubio and Christie have to get reelected to second terms, and Ryan's brand can take a serious hit if the U.S. fails to avert the upcoming fiscal cliff .
Only Jeb Bush has four full years without distractions to build the organization, lay the philosophical framework and most importantly raise the cash necessary to make a successful run for the White House.
Bush's biggest problem right now is his name. Exit polls the night of the election found that more than half the voters asked still blamed his brother Pres. George W Bush, not Pres. Obama, for the country's economic problems. But Jeb has four years to change that perception (maybe by using the phrase "I'm not George, only his brother."), particularly if the economy stays in a moribund state.
And Jeb has a lot of positives right now too, especially his political vision. First, he warned (earlier than most) that the GOP's far-rightward swing was detrimental to the party's prospects of winning elections and argued for inclusiveness, particularly in terms of immigration reform. Testifying before Congress in June, Bush advocated government spending on infrastructure and scientific research and openly broke with Americans for Tax Reform founder and president Grover Norquist's unrealistic "no tax increase" pledge, which is now gaining momentum within party ranks.
The movement to get Jeb Bush out of Miami is already ongoing, but the New York Times recently reported that he is taking a "wait and see" attitude about entering the race early.
Coming off Romney's defeat, momentum is now building to transform the GOP. And Jeb is the right candidate at the right time to lead a conservative reformation. But he can't afford to wait. He has to make a decision quickly and decisively, for the 2016 race for the White House is well under way.

Steven Kurlander blogs at Kurly's Kommentary, writes a weekly for Fort Lauderdale's Sun-Sentinel and is a South Florida communications strategist. Reach him by email here, and read his previous piece on Jeb Bush.