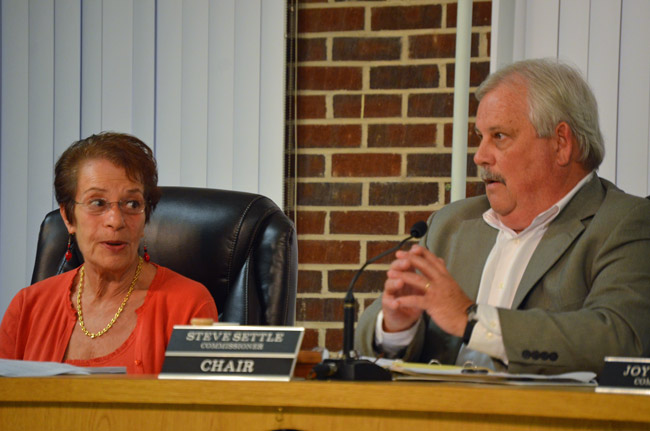 The new biography of Thomas Jefferson Flagler Beach City Commissioner Jane Mealy has been reading lately devotes a few pages to the political enmity between Jefferson and John Adams that, in the two men's retirement, turned to one of the most ennobling friendships in American history. It is unlikely that Mealy and fellow-Commissioner Steve Settle are heading down that sort of Casablanca conversion.
The latest flare-up between the two commissioners took place toward the end of last Thursday evening's commission meeting. Just as had been the case with their most public and bitter disagreement three years ago, it was over the consequence of questions commissioners pose their staff outside of commission meetings, when issues cannot be resolved more openly.
In this case, the disagreement was itself a consequence of a misunderstanding that caused a local business owner some grief, the loss of $1,000, and the cancellation of an event originally scheduled for the next First Friday, on June 4—all over whether city commissioners should be judging a Hot Rod car contest without first noticing their participation in the event as if it were a formal commission proceeding.
It sounds a little ridiculous, as disagreements on the Flagler Beach City Commission can be, but the source of the conflict was not: it was City Manager Bruce Campbell's caution—or excess of caution—while ensuring that no laws were broken, however remote the possibility. And the conflict reveals to what extent businesses' attempt to do exactly what the city asks them to do—get more involved in special events like First Friday—can backfire, through no fault of theirs.
Several months ago Christina Hutsell, the co-owner at Kokomo's, one of Flagler Beach's newer restaurants—across from City Hall, where the Beachhouse Beanery used to be—floated an idea: why not bring hot rods to the city for one of the First Friday events, and have the cars judged, with judges including some commissioners? Mealy was briefed on the idea, which she liked. Campbell develops those ideas through a First Friday committee that involves city staff and businesses.
According to Mealy, the idea went far enough that Hutsell invested $1,000 of her own to secure accommodations such as hotel rooms for visiting car buffs. Then it all fell apart.
"First I got a do you want to be a judge and five minutes later it was cancelled," Mealy said. "So I'd like to know what happened."
What happened was that Settle had raised questions with Campbell over the propriety of the judging, because he'd heard that the winner was to receive something called a Commissioners' Cup, and he was concerned about the way First Friday committee meetings were being conducted. If that were so, it could be interpreted as official business, which would require public notices. Campbell would later explain that that had only been a working title for the cup and not necessarily its real name. But also that Settle's questions were legitimate. (Campbell never mentioned who the commissioner was who'd questioned him.)
"I thought it was a great idea," Campbell said of  Hutsell's initiative. "I personally don't think anything has been violated. To me we're just trying to get the businesses involved in this whole effort of First Friday, and trying to get them to do something. We've sat here time after time after time and said gees, if we could just get the businesses to do something, we've all said that, we've all heard that. We've got them very minimally involved, but almost a thousand times more than maybe before, so I think it's all good. I just have to make sure that we're handling it correctly. That's all I'm trying to do. So we took a pause with that. We can probably do the Hot Rod thing some other time. I don't think there's any big deal about it. It's just the way it kind of played out."
That's when Mealy brought up the manner in which the discussion behind the scenes led to the hot rod cancellation. "I think part of what bothered me if it is only coming from one commissioner, that it's something that should have been brought to all of us," Mealy said, virtually echoing what she'd said, and about whom she'd said it, three years ago.
Settle tried to interrupt. "I'm the one who brought up the comment, so can I finish?" Mealy snapped back.
"You're belaboring something that can be answered in about two seconds," Settle said.
"Well, it cost the lady across the street $1,000, her investment personally," Mealy said. "So it's not just a tiny thing. As Bruce just said, we've been asking that the businesses get more involved for First Friday or other events. Here we had a wonderful opportunity. It wasn't just Kokomo's, it was Oceanside and some other restaurants," she continued. "But my point is, if one commissioner has an issue, that has that kind of an effect, I think it's something that should be brought to all of us at a meeting where we can all talk about it."
Settle: "OK. Are you through lecturing?"
Mealy: "It wasn't a lecture."
Settle: "No, I'm the commissioner that raised the question, so let me explain to you what the question was, then maybe you'll understand."
Mealy: "OK."
Settle: "I received an email that said there was going to be a commissioner's cup and that several commissioners were going to judge. My question was, does that violate the sunshine law? Would we have to notice a commission meeting because three commissioners were acting in their official capacity?"
"We do it all the time," Mealy said, referring to commissioners' involvements in special events, when they may cook something or participate more directly in the event.
"You can do things as an individual, but if you're representing the commission—maybe I'm being anal, or maybe I was going to far, and Drew, if you want to jump ion," Settle said, referring to Drew Smith, the city attorney, who sits next to the city manager on the commission meeting floor. Smith did not jump in. "My question was, does this have to be noticed, do we have to do something more formal, because you're calling it a commissioner's cup, because commissioners are judging as commissioners, more than one. That's all. The answer is, we don't know. No one was suggesting that something be cancelled. No one. Just, do we have to be concerned about the sunshine law. That's all."
"Because I'm asked to judge a car?" Mealy asked.
"Because you're acting in official capacity with other commissioners, that's all," Settle said.
Mealy disagreed, saying she was merely going to judge a car with whoever else might be there, without conferring.
"If that's the answer I would have received, there would have been no problem," Settle said.
Ironically, that may have been closer to a sunshine violation—by a hair—than any of the matters under discussion until then, since one commissioner cannot have a conversation about city issues through an intermediary, outside of open meetings.
Smith, at any rate, had no issue with the judging. "The calling it a commissioner's cup lends it an air that it otherwise might not have," he said. "If it's their cup, if it's their award, it's not the city giving an award—if it's the city giving an award it's a different story. But if it's just you acting in a non-city capacity, no sunshine law." Smith noted that cautionary questions were not unwarranted, adding: "I know it seems trivial, but there are people, and you've all read the articles, you've probably dealt with some, there are people who are just waiting for a reason to sue cities or commissioners over sunshine law violations," Smith said. "It's the reality of it. I won't fault anybody for being concerned, because if I just heard it, I would probably have the same concern."
Campbell took responsibility for the cancellation. "I guess I need to be more careful as far as the directions that I give and the latitude that I give the private citizens, the businesses that are part of this committee," Campbell said.
"No, that's what I was afraid you were going to say. I don't think there needs to be a change, unless other people do," Mealy said, not wanting to alienate businesses. "Back to we've been saying we wish the businesses would get more involved. Back to what the purpose of First Friday is. Back to the purpose of what the CRA is. I don't think you've been doing anything wrong, nor has anybody who brings these suggestions to the city done anything. I don't think you need to do anything differently. Unless other people disagree with me."
That prompted another round of sniping between Settle and Mealy.
Settle: "Commissioner, the only area of disagreement was try to get as much—if you're going to ask for help, invite help from anyone, not just selected people."
"He didn't ask her, she brought it forth," Mealy said, dating the original idea of the hot rods to six or seven months before.
Settle: "OK, if you want to belabor this, go ahead, I knew you were going to make a big deal about it."
Mealy: "Well, it is a little more than a disagreement, it cost people money, it affected other businesses."
Settle: "OK, then let me explain something to you, if I have a question I'm going to ask our city manager whether you like it or not."
Mealy: "No, you should ask him the question."
Settle: "OK, I'm going to continue doing that."
Mealy: "Nothing wrong with that."
Settle: "I have no idea what someone is going to do in reaction to a question, and if someone lost $1,000, I'm sorry."
Mealy: "I was not criticizing you, I was criticizing what happened as a result. It was not against you."
The end result is that there will still not be a hot rod show at the next First Friday event, and businesses may be more leery of proposing ideas that may founder on the city's hazy procedural shoals.
When the matter was over, Settle, who chairs the commission, turned to Jane McGrew and said: "Commissioner McGrew, do you have comments?"
"You don't want to hear them," she shot back. She did not address the issue.