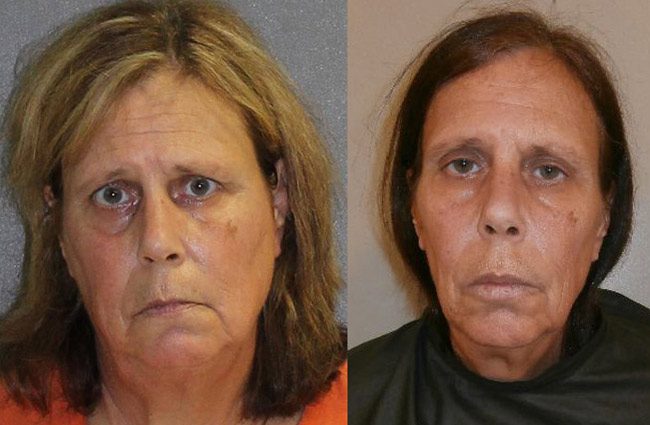 Jan E. Sochalski, the 62-year-old Palm Coast resident facing a second-degree murder charge in the death of her husband last May, was found dead at her home on Ethan Allen Drive Thursday afternoon (May 25). Foul play is not suspected. Sochalski, a retired nurse, had "an extensive medical history," according to the Flagler County Sheriff's Office.
Sochalski was arrested last August and charged with suffocating her husband, Henry "Butch" Sochalski Jr., 64, a retired cop, in his bed at Halifax hospital a year ago. Henry had been at the hospital for elective back surgery the previous April. He was recovering, and placed on self-administered pain medication. A few days after the surgery, after the self-dispensing medication was found to have been pressed 264 times in an eight-hour period, five times more than the maximum recommendation, he went into respiratory and cardiac arrest, and never became responsive again. Weeks later he was moved to a palliative care bed, usually associated with end-of-life care.
Sochalski had a stormy relationship with hospital staff, at one point threatening to go to her Palm Coast house to retrieve a gun and shoot the staff. The problem was worked out.
The day Henry died, when nurses were alerted by his heart monitor, a nurse walked into his room to find his wife hovering over him, and allegedly pinching his nose, with his oxygen masked removed. Jan was eventually charged by Daytona Beach police with suffocating him. She posted bail on $50,000 bond and returned to her home in Palm Coast.
On Thursday, her daughter, who had last spoken with her mother on May 24 and had since been unable to reach her, requested a welfare check, meaning a request from authorities to check on the well-being of a resident. A deputy noticed three newspapers in the driveway, going back to the 24th. A dog was barking inside the house. A gate to the backyard was unlocked. The deputy entered, and saw an opened screen door to the lanai.
"I entered the lanai and immediately observed a white female sitting in a chair on the back patio," the deputy reported. "She was slumped over with her head between her legs and her arms hanging at her sides. It was obvious that she had passed away as her face and hands were purple in color. The female was wearing a blue in color dress or long, sleeveless shirt and slippers. I also observed a walker directly in front of the body and an ash tray on the seat of the walker."
Sochalski was pronounced dead at 4:40 p.m. "Nothing suspicious was observed," the deputy reported. A few medications were found in the house. Sochalski's daughter took possession of the dog.