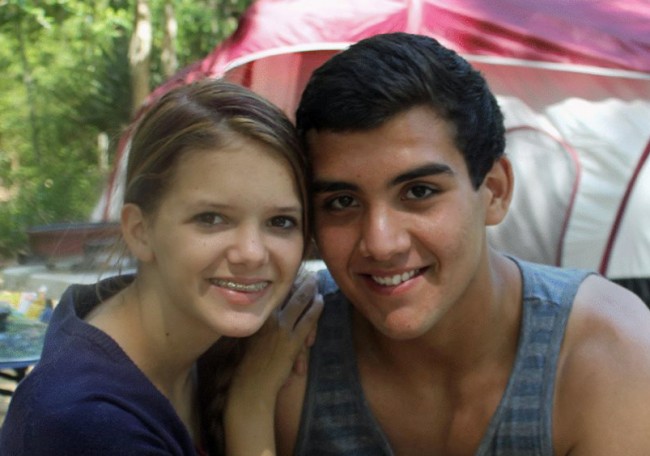 The two South Florida teens missing since late June, after running away from home, have been reunited with their parents after running out of gas in Montana.
"Our prayers have been answered," the author of the Facebook page created in the wake of the teens' running away wrote Wednesday evening. "Ivy and ronnie ran out of gas in a rural area in 2600 miles away in Montana 3 miles from the next gas exit on a 100 mile stretch of interstate. An alert sheriff took them. Ronnie's father and I are flying there now to go get them… thank you all for everything, now I need to stop crying like a baby and get to the airport love you all thank you thank you thank you."
The teens were initially reported as missing children, but interviews with Ivy's father, Scott Warhul, subsequently shed light on a difficult situation the two teens were facing, including severe bullying at school, which eventually led to their decision to leave South Florida.
The story drew relentless attention, but also generated some controversy through social media as readers commented on, and judged, the teens' motives. Today, in a Facebook posting, the teens' parents attempted to combine gratefulness with admonitions: "Thank You all for the Support, Prayers, and Kindness that you have showed," a posting early this morning read, "and I'm sure will continue to show Ivy, Ronnie and our families. We are all very blessed to have you by our sides. I would Also like to ask those who have nothing nice to say; Please just unfollow us! Let Our families and the hundreds of other Caring People enjoy the fact that Ivy and Ronnie are SAFE!!! We all deserve the peace without the stress of Your judgmental remarks!"
But supportive comments far outnumbered negative ones. Laura Weiland's summed up the mood: "Congratulations! I am so happy for you and your families to have your kids back. I will pray that as your family works through this that you just become closer than ever. I know that it is a huge relief to know your kids are alive and safe. Quite frankly, ths page was started to find your children and not for people to give you a hard time. ( As if they are perfect) There is not one perfect parent alive on this planet and sometimes even if a parent does everything right things still happen. Ignore them. They are just unhappy people with nothing better to do. Enjoy your kids. Ronnie and Ivy, your family loves you more than life itself. No one is on this planet forever. Cherish your family as they cherish you. You two have a lifetime. God Bless you all! Such a happy day!!!!!!!"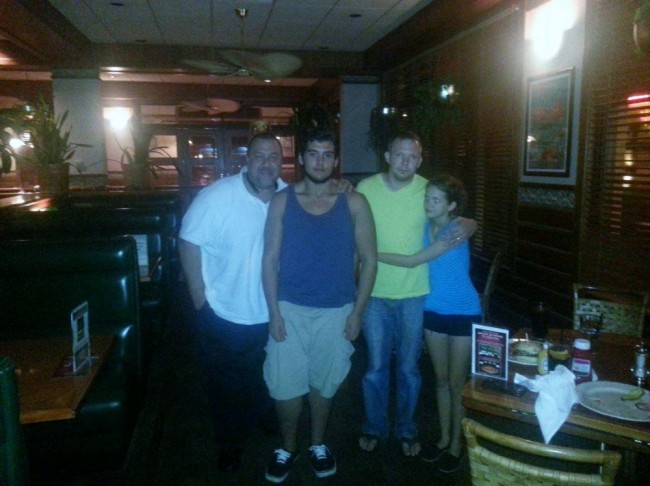 The previous story is below.
Search For 2 Teens Missing 2 Weeks Intensifies as They Are Spotted in Palm Coast and St. Johns
June 11–First considered runaways, two Northport, Fla. teens missing for two weeks and spotted in the past week in St. Johns and Flagler counties have now been categorized as missing as a search for them intensifies in several counties.
Ivy Warhul, 14, and Ronnie Sousa, 16, went missing on May 27 at 4 a.m. when they left in a gray Honda Element (license plate number DWB3S). Warhul is from Northport, Sousa from Tampa.
"Last Thursday I was at the beach when I walked past two teens that were acting a bit odd," Dawn Dicey, a Palm Coast resident who's volunteered her time for the search, said. "Later that evening I was looking at my Facebook and in the news feed was a post from the St Johns County Sheriff asking for leads on two missing teens. I recognized the teens as the ones from the beach and contacted Ivy's father and the St Johns Sheriff."
Dicey said the teens were spotted "multiple times" in the Palm Coast area and were last seen at I-95 and U.S.1. There, it appears from a surveillance camera authorities were able to analyze, the teens got gas for the car at a gas station about a week ago.
"On Wednesday," Ivy's father Scott Warhul said by phone this morning, referring to last Wednesday, "I get a call from a guy who said he looked at the flier and his heart stopped, he said he just gave gas money to these kids." That was at the gas station on U.S. 1 in St. Johns, just over the Flagler-St. Johns County line.
Scott Warhul has been traveling up and down the coast of Northeast Florida, from Daytona Beach to St. Augustine, distributing fliers and checking on leads. "It's my daughter's favorite area in the world," he said of St. Augustine. "She knows that area, she can blend in really well."
Ivy's parents set up a Facebook page to aid the search. It appears that the teens themselves consider their actions as a form of elopement. "[J]ust want everyone to know we are taking them missing very seriously," the Facebook page's authors wrote today. "We are not glorifying their behavior in Any way. Seems like they are taking any means to be together. It's now entering into 15 days that they've been missing. please keep sharing their poster!!"
A few newspapers and television stations have reported the case.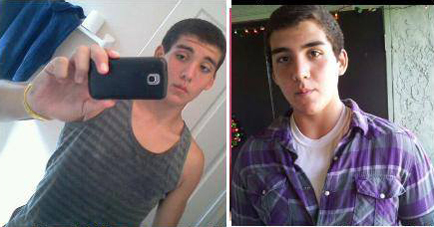 Ivy Warhul is 5'2, 85 lb, has light, long brown hair with blond and red highlights, and has braces. Her father is offering a reward for her recovery. Any information about her and Sousa, call Officer Chris Morales of the Northport Police Department, 941/677-3126, or Scott Warhul at 813/810-9028.
Ronnie Wayne Sousa Jr. is 5'11, weighs 220 lb., has brown eyes and brown hair. If you have any information regardinmg his disappearance, contact Jim Iverson with the Hillsborough County Sheriff's Office, at 813/927-2354, or private investigator Jason Butz, 904/762-7805.
"Ivy and Ronnie we will find you," a recent Facebook page posting states. "No matter how long it takes. We will never stop looking. It's getting dark again. Please be safe wherever you are!! Lord let no harm come upon them and let them know how many people care about them. Amen."