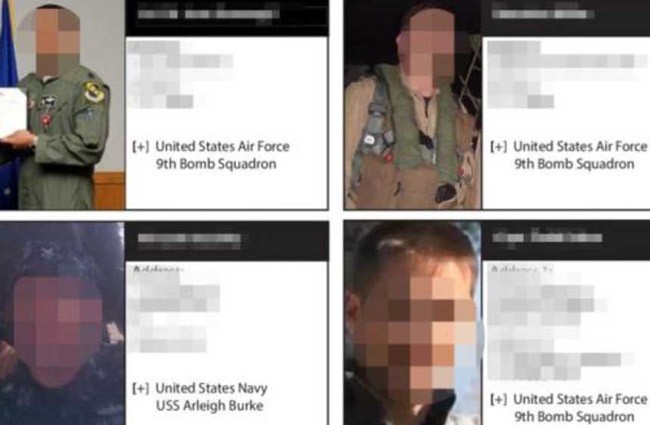 Palm Coast, St. Augustine and "Saint John" are among the 55 cities in the United States where ISIS, or Islamic State, has placed named members of the U.S. military on an alleged "kill list" for their role in attacks on ISIS in Syria, Iraq, Somalia and elsewhere.
"As has been widely reported," Flagler County Undersheriff Rick Staly said this morning, "ISIS has made threats to assault current and retired military personnel. As far as this threat, they identified two individuals that live in Flagler County. Law enforcement has worked with the FBI and we are aware of these threats, and so is our staff, and we've taken appropriate action. At this time there is no credible threat to any individual."
Five Florida areas or cities or areas are on the hit list (ISIS appears unsure about the difference between town and county). "St. John" may refer either to a small burg in northwest St. Johns County or to the county itself. Merritt Island and Middleburg are the other Florida cities on the list, which names places in 23 states.
According to numerous news sources the Pentagon has sent directives to local law enforcement to provide extra patrols in areas where targeted military personnel live. One such directive was sent to the sheriff's office. Most of the targeted personnel are members of the Navy or the Air Force, the two services most heavily engaged in the bombing campaign against ISIS. No ground troops are involved.
Islamic State posted the names, addresses and images of the targeted individuals on a website, directing its message to alleged sympathizers. "These Kuffar that drop bombs over Syria, Iraq, Yemen, Khurasan and Somalia are from the same lands that you reside in, so when will you take action?" the group states, using the word for "infidel." "Know that it is wajib for you to kill these kuffar! and now we have made it easy for you by giving you addresses, all you need to do is take the final step, so what are you waiting for? Kill them in their own lands, behead them in their own homes, stab them to death as they walk their streets thinking they are safe."
---
A propaganda stunts reflects Islamic State's social media savvy rather than its ability to carry out threats abroad.
---
The Pentagon shared with some local information agencies who the individuals targeted are, and where they live. Flagler County Sheriff Jim Manfre said he would discuss with the task force "what they expect and what the level of the threat" happens to be. Meanwhile, the sheriff's patrol division has received enough information to know where to step up patrols. But the threat is not being seen as imminent or too credible.
"It's more of an ISIS propaganda to entice a lone wolf home-grown terrorist to take action," Staly said. "The rest of it is pretty much classified information."
ISIS has not carried out any operations beyond Syria and Iraq, where it controls large swaths of territory, and its ability to do so is not known or not likely: it has been forced to retreat from some of the territory territory it took over last year, and its cash reserves have been dwindling. Joint operations by Iran and Iraq on the ground, supported by U.S. airstrikes, have pushed ISIS out of much of Tikrit to the north of Baghdad, while Kurds have reconquered most of the territory they'd lost in Kurdistan in northern Iraq.
The Pentagon reported its latest strikes on Islamic State in the 24-hour period ending at 8 a.m. Tuesday, with jet fighter and drones carrying out six near Kobani, and eight strikes at five sites in Iraq.
"All told," The Economist reports this week, Islamic State "has been stripped of some 13,000 square kilometres of land, reducing by a quarter what it held at its peak. American officials reckon some 1,000 fighters were killed in just the battle for Kobane, a Kurdish town on the Syrian-Turkish border that IS tried to take for months without quite managing it. Seventeen of its top 43 commanders have been felled, according to Hisham al-Hashimi, an Iraqi analyst of IS in Baghdad. But for all the losses fighters on the front line say there is no sign that IS is running short of men. Recruitment seems to be keeping up."
But Islamic State has very effectively used social media, including YouTube, to disseminate its message and, on occasion, to hack websites. The kill list first appeared on a Polish website where images are swapped. But it may not have involved any hacking: all the information is available on Facebook, in phone books or on other publicly accessible documents, prompting the Pentagon to urge its service members to be more careful when posting items on social media. But the Pentagon itself published some of the names in its official reports.
The list is unreliable: some of the names included have had nothing to do with the campaign against Islamic State, including names of airmen who fly B-52s from Louisiana and North Dakota, though B-52s have not been used in the current campaign. That suggests a degree of shoddiness behind the list, and more of a sensational than an actionable tactic.
The list of cities, as reported by CBS News:
Arizona: Phoenix
California: Manford, Solvang, San Ardo, Monterrey, Newberry Park, Carlsbad
Colorado: Colorado Springs
Connecticut: Barkhamsted, Manchester
Florida: Merritt Island, Palm Coast, Saint John, Middleburg, Saint Augustine
Georgia: Griffin
Idaho: Bonners Ferry
Illinois: Orland Park
Indiana: Michigan City, Bolivar
Louisiana: Shreveport, Bossier City
Maryland: Upper Marlboro, Warrensburg, Lexington Park
Michigan: Dearborn Heights, Lake Orion
Nebraska: Bellvue
Nevada: Reno
New Mexico: Farmington
North Carolina: Fayetteville, New Bern
North Dakota: Minot
Rhode Island: Newport
South Carolina: Daniel Island, Charleston
South Dakota: Rapid City
Texas: Abilene, New Braunfels, San Antonio, Wyle, Fort Hood, Bedford, Kileen
Virginia: Burke, Virginia Beach, Suffolk, Springfield, Norfolk, Chesapeake
Washington: Colton, Cheney, Seattle, Spokane, Ancortes