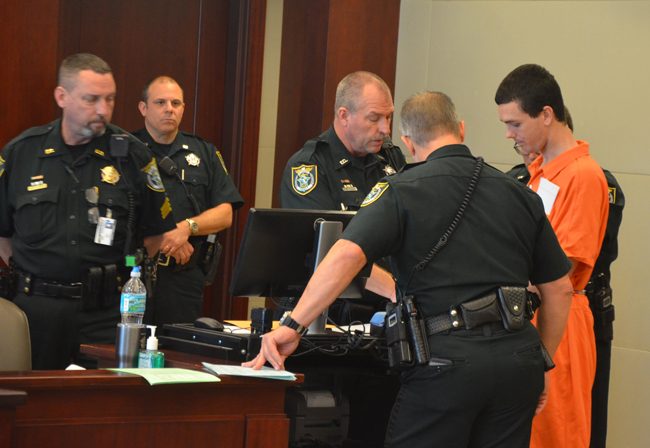 Flagler County Sheriff Rick Staly has ordered an inquiry into the alleged behavior of several courthouse bailiffs reopened, and a more thorough internal affairs investigation conducted.
Staly issued the order to Undersheriff Jack Bisland in a memo on Monday, three days after a FlaglerLive story detailed allegations of racial and sexual improprieties involving courthouse deputies and courthouse staff.
The allegations, which got the attention of three circuit judges, including Raul Zambrano, chief judge of the Seventh Judicial Circuit, led to two limited sheriff's inquiries late last year and again in February. They resulted in the the disciplining of two bailiffs, both of whom were moved out of their positions at the courthouse, including Sgt. John Bray, who had been the bailiffs' supervisor. He was not officially punished or written up, but his transfer to a desk job at the Palm Coast precinct, without significant supervisory responsibilities, was little different from a demotion. Deputy Jeffrey Puritis was moved to road patrol. A new bailiffs' supervisor was assigned. Judge Dennis Craig's assistant, Antoinette Arcuri, resigned, but appears to have been essentially pushed out: she was given a few weeks to find a job.
Much of the case against the deputies rested on Arcuri's claims, which were either only partially corroborated or not corroborated at all, as some deputies declined to take part in the inquiry and a colleague of Arcuri's declined to be interviewed by the sheriff's investigator. If that doesn't change in the more thorough internal investigation, the investigation will be more thorough in name only, as the investigator may not force anyone to be interviewed: it's not a criminal investigation. But the sheriff's action reflects a serious concern about the allegations and the previous inquiries on his part, about which he had only been verbally briefed previously.
"What he received verbally wasn't a complete picture of the entire case," Chief Mark Strobridge said today. "So therefore he directed the undersheriff to re-open it, as a full internal investigation, and leave no stone unturned." Staly had been out of town Thursday and Friday, Strobridge said, but read the inquiries on Monday. The inquiries had left several troubling questions unanswered and the involvement of additional bailiffs in questionable exchanges largely unexplored, including the claim that a deputy had "child porn" on his phone–a claim that appeared to have been made in jest to cause discomfort for the deputy, who in turn declined to take part in the inquiry, implying a fear of retaliation from his colleagues. That in itself underscored another level of dysfunction among courthouse bailiffs that reverberated through the inquiries.
"Upon my review of the inquiry on Sergeant Bray and Deputy Jeffrey Puritis that was completed on February 15, 2018," Staly wrote in Monday's memo, "I am directing that this inquiry be re-opened and a thorough and in depth internal investigation be conducted on all allegations including these deputies along with Deputy John Freshcorn and other FCSO employees that may be implicated during the internal investigation."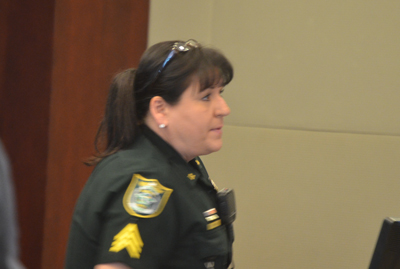 An inquiry is different from an internal affairs investigation. "The full investigation brings in all the contractual and legal guidelines regarding the law enforcement dnd correctional officers' rights," Strobridge said, referring to due process procedures that include the right to review all allegations and documents and face accusers. "An inquiry is more to find out if there is something there that's actionable. It's like a preliminary look at an investigation." Internal Affairs investigations are not unusual but not frequent, either.
Arcuri in a list of allegations she made available to the circuit's court administration (the Seventh Judicial Circuit includes Flagler, Putnam, St. Johns and Volusia counties) described a work environment that had grown uncomfortable, with deputies texting sexually explicit images, making racist statements about blacks, acting in intimidating manners toward court staff, and more specifically, in one case using demeaning profanities and in another making homophobic and sexually impertinent statements.
"There are certainly some very, very strong racial slurs in there, there are significant sexual connotations in the process," Strobridge said regarding the allegations, "certainly some foul language being spoken in a hallway in a public forum. That's just not going to happen. I know this personally, the sheriff is going to do everything he can do to fire a racist out of his organization."
But Randy Doyle, the sheriff's accreditation and internal affairs manager, who conducted the previous inquiries and will be conducting the internal affairs investigation, will have to weigh the crudity of the alleged behavior against the fact that the allegations were made by an employee who resigned and was known to have been on her way out–much as Arcuri was acting in hopes of preventing the continuation of that behavior there. (Arcuri had worked with Craig for years, going back to his days at the State Attorney's Office and on his election campaign).
The investigation will rest largely on whether Doyle can find corroboration on the record, or compel employees who have not yet spoken up to do so–if indeed the allegations are true (though texts have already corroborated some of them, and ambient courtroom recordings, which may or may not have been on at the time of the incidents, may have picked up some of the exchanges in question.)
"We cannot compel people who do not work for the Flagler County Sheriff's Office to provide testimony," Strobridge said. "All we can do is ask. But there's a lot of things here that really need to be cleared up and the sheriff wants to make sure that they are cleared up, so we're going to encourage anybody who has direct knowledge as a witness in this particular case, we're going to strongly encourage them to speak to us, because it's about the finding of the truth."
All sheriff's employees named in the inquiries, including those who have been disciplined or shifted from their positions, "are currently at status quo," Strobridge said. "They will not be moved or changed, they will continue in their current position until such time as the investigation is completed."