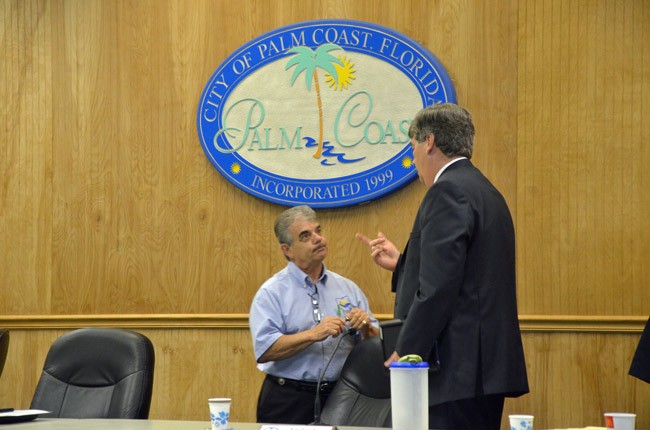 Flagler County government is unhappy with Palm Coast government. In a stretch of 20 minutes of strikingly sustained and universal criticism, County Administrator Craig Coffey and three of the four county commissioners present at their meeting Monday evening took turns lambasting the city administration of Jim Landon for "holding hostage" an agreement between the city and the county on water connections provided by the city at the county-owned airport. Various developments at the airport are dependent on those connections.
Coffey described the city's delays as petty and unjustified and has all but given up securing the agreement, suggesting that the county go its own way instead. He heard no disagreements from commissioners, who instead doubled down on the criticism, at one point almost reaching for the kitchen sink when—as was the case with Commissioner George Hanns—they ran out of things to criticize regarding the issue of water.
It was Frank Meeker, the former Palm Coast City Council member and now county commissioner, who brought up the issue that has had Palm Coast and the county seesawing between contention and kumbayas over the year: "I need an update and some understanding of what's going on at the airport, specifically with our interlocal agreement." (See the proposed agreement below.)
Meeker was referring to the deal between the city and the county finally to put to rest the matter of who will provide water to the southern portion of the county airport just south of State Road 100, which is surrounded by the city, and under what conditions. There was a point five years ago when the city was insisting that it would not provide water hook-ups absent annexation of the airport properties that would get the water. The county said, politely, Hell, no. The prospect of landing a National Guard facility there—and possibly losing it over the bickering—prompted the two sides to negotiate more earnestly. The city agreed to provide water without annexation, in exchange for other benefits.
The two sides worked out an agreement. Twice. One in 2010, another last fall. And still: no final deal. That's why Meeker at the end of Monday evening's commission meeting, in what seemed like a scripted prompt to get County Administrator Craig Coffey going on the issue, brought it up.
"Well, I'd start by saying it's still not executed by the city of Palm Coast, and we're about seven months in," Coffey said.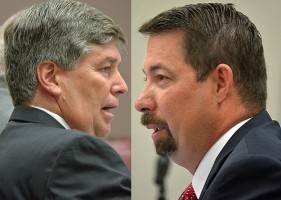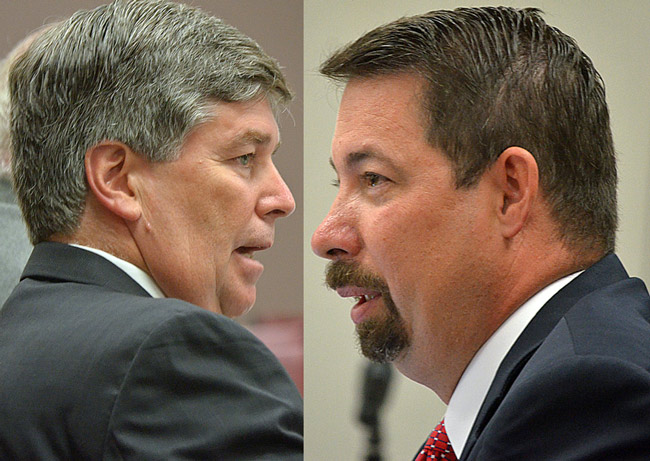 When Coffey is not interested in mincing words, he sharpens them. "We're studying rerouting it within the airport," he said of county water pipes that could provide the needed hook-ups without Palm Coast, "and abandoning the interlocal agreement. We don't have the numbers on that but we're doing some investigation on that if we can't get movement. We've kind of left it in their court and said, we're done. Record it, or don't record it, we don't care. Just do one or the other so we know which way to go."
Even Bill McGuire, the Palm Coast City Council member who audits most county meetings, was taken aback by the situation Monday evening, calling the standoff "disgraceful' and telling county commissioner he was willing to do whatever is necessary to end the gridlock, "the county administrator and the city manager hate each other's guts." He said it's the elected officials' responsibility to get the matter resolved.
Coffey had been corresponding with City Manager Jim Landon today. "We have differences of opinion about connecting unrelated items to the interlocal, that have nothing to do with the airport interlocal, and we have some disagreements about additional agreements he feels are needed, when we feel they're not."
The county and the city made a bit of headway today, Coffey said, but "in our opinion everything is done that needs to be done." For example: the county had to pay for additional water capacity even though the county didn't think it needed that additional capacity. It did so anyway. The county cut a check by way of the clerk of court and sent it to the city Friday for that capacity though that's unrelated to the interlocal.
---
"I don't play those games," the county administrator says, in a remark directed at Palm Coast City Manager Jim Landon, "and that's what we're wrestling with here."
---
By not securing an agreement, the county has several matters in the works, including a grant for the road it's building at that end of the airport to facilitate access to, among other things, a planned aviation company setting up shop there, and a utility grant with the Department of Transportation, with the state "begging" the county to get going with it. Palm Coast has held back submitting the county's application to the Department of Environmental; Protection, even though the county had finished work on it four months ago. Today, the city asked for revisions. Coffey said he was "embarrassed" by the revisions, because they are so minor: "Instead of 2 Utility Road, they want 2 Utility Drive. Instead of Public Works Director they want Utility Director," he said, by way of examples. "I don't know if you want to see these," he told commissioners, describing the issues as "not the end of the world."
That application had been at the city for months, Meeker said, exasperated.
"I don't recall these items ever being on the city council's agenda, for the city commissioners to discuss these things," Commissioner George Hanns said. Hanns wasn't done: he also criticized the city for what he sees as overcharging on stormwater fees—about $6,000 a year at the county library's 19-acre site on Palm Coast Parkway, for example. "These items have been festering for years," Hanns said, "and it's just now being brought to the public, and Mr. Coffey has bent over backwards to cooperate, and it seems like it's not happening."
Coffey then criticized the city for playing games over issues that have nothing to do with the actual agreement. "It'd be like us connecting the Palm Coast impact fees to the airport interlocal—'well, we aren't giving you any impact fees until you do the airport interlocal.' We don't play those, I don't play those games, and that's what we're wrestling with here."
"We're supposed to be working together," Hanns said, describing the city as "handcuffing things the county needs to do, jeopardizing projects that we have a go on, money that is waiting, grant money, and the city council I don't believe is responsible for making these decisions. I don't believe it's getting to the city council."
"I don't think I could withhold the interlocal agreement that you guys have approved seven months ago," Coffey agreed, tying the success of the National Guard's location there, as well as the county's mosquito control operations, to the agreement being in place.
Meeker proposed drilling wells for the county to circumvent Palm Coast's holdup, "and just take us off the grid."
"That's another option," Coffey said.
"If we're going to continue to be held hostage like other communities every time water is an issue," Commissioner McLaughlin said, "we might want to consider that. This is getting to the point of ridiculousness."
Meeker, the chairman of the commission, gave Coffey his marching orders: "Collect your data, collect your information, get back with us on this because I kinda reached my limit on this one."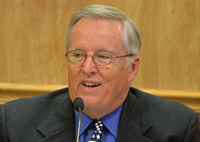 McGuire, the Palm Coast city council member, rose to speak in the final portion of the meeting. Referring to any perceived "foot-dragging, stonewalling going on here," McGuire said: "We need to find a way to fix this. There's no reason that we as individual, elected officials, should tolerate a situation like this. I know the people on this board of county commission, they're good people, they're dedicated people, I can pretty much say the same about the city council. So how did we ever get to this point? If you want to drill your own well and put a well head on it, God bless you. But if it comes down to that, to me, it's a referendum that we have failed as governmental bodies to find a way to work together. If the county administrator and the city manager hate each other's guts, I'm sorry, but we still have to move forward as a government. So anything that I can do to expedite this, to facilitate something that will put this behind us and hopefully pave the groundwork to prevent this sort of thing from happening in the future, say the word, and sign me up because I'm ready to do it."
Meeker raised the possibility of a joint workshop between the two governments. "I'm all for it," McGuire said. But even then, McGuire and the commissioners got a taste of the divide between them.
"Mr. McGuire," Commissioner McLaughlin said, "your board ap[proved an interlocal agreement. Our board approved an interlocal agreement. Anything outside of that paperwork has not been approved, but both bodies have approved that. That needs to be signed and implemented without further discussion."
"But Nate, there is further discussion," McGuire said.
"That's what's bothering me," McLaughlin said.
"So why hasn't it been signed and implemented? When we find the answer to that we'll pave the way to a better relationship, and I'm all for that," McGuire said.
"You're right, we need to find out why it hasn't been signed," McLaughlin said.
A few minutes later, as commissioners were wrapping up their thoughts, McLaughlin said that "it isn't that there's ire between the two boards. There is not. There is none. There is nothing but camaraderie and friendship galore." Hanns, though, could not resist a final swipe, after McLaughlin mentioned how he joins Mayor Netts at many ribbon-cuttings: "The mayor actually said hello to me last time I met him," Hanns said.

Palm Coast-Flagler County Interlocal Agreement Over Airport Properties (Proposed, 2014)