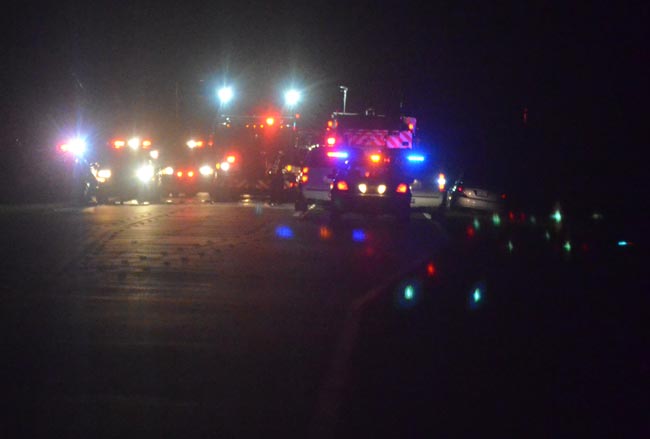 Last Updated: Aug. 1, 7 a.m.
A severe two-vehicle accident took place at around 11 p.m. Saturday night (July 30) at the intersection of Seminole Woods Boulevard and Integra Woods Boulevard, near the Integra Woods apartment complex, triggering trauma alerts for four victims.
The block between Squash Blossom Trail and Integra Woods Boulevard, going east on Seminole Woods (away from U.S. 1), was closed to traffic as that stretch of road was turned into a landing pad for airlifts. One helicopter had evacuated victims shortly after the wreck.
The road was closed for several hours as the Florida Highway Patrol was investigating the scene.
The wreck involved a black, two-door 2006 model Ford Mustang Supercharged, and a dark-red 2002 Pontiac Montana van. (The car was initially referred to as a Pontiac as well; several commenters pointed out the error.) 
The Mustang was driven by Daniel Legault, 39, of Daytona Beach. He was not wearing a seat belt. The van was driven by Lisa Bianco, 42, of Bunnell. Also in the car with Bianco were her children, Madison Bianco, 7, and Lincoln Bianco, 5. All three wore seat belts.
According to the Florida Highway Patrol's preliminary investigation, Bianco was traveling east on Seminole Woods, Legault was traveling west. Bianco attempted to make a left to enter the Integra Woods complex and, according to the FHP report, "violated right of way of oncoming traffic." The two vehicles collided in the westbound lane. The van rolled over on its right side and came to rest on upright, ejecting Lincoln onto the sidewalk north of the roadway.
A neighbor who heard the crash from his home, immediately fronting the road where the wreck took place, described the crash as "like a big explosion." He immediately went outside and saw Lincoln outside the van, whom he helped. The neighbor said recalled seeing three victims from the van and one from the sedan.
According to the FHP report, Lisa Bianco was taken to Halifax Hospital in Daytona Beach. Her condition was serious. Both children were taken to Arnold Palmer Hospital in Orlando, in critical condition. Legault was taken to Shands Hospital in Gainesville, in serious condition.
The two vehicles, both of which came to a rest on the north side of Seminole Woods Boulevard–mostly on the shoulder of the road–appeared to have slammed head-on into each other. Fluid slicks in front of the Integra Woods complex had been sanded over. The van had come to rest facing east. The two-door car was somewhat perpendicular to the van, facing north.
The FHP report says no alcohol was involved in Bianco's driving, but that the matter is pending regarding Legault. The Mustang sustained $20,000 damage, the van, $5,000 damage. Both vehicles appeared totaled. The crash investigation was conducted by trooper D. Schlosser. The full report is available here.