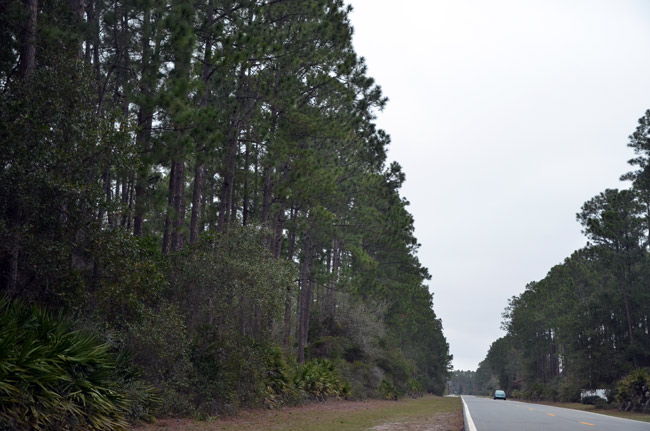 ICI Homes finally won its case against Palm Coast and the residents of Cypress Knoll, who'd opposed ICI's plan to build several dozen homes on land the city had previously zoned for very low-density development.
The Palm Coast City Council voted unanimously Tuesday evening to settle ICI's lawsuit against the city. In exchange, ICI gets to build 58 homes on 37 acres in the area of Cypress Knoll just west of Easthampton Boulevard and south of Eric Drive. A chunk of land the city had previously zoned as "greenbelt" will revert to relatively high-density development, with 18 acres set aside for open space in what City Manager Jim Landon called "the best agreement possible."
When Palm Coast had rezoned the property in 2004, the rezoning would have maximized development in the area to 28 houses. That prompted ICI's suit. The city backed down, at least to the negotiating table. It reached a series of settlements that triggered great opposition from residents. Repeatedly, the city argued that short of an agreement, ICI would take the city to court and could, theoretically, win a ruling that could yield it up to 200 town houses or 300 single family homes. The city claimed it had no choice but to settle because, as Palm Coast Mayor Jon Netts put it, "I think everybody, council especially, needs to understand that the alternative to settlement is to proceed to court, and then those nice folks in those black robes get to decide our future for us."
Wayne Gunthorpe, who lives on Ellison Lane,  did not buy it. "The ICI building plan was flawed from its conception because Cypress Knoll were never represented in the process. It is increasingly apparent that the city government is cooperating with ICI in promoting a plan that is detrimental to the economic interests of the Cypress Knoll community," he said, addressing the council before the vote.
Gunthorpe derided ICI's claim that it was being denied its rights. "They are merely reducing the size of their anticipated profit," he continued. "This is a cleverly designed maneuver to achieve a desired end. A good example of this strategy is when a teenager really wants $50 from a parent but asks for $100 instead. When the parent refuses, the teenager hems and haws for a while, and then asks for $80. This gradual reduction process continues until he gets what he wants, or if he is lucky, even more than what he intended. This is exactly what ICI is doing. It is a good business strategy, and also an effective way of subtly applying pressure to the community. Cypress Knoll residents should understand that the ICI so-called compromises are a form of manipulation."
But the fight had gone out of the Cypress Knoll community, which at previous meetings and hearings had jammed the podium in force to press its point against a settlement. This time, it was as if residents knew the gig was up. "It is the city that has failed our community, not ICI," Gunthorpe said. Gunrthorpe's wife aside (she finished his remarks when her husband's three minute-allowance at the podium was up), only two other people spoke on the issue, neither of them immediately affected by the plan, though neither of them supportive of the city's settlement with ICI.
"It's interesting the power that some folks ascribe to local government," Netts said in response. "The underlying issue here is private property rights. When you buy a piece of property, when you bought your lots in Cypress Knoll, when I bought my lot in the F section, with that lot goes a bundle of rights. You're entitled to do certain things." When the zoning was changed, ICI's property rights were taken away, he said. "The essence of the lawsuit is: you made that change, you, city, made that change, you reduced my property rights, and that is considered a taking. You're taking something away from me, and Florida has very, very strong and strict laws about what the consequences are if government takes private property."
Netts is right up to a point: nothing stops a local government from doing just what Palm Coast did—and defending its action in court, where nothing says, either, that a developer would win a case based on the maximum speculative values it could derive from a property. But cities are loath to battle it out in court. It's expensive and risky, and there's a self-fulfilling prophesy type of momentum against local governments that try to battle it out in court because when most cave to developers, those that don't have less leverage or precedent to rely on. And ICI, owned by the deep-pocketed Mori Hosseini (who owns numerous parcels in Palm Coast, Flagler and Volusia counties) is a very powerful and politically connected local developer.
According to the new plan, the 58 homes will average 1.6 homes per acre. Also, 36 lots would have sizes of 75 by 110 feet, and 22 lots would have sizes of 80 by 100 feet—either way, visibly smaller lots than the current norm of 80 by 125 feet in the neighborhood. Side set-backs, a bone of contention with residents in previous proposals, were changed from 5 feet to 7.5 feet, which is similar to the neighborhood's setbacks (front set-backs of 20 feet and back set-backs of 10 feet would be unchanged).
The city council votes again on March 20 to finalize the deal. The council isn't expected to change course.