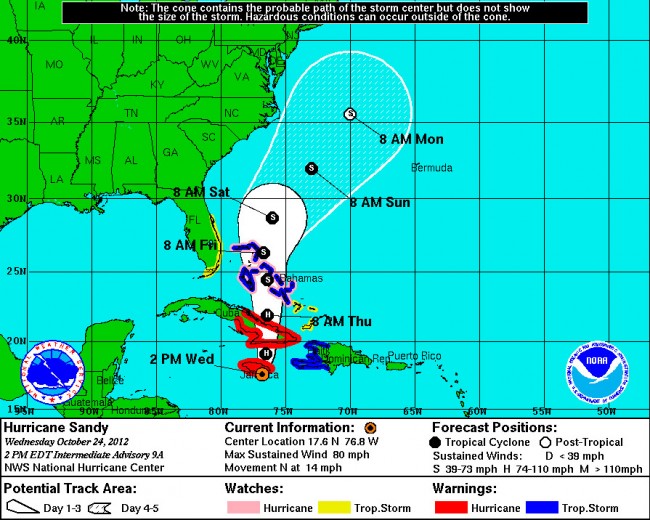 Hurricane Sandy became the 10th hurricane of the season Wednesday as it approached Jamaica and Cuba, moving in a straight northerly direction across the Caribbean islands at 80 mph.
Sandy's current tracking forecast by the National Hurricane Center has it continuing to move north relatively fast (it's traveling at 14 mph currently), parallel to but at quite a distance from the Florida coastline. Sandy is expected to be downgraded to a tropical storm by Friday, when it will be well east of Miami. It would reach the latitude of Flagler County Saturday morning, but moving further east to say by that point. There may be more significant wave activity than usual, including rip currents, but Sandy is not expected to strike land. Its greater dangers might develop further north as it hugs the Carolinas' shore: the closer to shore it gets there, the more dangerous its erosive capabilities might be. That would take place Sunday into Monday.
At 2 p.m. Wednesday, Hurricane Sandy was at 17.6 North and 76.8 West, about 30 miles south of Kingston, the Jamaican capital. It had maximum sustained winds of 80 mph. A hurricane warning was in effect for Jamaica and several Cuban provinces. A tropical storm warning was in effect for Haiti, the Central Bahamas and the Northwestern Bahamas. A tropical storm watch was in effect for Florida's east coast, from the Volusia-Brevard county line down to the Florida Keys. A tropical storm watch means that tropical storm conditions are possible within the watch area.
In Flagler, the county's emergency services released the following advisory: "We can expect some fringe effects as Sandy passes well east of Flagler County towards the end of the week. The strongest winds of 25-35 mph with some higher gusts are forecast Friday through Sunday. Residents should secure lightweight outdoor objects that may be blown about and should also be prepared for the possibility of isolated power outages. Beach goers should not enter the ocean as surf and rip currents will be dangerous."
The National Weather Service has also issued a warning about rip currents, which will become dangerous over the next few days due to increasing waves and winds along the coast. Rip currents are responsible for more deaths along Florida beaches than all other incidents combined, Flagler Emergency notes. "If going to the beach, do not enter the ocean during hazardous conditions. If caught in a rip current, signal for help then swim parallel to the beach to escape the current. Once free from the current, swim at an angle away from the current back to the beach. Remember: If in doubt, do not go out.
Follow the rip current forecast here.