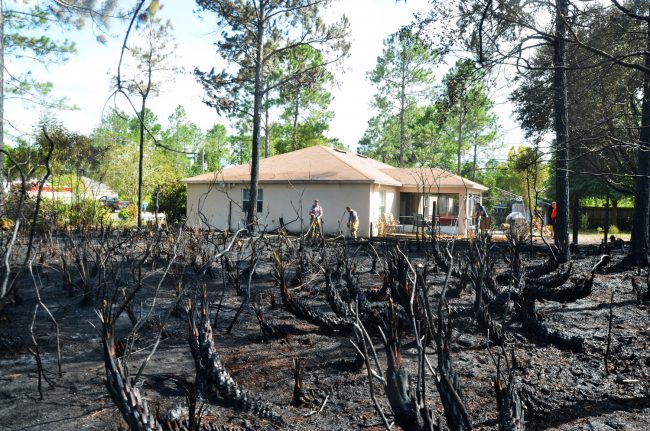 Tracy and Bob Cassesse have lived at the house at 7 Sellner Place for a dozen years. "This is it for us, this is our home, and this is where I'll someday retire," Bob Cassesse said around 4:30 this afternoon as he hosed down his backyard: there was a bit of a sooty mess, charred bits of fencing, perhaps some molten plastic, though the pink flamingos had all survived.
If he will still be able to retire there, he has the men of Flagler County Fire Rescue's Engine 92 to thank: they saved his house this afternoon.
Less than 45 minutes earlier, those men—with their considerably more powerful water hoses—were the only thing standing between the Cassesse's house and a wall of flames that ended up consuming the entire adjoining lot. The fire had already begun to damage the house, penetrating the eaves.
"It actually charred the insulation in the eaves, so 30 seconds more and the fire would have been in the attic," Flagler County Fire Rescue Captain Richard Bennett said at the scene not long after the fire was put out. "I don't want to say we'd have lost it, but the fire would have been in the attic. It was a very, very good save. Guys did an awesome job."
The closeness of the fire to the house was reminiscent of a similar hair-breadth's save during the wildfires of 2011, also in Seminole Woods, where Palm Coast firefighters kept an empty lot's flames from consuming a house on Sligo Mill Court.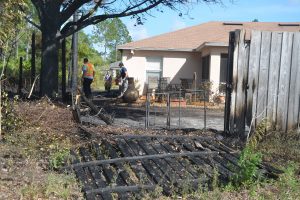 Tracy had been in the bathroom adjacent to the empty lot this afternoon when she noticed something wrong. "I heard it. It sounded like fireworks going up that tree," she said, pointing to a tree, now half charred, that was a couple of arms' lengths from the house. "I'm just like, what? It's not something you ever think you're going to see in your life."
"I was at work," Cassesse said of getting the frantic call from his wife. "She said she heard popping sounds, like somebody was setting off fireworks next to the house, then she looked out the bathroom window and noticed the tree was on fire. She came out here started spraying with the hose and called the fire department.
"They got here real quick," he said. He was under the impression that the first engine on scene had been at a vehicle crash nearby, though Bennett said Engine 92 reported from its station at the Flagler County Airport. "I appreciate everything they do. I appreciate the fact that the house has minimal damage and they got here as quickly as they did," Cassesse said. The firefighters had some soot on their feet when they went into the house, "but that's petty compared to what could have been. I have three cats, they were hiding under the bed, my wife couldn't get to them, so I'm glad the house was spared because she would have had a heck of a time."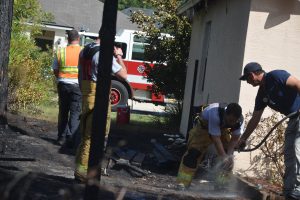 The  lot next to the house was fully engulfed in flames when the firefighters got there. It would turn out to be a 20,000 square foot fire. "Really couldn't see the house too well when we got on scene," Bennett said. "Engine-92 crew got here, went into the woods, this fence right here dropped, fire was actively in the eaves of that house right there. They were able to knock it down to gain access into the house."
Engine 92, Engine 16, the Palm Coast Fire Department's Engine 25, Fire Flight and the Palm Coast Fire Police were all on scene, along with Engine 21.
"Flames were laying down pretty much on the house when we got here, you couldn't see the house for the flames," he said. "They got between the house and the fire. It was just the water protecting them from the flames. Probably was virtually no space between them."
Fire Flight, the county's emergency helicopter, circled above but never dropped its water bucket as the fire zone became too congested with men fighting the fire. "The guys did awesome. The guys were amazing. It's very good,"  Bennett said.
But they weren't done. About 45 minutes after they'd arrived at the scene, a couple of firefighters noticed smoke rising from the woods across the street, from the area of Sergeant Court. Immediately several trucks moved there and put out flames in a flower bed, at 29 Sergeant Court. "I don't know that for a fact but more than likely embers traveled over there, landed and caught on fire over there," Bennett said. "The crews were able to get over there quick enough. That was also Engine 92 as well."
There's been little rain, plenty of heat, and lots are turning to tinder.
"We're not out of fire season by any means, fire season is still here, still strong," Bennett said. "The wind today, it pushed this thing real hard, real fast. Anything that starts right now today in this wind and these fire conditions, it's going to move fast. We're still super dry and it's still dangerous out there."
Note: At 8 p.m. firefighters were called back to the same street for another brush fire that fire officials were terming suspicious.